Does Perfume Expire? Here's How Long You Can Expect A Fragrance To Last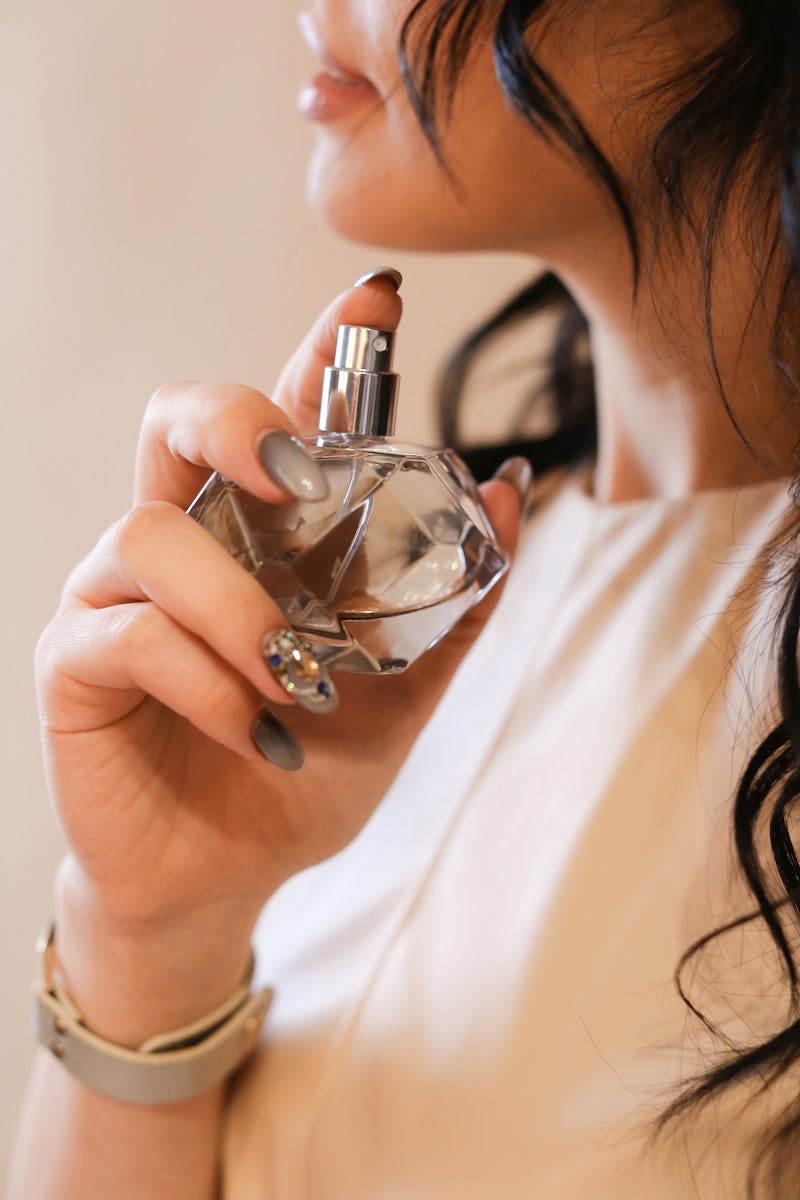 Olena Ponomarenko / EyeEm/EyeEm/Getty Images
Makeup had its day in the sunshine, then it was skin care's turn, and now fragrance is having a major moment with the current value of the perfume market standing at over $50 billion (and a projected growth of 7% over the next seven years).
On TikTok, where trends are born at breakneck speed, a different fragrance goes viral every week. You don't need to look any further than Maison Francis Kurkdjian's Baccarat Rouge 540, which has been bestowed a cult-like status and racked up over 286 million TikTok views to date. PerfumeTok's "frag-heads" (aka scent enthusiasts) now keep a close eye on fresh launches from the house — like the aldehydic and city-inspired 724 Eau de Parfum — to spot the next big hit.
All that is to say that it seems that everyone's perfume collections are growing — but how long does perfume really last before it expires? I scoured my own collection to discover that half of the bottles didn't have an expiration date and the ones that did said 24 months. Admittedly, many of those fragrances are older than two years, including an unopened 100ml backup of my discontinued favorite that I'm too scared to start making a dent in.
Elizabeth Renstrom, a photographer, editor, and self-described "frag-head" who runs an investigative fragrance project centered on nostalgic scents called Basenote Bitch, says that she's collected over 150 bottles of perfumes, body splashes, oils, and more for the project. "I try to keep my own collection tight; I have around 35 fragrances not including travel sizes and samples that I enjoy wearing. My rule is if it doesn't fit on my perfume tray, and I haven't worn it consistently in the last year, I take it out of my collection," she adds.
While I admire anyone with a signature scent, my own fickleness and insistence on seasonality when it comes to a scent wardrobe means that I can't remember the last time I actually finished a fragrance. Renstrom is the same: "Because my collection is larger than most, it's rare I finish a fragrance in under a year. When I get down to the end of a beloved bottle, I tend to hoard the last sprays versus wearing. I'm trying to stop because I'm constantly in a cycle of finding new obsessions."
David Seth Moltz, perfumer and founder of D.S. & Durga, offers hope to frag-heads everywhere. "Legally, you scan for how long you can say it lasts — which is usually 24 months," Moltz tells Bustle. "In reality, perfumes last much longer when stored properly. Some of the top notes, like citrus, can go off or the alcohol can take on acetone aromas — but these last for 10-20 seconds after you spray and don't affect the fragrance that much in my opinion."
The oldest bottles in Renstrom's Basenote Bitch collection are a vintage travel-size bottle of Halston from the 1970s and a 1984 bottle of Guerlain's Mitsouko Eau de Toilette. So, does age affect the juice inside? "I feel like both of these heavy hitting chypre icons largely smell the same once you've let them develop on skin because they were complex to begin with. On the contrary, I have countless other bottles from the '90s and early 2000's that center around citrus or fruity floral notes that have shifted a lot."
Do Certain Perfumes Expire More Quickly?
It's worth noting that perfume extracts are aged through a process of maceration before they make it into the bottle. According to Matiere Premiere's Aurélien Guichard, who recently launched the distinctive Crystal Saffron fragrance, "it takes several weeks, between maturation and maceration, for the fragrance to reach its perfect expression and sillage. This operation ensures that your fragrance will remain stable for several years."
After speaking to numerous perfumers, I have bad news for lovers of citrus and white floral fragrances: they're going to lose their charm first. "It is usually the top notes that are first to disappear or change after a couple of years. Citrus and white flower scents are not likely to age as well as woody or ambery scents," explain master perfumer Ruth Mastenbroek and perfumer Nic Mastenbroek. "This is because the more volatile citrus notes will disappear more quickly." Color is another factor that age affects. "Gourmand fragrances are susceptible to a significant change in color, which may not appeal to everyone."
If you're drawn to the heavier side of the scent spectrum with notes of amber, woods, resins, patchouli, and the like, then aging could even have a positive influence. "Woody and some green, slightly sweet fragrances are likely to age better. I still get customers who have bought my Signature fragrance getting in touch after 10 years to say their bottle of perfume still smells amazing," says Ruth Mastenbroek. "Signature is a chypre; it's heavy on the rose, patchouli and oakmoss, which is why it lasts so well." Moltz agrees and adds that scents like patchouli and sandalwood are going to smell amazing after 20 years.
Timothy Han, founder of fragrance house Timothy Han/Edition stresses the vital aging process again: "When a fragrance is created there is a process called maceration where it needs to sit in alcohol for a time before it is considered ready to sell. This is why the brands who promise to make you a perfume right in front of your eyes are all smoke and mirrors. You can't do it — the fragrance would smell of alcohol until it settles." Incidentally, Han's newest launch On The Road is full of oakmoss, patchouli, guaiac wood, and benzoin notes that bottle aging is going to be kind to.
How To Store Perfume
Though everyone I've spoken to gave broad permission to disregard the 12 and 24 months labels on bottles, they have also cautioned about proper storage. Renstrom has to worry about two different collections: "I store all my Basenote Bitch fragrances in sealed bins in a semi-dark and dry space in my studio. My personal collection I keep in my bedroom on a mirrored tray atop a decorative cabinet that's very dear to me. They are facing away from all the windows, but I don't manage the temperature in any way."
Guichard says that the worst place to keep your perfume bottle is by a window, where it will be exposed to high temperatures. Nic and Ruth Mastenbroek offer anyone with seriously prized fragrances another dimension to consider: "Keep your prized fragrances in a dark (and preferably cool) spot. This is why some people resort to locking their scents in their fridge; this can help especially with more citrus laden fragrances."
Han, while echoing everyone's storage advice, is also philosophical about the prospect of a fragrance shifting with time: "Perfume evolves and changes. If it has sat in a bottle for a few years then there is a very good chance it won't smell the same as when you bought it brand new. But the same can be said of wine. Does that mean it is no longer good? Only if you don't like it."