3 Girls Inc. Alumnae Are Teaming Up With e.l.f. Cosmetics On An Exclusive Makeup Launch
The first of a three-part series documenting Beautyscape — The Remix.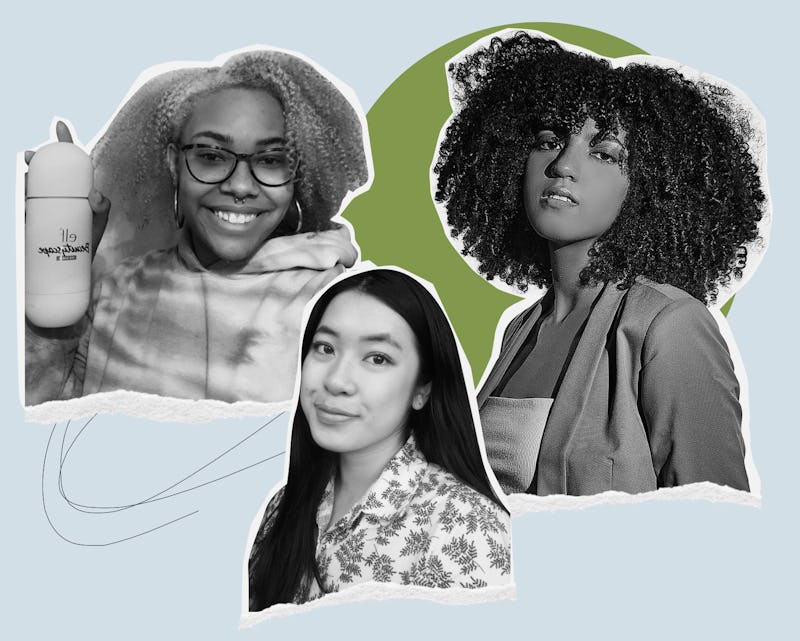 Courtesy of talent
Picture this: You're a total beauty enthusiast. You watch makeup tutorials religiously, you can name all the latest cosmetic brands (in alphabetical order), and you love experimenting with new looks. Now, imagine you've landed the opportunity to be involved in the development of a top beauty brand's upcoming makeup collection. It sounds like a pipe dream, but for six lucky people, it's real life, thanks to the e.l.f. Cosmetics Beautyscape — The Remix competition.
This year, in partnership with Universal Music Group and Brands (UMGB) and Girls Inc., Beautyscape is about celebrating the natural synergy between music and beauty and the pulsing creativity that forms when the two intersect. As with all previous years, it's also about uniting the e.l.f. community, propelling rising stars forward, and giving back with mentorship opportunities. That's where Nina Ho, Joleena Mundy, and Aryana Richardson come in. They're all alumnae of Girls Inc., a non-profit organization that provides girls with the experiences, support, and skill-building opportunities to thrive in all aspects of their lives. Informed by girls and their families, Girls Inc. also advocates for legislation and policies to increase opportunities for all girls. Ho, Mundy, and Richardson also happen to have been chosen to join Beautyscape — The Remix (along with the contest's three winners) and be part of the once-in-a-lifetime process.
"This unique opportunity is combining three of my favorite things: music, Girls Inc., and makeup," Richardson, 20, a student at George Washington University, wrote in her Beautyscape application. "e.l.f. was one of the first makeup brands I ever purchased… Being able to help curate a collection with a brand that I've used for so long and learn alongside professionals provides enriching experiences. It's important to me to work with a brand that promotes inclusivity and recognizes the beauty in everyone."
To learn more about the beauty industry, the making of a cosmetics line, and to better get acquainted with the UMGB music artists driving the future e.l.f. collections, the Girls Inc. alumnae were enrolled in a few innovation courses. You could call the first one Beauty Marketing 101. A panel of leaders from Bustle Digital Group and e.l.f. Beauty provided a 360-degree understanding of how music, marketing, trends, and style all work together and influence each other. "I love how purposeful marketing is," Ho, a 20-year-old student at the University of California, San Diego, wrote in her submission. "By shadowing, I can observe how business leaders synergistically launch powerful, diverse campaigns to positively influence consumers; I hope that this valuable experience can inspire me to be innovative and inclusive in my future career."
The second course was a more intimate session with e.l.f.'s product development team — a deep dive into mood board creation for 2021 and what actually goes into making beauty products. The Girls Inc. alumnae and Beautyscape winners also got the chance to chat with the UMGB artists. "I loved getting to meet everyone that led the courses," says Mundy, 19, a student at Indiana University. "I don't know what my major is going to be — or my career — so it was cool to see these different roles and to know I have a wide array of options." Richardson adds that the innovation courses helped her to reconnect with her creative side: "I've always been into film, media, [and] production. I kind of put them on the back burner to pursue other interests. This program got my creative juices flowing. It shaped and molded a better idea of what I want to do in the future and gave me the confidence and push to go after it."
The inspiration doesn't stop here. Coming up next, the Girls Inc. team will get to learn from experts in the makeup, movement, and culinary worlds as part of their Beautyscape curriculum. So keep checking back for the next installment of this three-part series!
This post is sponsored by e.l.f. Cosmetics.