Emolyne Will Make You Feel Like Your Most Polished Self
Founder Emolyne Ramlov on how her Ugandan heritage and Danish upbringing inspired her brand.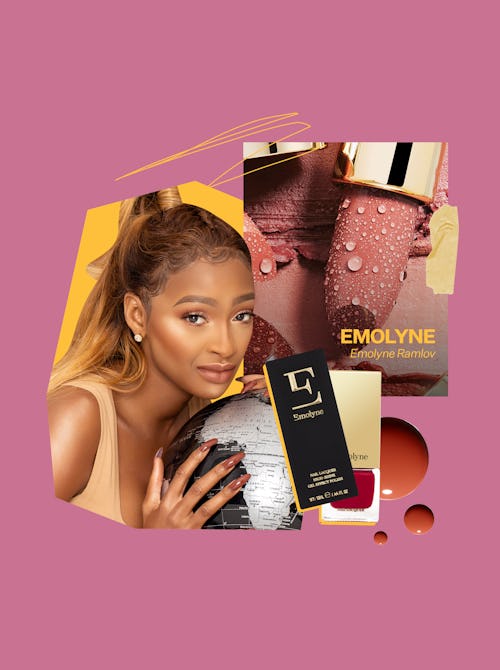 In Beauty Roots, Bustle chats with diverse creators in the beauty industry about how their heritage has influenced their businesses and routines. Here, Emolyne founder Emolyne Ramlov talks about the difference between her Ugandan and Danish upbringing and how the lack of diversity in the beauty industry inspired her brand.
Growing up in the strict school system in Uganda, Emolyne Ramlov wasn't allowed to wear any sort of makeup. In Ugandan culture, it's believed that makeup distracts young girls from their studies, says Ramlov. Then she moved to Denmark in the early '90s and had a complete culture shock. At the age of 13, she saw something she had never seen before — girls were allowed to wear makeup to school. Once Ramlov realised that she could do the same, she wasted no time in heading to her local beauty shop.
"The first thing I put in the basket was nail polish. [I bought] all sorts of colours," she laughs as she thinks back on the memory. "My mum was like, 'When are you going to use all those colours?' I was like, 'I just need these colours. I just want to try. I want to mix them. I want to make a rainbow.' So yeah, since then I started investing in makeup and it became an empowering tool for self-expression."
Today, Ramlov has her very own beauty brand Emolyne, which has a range of lip products and nail polishes she can use to express any mood she finds herself in. What makes her brand different to others in the market is that her customers can match their lipsticks with their lip pencils, lip glosses, and even their nail polishes. Being able to match all of these products makes Ramlov feel like her best self and she wanted to recreate that feeling for others too. "I feel more polished when I match," Ramlov explains. "If I have my lips and my nails done, it's easier to go into my wardrobe and grab any colour I want to wear and match it that way."
Below, Ramlov talks about her affinity for monochromatic makeup and how she created a brand that would allow everyone to find their perfect lip and nail shade, no matter their skin-tone.
How did your Ugandan heritage and your Danish upbringing inspire you to launch your brand?
I actually started the makeup brand out of a need that has always been there. Growing up in Africa, I had the challenge of not being allowed to wear makeup. And then when I moved to Denmark, I faced a completely different challenge. The makeup industry was not making makeup for my skin-tone. It was just horrible. Absolutely traumatising. At the time I was also going to London on the weekends to see my family who lived there. I went to big stores like Harrods and Selfridges, and I was shocked to see so many shades, but none matched my skin tone. When I moved to London in 2008, I decided that I was going to look deeper into this.
Why did you decide to create kits that have matching lipsticks, lip pencils, lip glosses, and nail polishes?
I remember going to the nail shop to do my nails. I had red nails and I was going out that weekend, and I thought it would be so cool for my nails to match my lips. So I went to House of Fraser's beauty section and I saw they had three shades. I asked [the staff] if they had a matching lipstick for my nail polish. They didn't and instead suggested shades that could maybe work. I didn't want a maybe, I wanted a match. Then I went to the next brand and the next brand and the next brand and I realised nobody does a matching kit. You can't get your lips to match your nails. It was actually at that point that I realised there was a gap in the market. You know, there were all of these brands that do yellow, blue or green shades, but couldn't actually give me a wide selection of red and or nude shades — which were the most sold colours and most used colours. So I decided to make my own brand and give people a chance to choose from a wide range of nudes and reds.
How do you get the shades to match when the textures across the different products are so different?
Oh my god! It is really hard work; not the colour, but matching the colour in different textures was really hard. It took me probably two and a half years to get it right. The nail polish was harder than matching the lip pencils to the lipsticks, too.
How did you test all of the shades to make sure that they were inclusive and would work on all skintones?
Being Black, my skin-tone changes all year round. Shades I use in winter aren't shades that I would use in summer. So when I was creating the collection, I picked shades that I can use all year round. I was like, "Oh my god! How am I gonna do this? It's not only for Black people, but for other races as well." Then I came up with this method of creating five colours for lighter, medium, and darker skin-tones. So no matter which season you're in, you will have five colours to choose from.
All of the shades are named after African countries and cities. Why did you choose to name your products this way?
When I was creating the brand, I wanted it to reflect me and my background. I wanted my African heritage in the brand. Therefore, I named all the shades after African countries; I chose countries that I've been to and loved, and places I really want to go to.
Emolyne currently stocks nail polishes, lip pencils, lip glosses, and lipsticks. What products would you like to launch next?
We're going to launch eyebrow pencils and eyebrow waxes this year. And I'm also thinking of bringing something for men – a unisex colour, but not yellow or green. I've had so many men ask, and my job is to take everybody's feedback.
I know it's hard to pick, but what's your favourite shade in the Emolyne collection?
Casablanca. I like these types of vibrant colours because they remind me of Africa. I love [bright] colours!