This Genius Serum Is Your One-Stop Shop For Brighter, Clearer Skin — Here's What You Need To Know
We only recommend products we love and that we think you will, too. We may receive a portion of sales from products purchased from this article, which was written by our Commerce team.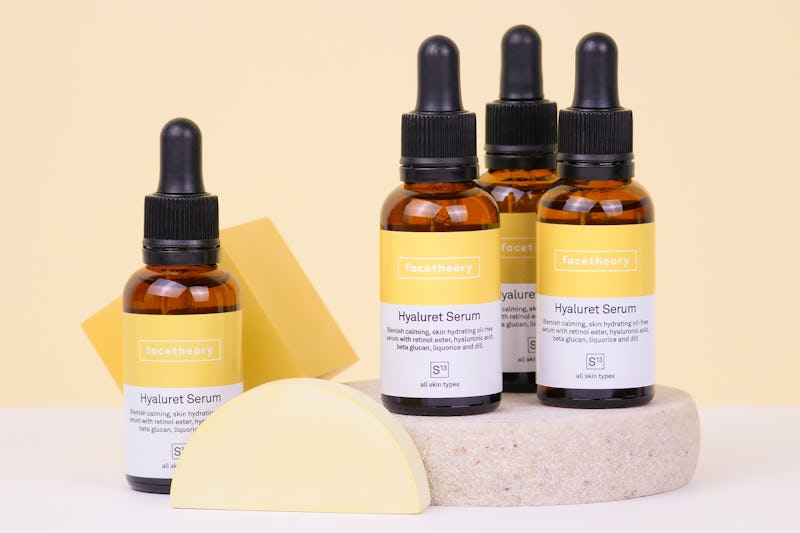 Lest you believe all hyaluronic acid serums are just souped-up moisturizers, Facetheory came up with a brilliant beyond brilliant idea: Hyaluret Serum S13. The serum includes another of the skin-care world's most beloved ingredients — retinoids — to create a product that's truly multi-dimensional. And like all products from the U.K.-based brand, it's made using science-backed, plant-based ingredients, without any unnecessary fillers or potential irritants, so just about everyone can benefit from it. Pretty universally appealing, right? Understandable if you add it to your cart right this second — but you might want to take a minute or two to read up on what, exactly, this does-it-all serum can do for your skin.
Fast Facts:
£25.99 for 1 fluid ounce
Ideal for all skin types, including sensitive and acne-prone
Hydrates, firms, plumps, calms, balances, and unclogs pores
Contains hyaluronic acid, retinoic acid, licorice extract, and beta glucan
Free of parabens, silicones, PEGs, SLS, SLES, mineral oils, alcohols, dyes, and fragrance
Vegan and cruelty-free
What Sets Facetheory's Hyaluret Serum S13 Apart From Other HA Serums?
If you're even marginally familiar with skin care, you're likely aware of hyaluronic acid, one of two headlining ingredients in Facetheory's serum — and virtually every other moisturizing product to hit the market over the past few years. (Whoever engineered hyaluronic acid's PR campaign deserves a raise.) It makes sense why the ingredient is so popular: A powerful humectant, one molecule of the stuff can attract and hold over 1,000 times its weight in moisture, resulting in deeply hydrated skin that's visibly plumper and firmer to the touch. It's also well-tolerated by almost all skin types, including very sensitive, acne-prone, and congested skin.
In Hyaluret Serum S13, though, the moisturizing ingredient appears in an usual form: It's joined with retinoic acid to form an ester, a type of chemical compound that's stable and generally oil-soluble, which means it can more effectively penetrate the skin barrier than its individual components can. (Brand literature confirms that the ester's molecular weight is super-low, so it can deliver all of its myriad goodness to the skin more efficiently.)
And hyaluronic acid is the perfect partner to retinoic acid. Like all retinoids, retinoic acid is a vitamin A derivative that works to stimulate collagen production, trigger cellular turnover, and unclog congested pores, resulting in brighter, firmer, and clearer skin overall. But retinoids are notoriously difficult to tolerate for some skin types, as the intensity of the ingredient can cause side effects like dryness, redness, irritation, and peeling — and that's precisely what the soothing, moisturizing hyaluronic acid in Hyaluret Serum S13 bolsters against.
The serum is thoughtfully formulated with a few more botanical ingredients that support that retinoic and hyaluronic acid ester. Licorice extract works to reduce potential inflammation the retinoic acid may trigger, in addition to balancing oil production and minimizing the appearance of hyperpigmentation. Meanwhile, mushroom-derived beta glucan works in tandem with HA to firm, soothe, and moisturize the skin and reinforce the skin barrier, and dill extract increases the skin's elasticity.
Which Skin Types Can Facetheory's Hyaluret Serum S13 Work For?
Short answer? Basically all of them. Since Hyaluret Serum S13 is oil-free, lightweight, and works to unclog pores and balance oil production, it's amazing for oily and acne-prone skin; it'll infuse normal and combination skin with refreshing moisture; it's calming and gentle on sensitive skin; and it can make all skin types look plumper and more radiant overall.
That said, there are a few caveats — it does contain a retinoid, which always requires disclaimers. First, most experts agree that people who are pregnant or breast-feeding should avoid using retinol products. And although Hyaluret Serum S13 is meant to work on sensitive skin, it's still a good idea to do a patch test before applying it all over your face, and start by using it just once or twice a week until your skin adjusts. Retinol can also cause increased sun sensitivity in all skin types, so consider reserving this for your nighttime routine (and add an extra layer of SPF in the morning, while you're at it).
How To Save On Facetheory's Hyaluret Serum S13
Hyaluret Serum S13 retails for a relatively affordable £25.99 for 1 fluid ounce, but there are a few sneaky ways to save some money on it. Rather than a one-time purchase, you might choose the "Subscribe & Save" option, which earns you 15% off, free delivery, and an automatic delivery at the monthly cadence of your choice. Plus, the brand is offering Bustle readers an exclusive 15% discount code — so all you have to do is apply the code BUST15 at checkout to save even more on this buzzy new product.
More Facetheory Products You'll Love
Facetheory offers all the products you need to build a comprehensive skin-care routine (and a lot more than that), no matter your skin type or concern. Below, shop just a few of the brand's most exciting offerings, from a melatonin-infused PM moisturizer to an exfoliating toner.
This article was originally published on