Fashion Heads Can't Get Enough Of Merrell's Hydro Moc — Here's How To Wear Them This Summer
Water shoe, but make it fashion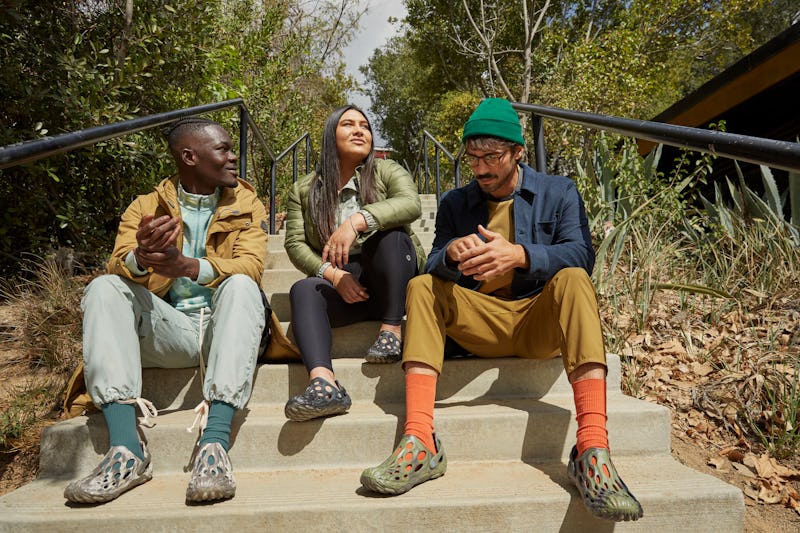 Love it or hate it, the "ugly" shoe trend is nowhere near over. If anything, quarantining simply made their presence in our wardrobes even more appealing. They're comfortable and durable, often with orthopedic soles or made in high-density foam, and add a subtle sense of subversion to any look. This balance of practicality and IYKYK-energy makes them endlessly intriguing to fashion heads (and anti-fashion-fashion devotees) fueled by the desire to go against the grain.
Perfectly polarizing, Merrell's Hydro Moc embodies this union effortlessly: Its silhouette mimics that of a hiking shoe, but it's crafted in a techwear-inspired perforated EVA foam designed to take you in and out of the water (or to your neighborhood's coolest new coffee shop) with ease. Wear them as a house shoe with socks to keep your toes warm while you blast the AC, show them off around town while you make your next grocery run, or take them out to the beach and let them show you what they've got. We guarantee you'll turn some heads along the way (or maybe even strike up a convo with your local hiker-dad), and find yourself an ugly-shoe convert when all is said and done. It seems the hypebeasts are on to something, after all.
Ahead, discover three ways to wear Merrell's Hydro Moc this summer.
The Coffee Shop Explorer
When that new coffee-shop-turned-record-bar on the corner finally opens up, this look will take you there with a sense of insider-effortlessness. Pair a dusty lavender pair of Hydro Mocs with a tonal knit tank and canvas cargo pants that you can layer and accessorize with for any mood.
The Weekend Roamer
Whether you're hitting the trail or heading down to the shore for a morning walk, the Hydro Moc's all-terrain silhouette will take you there. These aqua-blue babies are as playful as they are practical, with a perforated silhouette optimized for water flow and an easy on-off strap. Dip your feet in, we dare you.
WFH-Lounging
While you're basking in the AC in between back-to-back video meetings, you'll be thankful for a WFH outfit that's as cool as it is comfortable this summer. A clean white pair of Hydro Mocs is essential (read: breathable) and pairs well with a chic, mushroom-toned linen lounge set and a complimentary pair of socks.