Gabar Is Rooted In Rituals, Slowness, & Intentionality
Founders Phway Su Aye & Susan Wai Hnin on betting on themselves and putting Myanmar on the beauty map.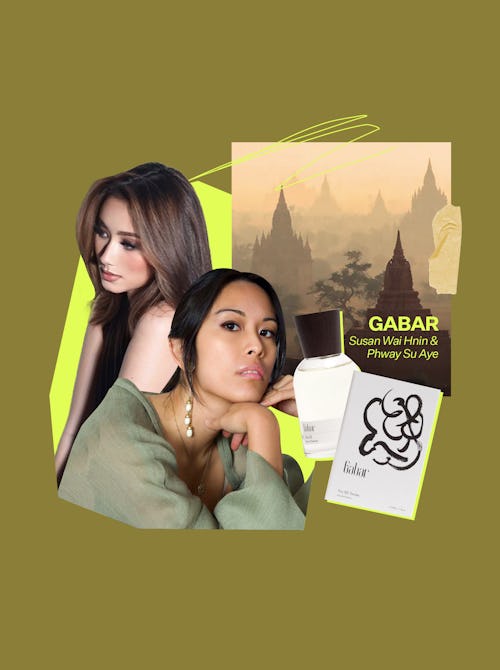 Gabar
In Beauty Roots, Bustle chats with diverse creators in the beauty industry about how their heritage has influenced their businesses and routines. Here, Gabar founders Phway Su Aye and Susan Wai Hnin, share how their slow living, Southeast Asian heritage and love for self-care rituals inspired their mind & body beauty brand.
Before Phway Su Aye and Susan Wai Hnin created their beauty brand Gabar in August 2020, the friends were both working in a very different industry: finance. However, after numerous long talks during lockdown, they decided to bet on themselves. They launched their brand and have never looked back.
"I've always been really passionate about skincare and beauty, and Phway has always encouraged me to start my own beauty brand," Wai Hnin says. At the core of Gabar's messaging is a celebration of the founders' heritage, and their desire to look at the world in a different way (Gabar means "world"' in Burmese, even): "We were thinking about this feeling of starting a new world in a way, a new way of living," explains Su Aye. "Encouraging a different way of seeing the world and being in it."
In comparison to Western countries, people in Myanmar generally take life at a slower pace, they tell me. They also believe in the beauty of rituals, with meditation and temple visits being a part of daily life. Both Sy Aye and Wai Hnin grew up in families that followed Buddhism and thus recognise how valuable rituals can be.
It makes sense, then that their brand is rooted around rituals, slowness, and intentionality. Nature also plays a major role. "[Myanmar] is a really lush and vibrant environment with, of course, a huge urban culture, but at the same time it's very, sort of natural," Su Aye says; the brand's three fragrances each inspired by different regions of Myanmar.
Below, the founders explain how their heritage permeates everything in their brand from packaging to ingredients, and how they want the overall tone of Gabar to exude the feelings of warmth and home.
How did your heritage inspire your brand?
Susan Wai Hnin: Our heritage is a huge influence on Gabar – in the name, aesthetics, packaging, ingredients, and ethos. The artwork on our fragrance packaging is inspired by artist Aung Myint, and our logo is of Burmese characters, but stacked on top of each other and formed into a floral motif.
Our ingredients were inspired by Myanmar, too. In our face and body oils, we've included the lotus and orchid extracts, two very special flowers in Southeast Asian culture. In Buddhism, the lotus flower represents beauty through struggle, because the lotus begins growing at the bottom of a muddy pool and then emerges into a beautiful flower. It symbolises the hardships that one goes through in life and the blossoming of the lotus flower kind of symbolises overcoming obstacles; reaching enlightenment through suffering.
Tell me more about your signature fragrances.
Wai Hnin: Float was inspired by Inle Lake, which is a large, placid lake in the Shan State of Myanmar. With it we wanted to recreate this idea of floating in a body of water and being completely immersed. Ground was inspired by Myanmar's ancient capital of Bagan, which is quite dry and arid. We wanted to recreate the idea of feeling grounded and rooted in your surroundings or in nature. And Swim was inspired by Hpa-An, which is a lush rainforest region so we used that as our "active" fragrance, to remind the wearer of what being in the flow feels like.
What about the face and body oils?
Phway Su Aye: Rituals are a huge part of Burmese culture, and often they use natural ingredients. For example, on New Year's Day and birthdays, we use a mixture of soapy kinpun fruit and the bark of the tayaw tree in hair washing ceremonies which cleans our hair, but also cleanses us of any bad luck and makes room for good fortune. So we approached our face and body oils in that way: thinking about the rituals we grew up with and finding ways to bring those moments of peace and care into beauty regimes.
What do your families think about Gabar?
Phway Su Aye: They love it. And their love, and our community's embrace of the brand has been the most heartwarming part. We have a Facebook group specifically for our Myanmar audience and it's really cute reading through comments. The other day, a Burmese auntie wrote something in Burmese like, 'This is a perfume that my son brought back from London when he was studying there. I've been using it preciously because I never want it to run out. I am so proud that this is Burmese and this makes me so happy.'
We feel like we're representing our country, creating a Burmese brands with a global influence. Given everything our country has gone through over the past years, I feel it's even more important to represent us as strongly as possible.
This interview has been edited and condensed for clarity.