Here's The Science Behind Sulwhasoo's Cult-Favorite Serum
Korea's best-kept skincare secret for glowing skin.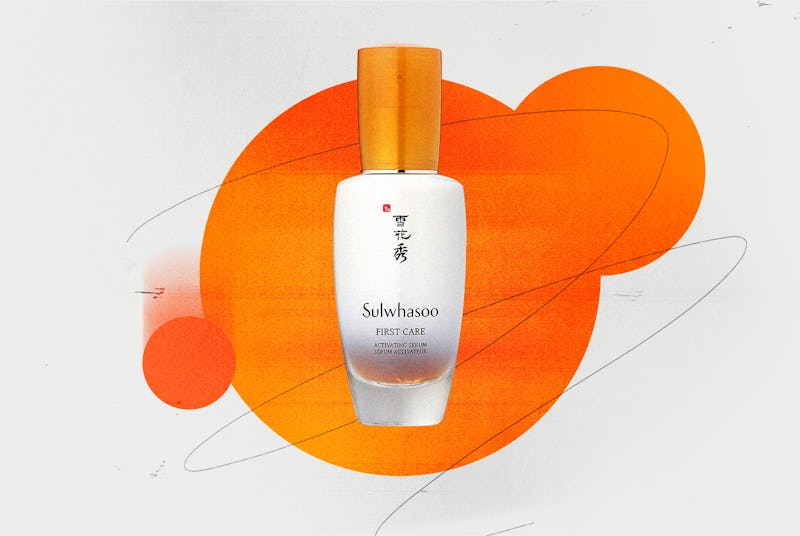 There are skincare serums, and then there are skincare serums rooted in science. That's not to say the former can't deliver results, but if we had to choose, the formula backed by over 20 years of research and lots of clinical studies is always going to be our first choice. We're referring to First Care Activating Serum by Korean skincare brand Sulwhasoo which also has proven results for glowing and radiant skin (more on that in a sec) and the sales to back it up: One bottle of First Care Activating Serum is sold every seven seconds globally.* Right about now, you're probably wondering what kind of studies and results are behind this souped-up serum, so read all about them ahead.
*Based on aggregated global unit sales data excluding duty free stores from 2020-2021
The First Care Activating Serum has a different texture than other serums you may have used: Its watery, liquid-like viscosity feels more like an essence than a serum, which allows for its potent ingredients to drive deep into skin. As the First Care in its name suggests, the serum is meant to be used as the first step in your skincare routine, after cleansing, to ensure complete absorption to prep the skin for other skincare steps to follow. Drawing inspiration from Korean herbal medicine (hanbang), the formula is powered by what the brand calls its JAUM Activator™, a proprietary blend of lotus, white lily, solomon's seal, peony, and rehmannia. The science behind this complex is based on years and years of research — 25 to be exact — and yields rich results in just a single step, including increased hydration, brightness, radiance, translucency, a strengthened moisture barrier, and visibly smoothed wrinkles.
Research and claims are nothing without results, and First Care Activating Serum has those on lock, too. In a four week independent consumer study on 539 women between the ages of 22 and 56, 98% agreed skin felt moisturized, hydrated, and softer, while 96% noticed more nourished skin and a noticeably healthy glow after four weeks of use. In a separate study to understand the long term benefits, the brand also found that incorporating the serum into their skincare regime for an average of 12 years appear to look 13.3 years younger compared to average skin care users of the same age groups.** With impressive short term and long term results like these, what more can you ask for in a skincare product?
As an aside, don't let the fact that Korean beauty is trending hold you back. This serum is a far cry from a trend: Thanks to Sulwhasoo's strong principles of research, science, and accountability, First Care Activating Serum is one of K-beauty's best-kept secrets and — you never know — maybe even the secret behind the incredibly beautiful, glowing skin and graceful aging Korean women are known for.
**Based on a study of 95 Korean women ages 22 to 80 for an average of 10 years of consecutive First Care Activating Serum usage, evaluating skin conditions based on 5 youth indicators: hydration, brightness, radiance, translucency, and eye wrinkles.