Everything To Know About Hermès' Famous Birkin Bag
Drake collects them for his future wife.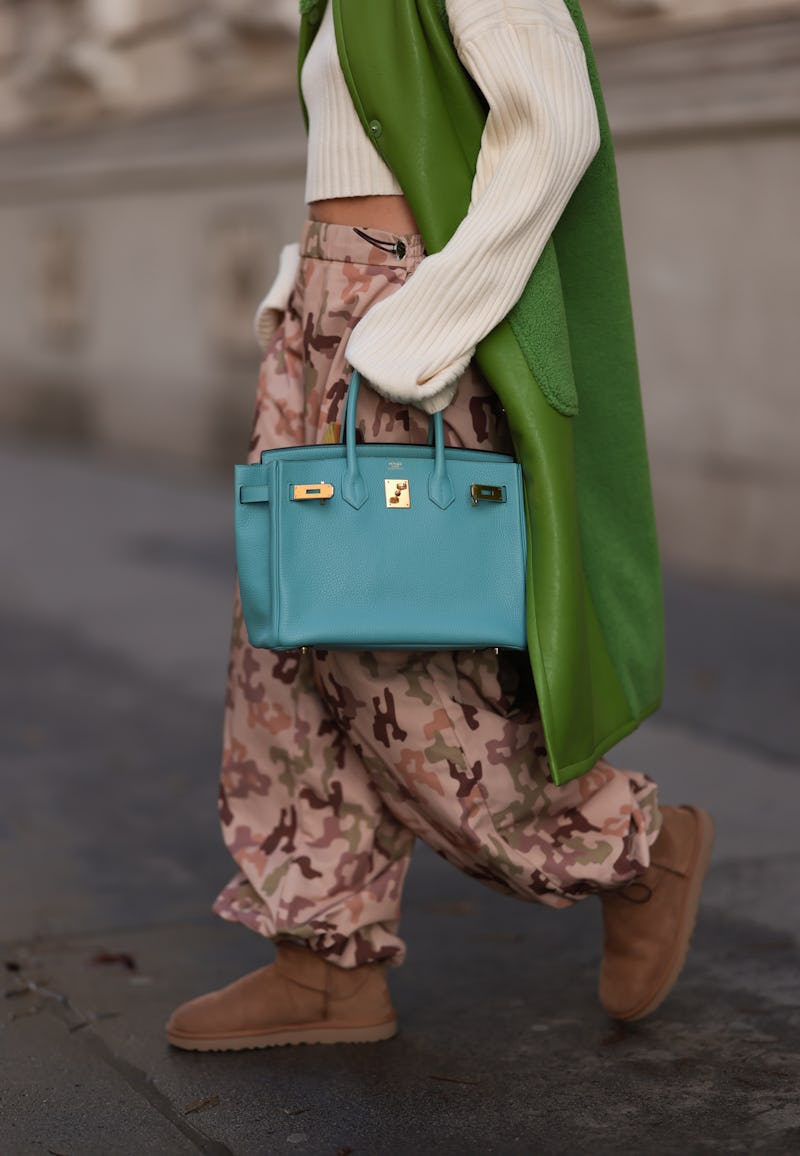 Jeremy Moeller/Getty Images Entertainment/Getty Images
Secure The Bag
We may receive a portion of sales if you purchase a product through a link in this article.
There's an unspoken rule in the upper class: You're not really rich until you own a Birkin. Often referred to as the "holy grail" of handbags, Victoria Beckham, Jennifer Lopez, and Kylie Jenner are a few known collectors, with Beckham rumored to own over 100. Drake even revealed in a 2017 interview that he's been collecting Birkin bags for years, as a gift for "the woman I end up with."
There are varying versions of the origin story, but it goes something like this: In the early '80s, British-born actor Jane Birkin allegedly spilled the contents of her bag while on a flight. She found herself seated next to then-executive chairman of Hermès, Jean-Louise Dumas. The actor — who rose to fame a decade earlier and was known for her chic, yet unpretentious style — told Dumas of the mishap, which led to the two discussing her ideal bag.
As Birkin was carrying her signature oversize wicker basket bag, Dumas recommended something with pockets. As the story goes, she told him the perfect bag should be bigger than the brand's Kelly, which was made famous by Grace Kelly. The two ended up collaborating on a sketch for the bag — and just like that, the Birkin was born. The purse they created featured a structured silhouette with a roomy interior and two rolled handles. Years later, it's now one of the most coveted bags in fashion.
Hermès debuted the carryall in 1984, though it didn't immediately reach it-bag status until the late '90s. SATC fans will remember the 2001 episode showing Samantha's quest to nab the elusive accessory. (She uses actor Lucy Liu's name to jump the five-year-long waiting list, but alas, the plan fails.) The pop culture moment undoubtedly helped cement the Birkin's status as the ultimate luxury handbag.
To get more info on the storied tote, I talked to Landyn Tedrick, site merchandising specialist at fashion resale website Fashionphile (the online reseller is home to one of the world's most extensive collection of pre-owned Birkins). Ahead, everything you need to know.
How Much Is A Birkin Bag?
New, the bags typically cost around $8,000 for a mini and up to $30,000 (and beyond) for more exotic fabrics and designs. Meanwhile, on the secondhand market, Tedrick tells me: "The most common Birkin — the 30cm in black Togo leather with gold hardware — sells between $16,000-$24,000 in very good to excellent condition. This can vary a bit, depending on the wear, the year of production, and whether it has a full set (box, lock and keys, etc.)."
Why Are Birkin Bags So Expensive?
"The Birkin is a status symbol for exclusivity, luxury, and refined taste," Tedrick says. "Its simple design and superior craftsmanship, combined with the difficulty obtaining one directly from the designer, are ingredients that make the holy grail bag."
According to Tedrick, "all Birkin bags are handcrafted start to finish by a single craftsman, with the process taking up to 40 hours to complete. The stitching on a Birkin cannot be replicated by a machine as it requires two needles passing through the same seam simultaneously."
The bag's value is directly tied to its exclusivity and limited availability. "Hermès controls the number of Birkin bags produced at a time and limits the amount of bags each customer can purchase. Some customers wait years to acquire a Birkin directly from Hermès, adding value to the prestigious handbag."
What Birkin Is The Most Popular?
"With small and mini bags being on trend, the Birkin 25 is the most popular size," Tedrick says. It's also the least expensive. That said, the 30 is also highly sought after. "The Birkin 30 is also very popular and is the most classic and common Birkin size. With the constant circulation of mini and oversized bag trends, the Birkin 30 is a better investment, as it does not follow these ever-changing trends."
Bellocqimages/Bauer-Griffin/GC Images/Getty Images
Gotham/GC Images/Getty Images
James Devaney/GC Images/Getty Images
Bellocqimages/Bauer-Griffin/GC Images/Getty Images
Jacopo Raule/GC Images/Getty Images
James Devaney/GC Images/Getty Images
Mark R. Milan/GC Images/Getty Images
Gotham/GC Images/Getty Images
How To Buy A Birkin
Currently, trusted designer reseller Fashionphile has over 150 Birkin bags on offer, if you want to go the pre-owned route. Rebag, Vestiaire Collective, and The RealReal are also good options. Sotheby's auction house also has a curated selection of new and vintage Birkin bags in excellent condition.
Should you want a brand-new Birkin, you'll have to visit an Hermès boutique. Check in with a sales associate at the nearest location to see if the exact bag you're looking for is available or will be in stock soon. Due to limited availability, there will likely be a wait, depending on the style.