How Do I Make Masks Part Of My Personal Style?
This is exactly how trendsetters are styling masks for fall.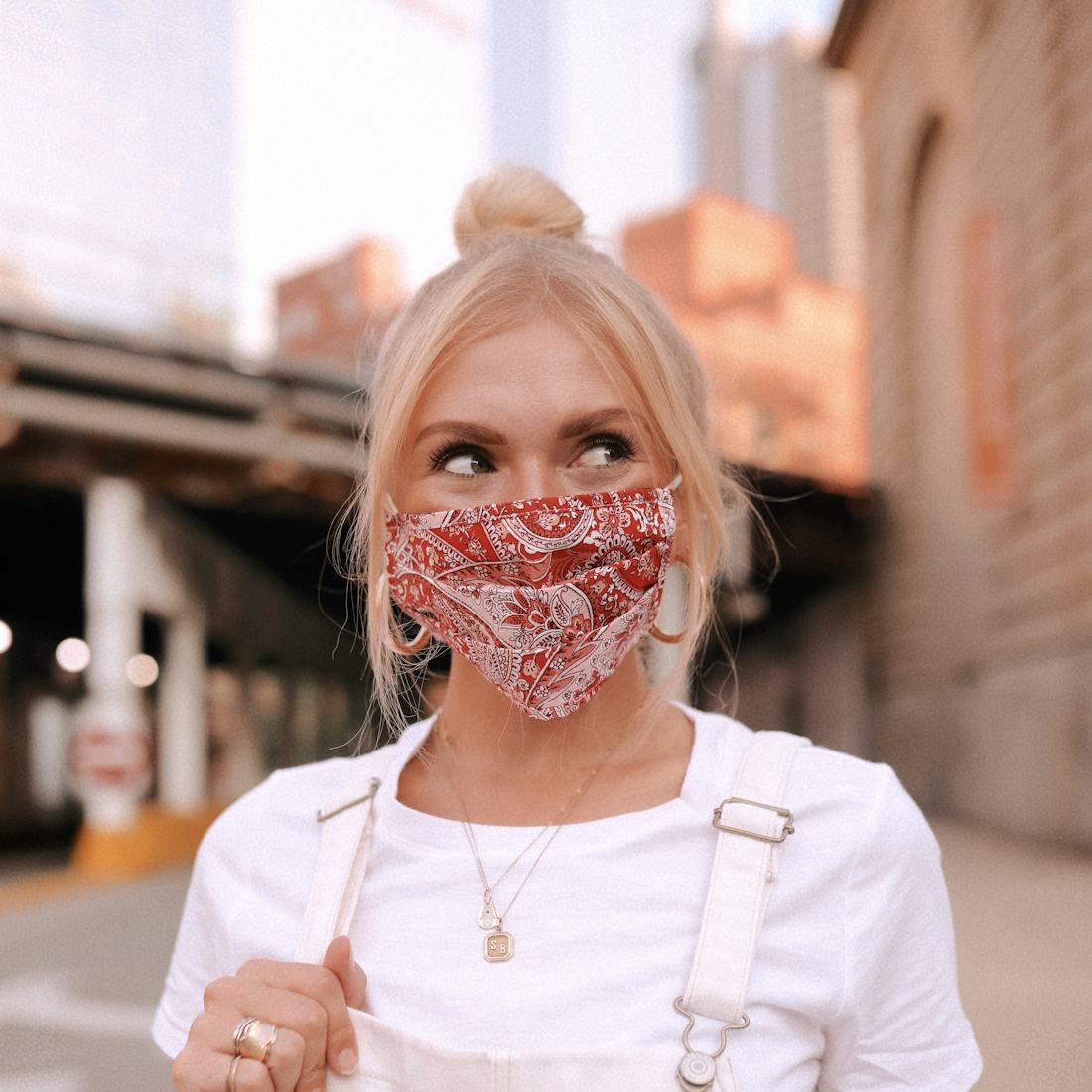 Wallet, phone, keys...mask? Check, check, check and check. These days, face coverings are the new everyday essential — a daily necessity that protects others, as well as ourselves. But in addition to helping you navigate spaces beyond your front door, face masks are an opportunity for self-expression.
Boutique owner and style-setter Kelly Augustine is on the same page, embracing masks as the new focal point of her look. "I like the idea of making the mask the star, so it's the only print in the outfit," she says. Fashion, lifestyle, and travel blogger Ali Stone agrees. "I've opted to look at masks as a way to add to an outfit, not detract from it," she says. "Why not have fun with it, right?" After all, face masks are there to shield your face, not hide your personality. We tapped the two fashion authorities to share how they're planning to anchor their fall ensembles in Old Navy's new collection of breathable, cotton poplin masks. Available in more than 50 colors and patterns, your face covering just became the show-stopping accessory for your look.
For Kelly Augustine, style permeates everything. The NYC-based fashion expert runs online boutique August Raye, so she knows how to mix and match. For the past few months, she's collected an array of chic masks to work into her wardrobe, including some fresh floral picks from Old Navy. The versatile style works well, whether she's heading to her office, running errands, or on her friend's rooftop for an al fresco dinner. "My best piece of advice is to work around palettes or prints you already own, or veer left and go for something unexpected!" she says.
For fall, her mask collection channels natural blossom prints and hues. "I naturally gravitate towards colors like browns and greens in September because they remind me of the leaves changing in Central Park," Augustine shares. And when it comes to the rest of her outfit, a double-denim look provides just enough neutral to make her mask stand out. "I love how fun the mask is! I've been collecting all different types of masks the past few months, and this one is a fun take," says Augustine.
Whether photographer Ali Stone is behind the lens or in front of it, she's always making a style statement. Here, the fashion and lifestyle curator balances her paisley Old Navy mask with frills-free wardrobe staples, like overalls, a classic tee, and her wear-everywhere moto jacket. "I love this look because it feels very true to my style," she explains. "I often find myself reaching for blacks and whites in my closet and then add a pop."
In her day-to-day, the photog relies on masks to make her ensemble stand out — and keep her safe — whether she's running one of her socially-distanced photoshoots or just grabbing groceries. "I love being able to swap out my mask depending on how I'm feeling that day," she says.
And when it comes to curating your next outfit from mask-to-toe, Stone's best piece of advice is to find a print or color that feels right for you (which just got a lot easier, considering Old Navy's plethora of prints and colors). "I'm all about whimsy, so this mask pairing definitely reflects my personal style and who I am," she tells us.
Kelly Augustine Photo Credit: Alexandra Folster
Ali Stone Photo Credit: Hannah Schweiss (Photo Editing by Ali Stone)