I Tried This Innovative Sheet Mask & It Had An Immediate Effect On My Skin
Take your masking game to the next level.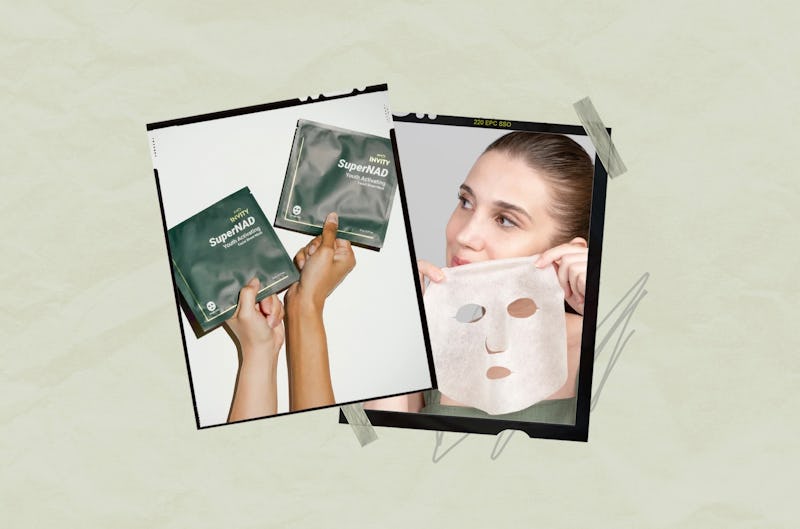 Invity / Bustle
We may receive a portion of sales if you purchase a product through a link in this article.
Just when I thought I'd heard of every skin care technology under the sun, a new research-backed line called Invity has introduced me to a cutting-edge ingredient — nicotinamide adenine dinucleotide (NAD+). Though the science behind how the ingredient works is quite technical, in layman's terms, it helps keep our skin healthy and encourages a more hydrated, radiant appearance — and who doesn't want that, right? NAD+ is the star ingredient of Singapore-based Invity's SuperNAD Youth Activating Facial Sheet Mask, which intensely nourishes, calms, and hydrates skin. To find out more about it, keep scrolling.
The Science Behind The Mask
Nicotinamide adenine dinucleotide, or NAD+, a form of vitamin B3 (aka niacinamide), has been shown to protect against the negative effects of UV radiation by repairing sun-damaged DNA, and is even considered by some researchers to be the "fountain of youth." NAD+, which occurs naturally in our bodies, helps our cells' enzymes complete their metabolic functions — but levels decrease as we age. To make up for that loss, Invity's NAD+ technology delivers the coenzyme to our skin cells, thus helping them combat signs of UV damage such as hyperpigmentation and fine lines.
To top it all off, the brand is also cruelty-free, vegan, and focused on sustainability — one of the best parts of the sheet mask is that it's made of natural banana fiber, which is not only great at retaining moisture but is biodegradable, too.
My Thoughts On The Mask
After just one use of the SuperNAD Sheet mask, your skin should appear more hydrated, radiant, and calm — and after testing the product, and I can wholeheartedly confirm. The mask has a light, barely-there scent, perfect for a self-care moment, and the banana fiber texture helps the mask stay put right where it's supposed to, rather than sliding around your face like some sheet masks do.
Plus, unlike traditional sheet masks designed to give skin a one-time shot of hydration, the SuperNAD mask was designed for long-term results. That means, with consistent use, it'll support a healthy skin barrier and help UV-damaged cells repair themselves.
After a 15-minute application, the mask left my skin looking dewy and bouncy, even more so than most other hydrating sheet masks. But the best part was the results' staying power — my skin looked more radiant than usual the next morning, and the brightening effect seemed to last for a couple days.
More Products You Might Love
Also in Invity's Youth Activating line are a cream concentrate with smoothing ingredients like vitamin E, bakuchiol, and peptides; an eye serum designed to de-puff and brighten the eye area; and an 'Instant Filler' that used a patented form of hyaluronic acid to deliver an intensely plumping shot of hydration to your skin. All products contain Invity's NAD+ technology.
Shop The SuperNAD Sheet Mask
This article was originally published on