How This Savage X Fenty Model Is Making Companies More Diverse
Jazzmyne Robbins stars in the brand's first-ever Pride campaign.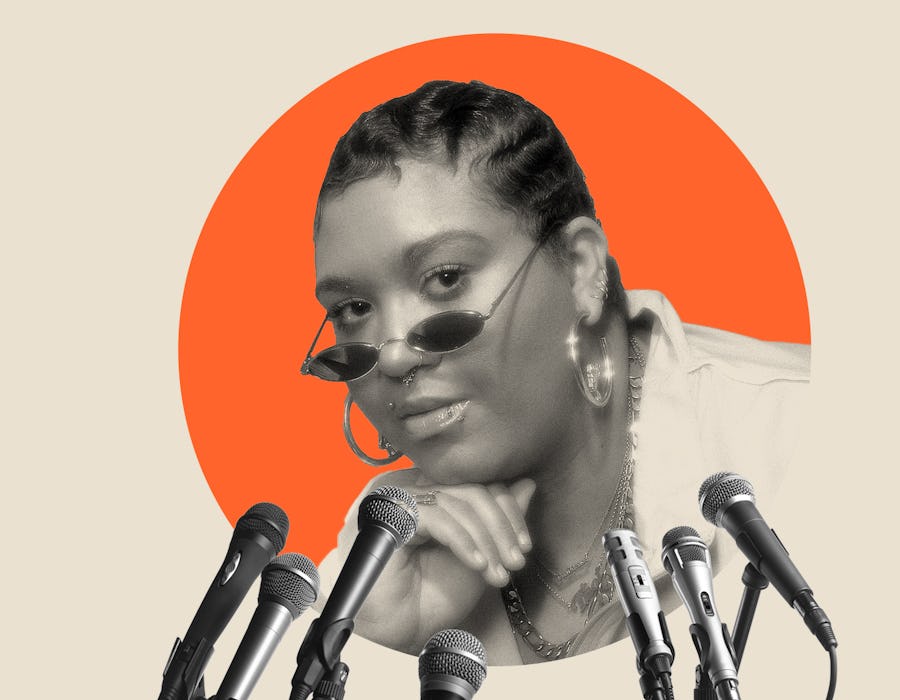 In Bustle's Quick Question, we ask women leaders all about advice — from the best guidance they've ever gotten to what they're still figuring out. Here, diversity and inclusion consultant Jazzmyne Robbins tells Bustle about starring in the new Savage X Pride campaign, celebrating Pride, and having tough conversations in the workplace.
For Jazzmyne Robbins, Pride Month is always a time of joy and celebration, but even more so this year as society begins to reopen.
"Obviously, we are proud every damn day, but with that being said, Pride Month is one of my favorite times to see our community out, celebrating, and being their beautiful selves," Robbins tells Bustle. "There is a feeling in my heart I get every June of just pure happiness to see so many people accepting one another."
This year, Robbins plans to hit up a few LGBTQIA+ events, and is also kicking off Pride Month as one of the faces of the first-ever Savage X Fenty Pride campaign, which dropped earlier this week and is overflowing with seductive summertime style inspo.
"Honestly, everything is hot," Robbins says. "Sometimes Pride collections can be not so focused on fashion and feeling sexy, but the Savage X Pride collection definitely brought the fashion and sexiness. What I love is the variety of patterns [and] colors — you will see lace, florals, sheer pants, gingham — so many different styles to choose from."
Robbins stars in the campaign alongside a roster of creatives in the LGBTQ+ community including Gigi Goode, Dexter Mayfield, Jazzelle Zanaughtti, and others. The collaborative aspect is a big part of what drew Robbins to the project.
"The most exciting part is being able to see everyone shine," Robbins tells Bustle. "From the dope photographer, to the models, to the makeup team, and the hair stylists all coming from different walks of life and being so excited and gassing each other up — [it] was a beautiful experience."
Below, Robbins reflects on her career path, the best business advice she's ever received, and what makes someone an effective leader.
We only include products that have been independently selected by Bustle's editorial team. However, we may receive a portion of sales if you purchase a product through a link in this article.
Take us back to when you first started working as a diversity and inclusion consultant. Where were you at in your career, and why was it the right move at that point in time?
Shoot, low key I have been working on D&I for a while — and I am sure any minority at any company can tell you the same thing. Last year is when I pitched myself as a consultant to the company I work for. I knew there were efforts being made, but [there were] not enough people to call out when things were not correct and offensive. Consulting is definitely where I see my career going and how I want to push D&I forward to all types of brands and companies.
What have been some of the toughest professional challenges you've faced?
Having the conversation with people about why D&I is important. For me, it is so obvious — just so damn obvious. But other people, usually people with more privilege, are sometimes willing to forgo D&I just to get their work done. And I'm like, "No, no, no." That is not how this works. You have a moral responsibility in this society.
When you look back on your journey, what surprises you the most?
My whole damn journey surprises me! I would have never thought I would be doing the work I am doing or [having] the opportunities I receive — it's wild. I have worked my ass off for each and every one of them, but it is still so surprising.
Can you share any specific anecdotes that taught you a valuable business or life lesson during your career?
It's so easy to dip in and out of who you are, to compare yourself to others' success, or be really down on yourself. Staying in touch with me, my true feelings, and my actions has been the best for me.
What's the best business advice you've ever received?
Get therapy. Just do it.
On the flip side, what's the worst business advice you've ever received?
I honestly cannot tell you my worst business advice because I don't listen to people who I do not trust. If someone is giving me their free, open opinion, I will listen, apply what I can to me, and throw the rest out. First and foremost, you are the only one who knows how to do you.
How do you recharge? What does your typical self-care routine look like?
Recharging is so important and something I am doing daily. My self-care routine is reminding myself that I deserve self-care. With being in the content creator world and the consultant world, a lot of your time is dedicated to other people. Sometimes it is so hard to remind myself that I have to dedicate time to myself as well. Sometimes that looks like just chilling and watching Cruel Summer on Freeform. Other times it looks like going for a short walk and listening to a book.
What does someone wanting to work in diversity and inclusion need to know to be successful?
Come up with ways to show your impact. Sometimes older companies, or just not diverse companies, want to be all about numbers and money, and worry about things "changing" and how it will affect their cash flow. That is literal BS. Come up with different ways to prove this point. You got this!
How do you define leadership? What does a good, successful leader look like to you?
Leadership is pushing conversations forward to result in inclusion for all. It's stepping up in any way that you can — big or small, loud or quiet. A good, successful leader takes time to empathize with others. Even if they are not within the group they empathize with, they respect what people have to say and believe people even if they don't understand fully. And they look for ways to make situations as inclusive and open as possible.