Jill Biden's Victory Speech Dress Honors Former First Ladies
The choice of designer is very important.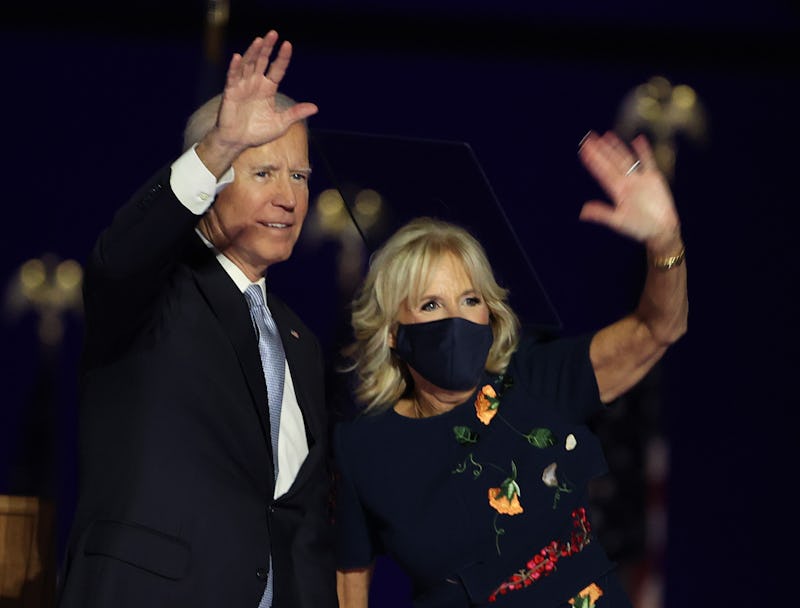 Tasos Katopodis/Getty Images News/Getty Images
Dr. Jill Biden is officially the First Lady-Elect and, in her first public appearance as such, she's already making quite the fashion statement. After five grueling days between Election Day and AP's official call for the Biden-Harris ticket, it's safe to say that everyone involved in the campaign cycled through many an outfit. But Jill Biden's victory speech dress was one for the history books. With her look, she gave a subtle nod to prior first ladies including Hillary Clinton.
On Saturday, Nov. 7, Dr. Biden made her first public appearance following the election, wearing an Oscar de la Renta black asymmetric dress embroidered with flowers for the couple's victory wave. She matched a classic black mask to her dress and finished the look off with a pair of pink pumps with large bow detail on the toe.
The nod to those who came before her came by way of her choice of designer as, before his death in 2014, De la Renta was well-known as a go-to designer for First Ladies, including Jackie Kennedy, Michelle Obama, Nancy Reagan, Hillary Clinton, and more. Clinton, in particular, is a huge fan of the fashion house and even made a speech during de la Renta's postal stamp dedication ceremony. At the time, she threw a subtle dig at then-President Trump's anti-immigration policies, saying: "Oscar de la Renta was an immigrant. And aren't we proud and grateful that he was?"
Though Biden's dress is now sold out everywhere, it is certainly one to be remembered as she starts her tenure as First Lady of the United States — and it sends a powerful message about the kind of First Lady she intends to be.