June Ambrose Is Bringing Hip-Hop Style To Formula 1 Racing
"What we did in that one genre of music has become pop culture."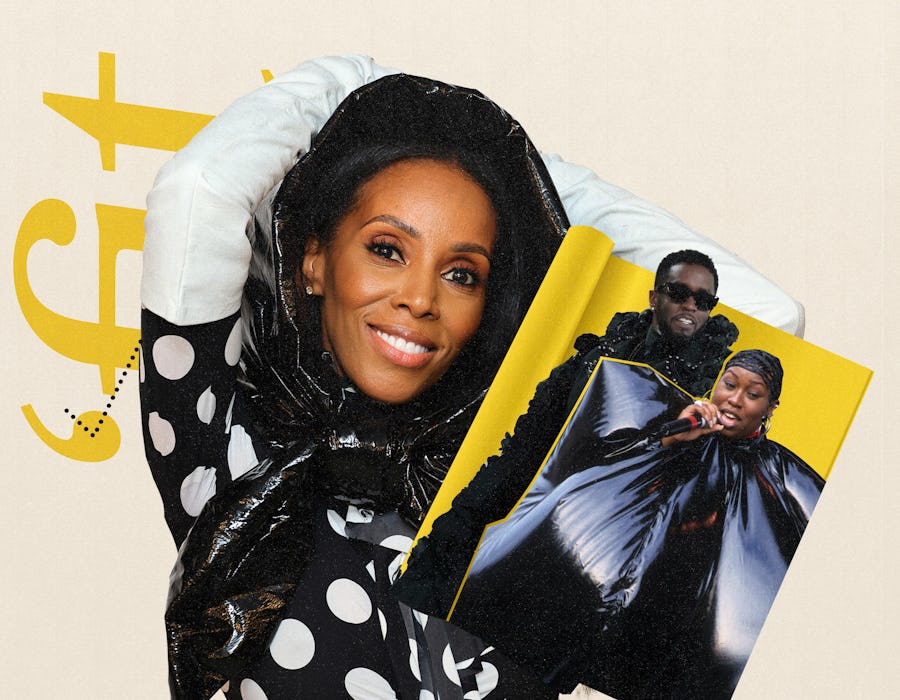 'Fit Check
We may receive a portion of sales if you purchase a product through a link in this article.
June Ambrose was the driving force responsible for moving Jay-Z out of jerseys and into the tailored suits he now wears religiously. That fact alone perfectly encapsulates her cultural influence.
The famed celebrity creative director and costume designer brought hip-hop and fashion into the same conversation — two industries that are now synonymous. From Missy Elliott's iconic inflatable onesie to Sean 'Puff Daddy' Combs' plastic-covered nylon suit from the "Mo Money Mo Problems" video, Ambrose's vision brought industry allure to hip-hop culture. Most recently, Ambrose even helped Combs re-introduce his label Sean John with a custom Met Gala look she described as "Othello meets a really gangster version of Karl Lagerfeld."
Now, Ambrose is bringing her magic fashion touch to another cultural subset: Formula One. As the Puma Hoops Creative Director, Ambrose has created a new collection with Puma, June Ambrose For Scuderia Ferrari, she is bringing her famous edge to a more commercial consumer. With the Formula One scene rapidly growing, and a particular focus on luxury fashion, she is, once again, set to make waves.
Ahead, Ambrose touched base with Bustle about the 2023 Met Gala, shifting pop culture, and the intersection of sport and fashion.
What's your favorite look you've ever styled?
It would probably be the Missy Elliott blowup suit, that was dubbed a trash bag. But, went on to [be] the iconic Halloween costume moment of our generation. [During] my early career in hip-hop culture, I was forced to design the looks in order to get the couture attention that the culture needed.
It was a process, because the technology didn't exist when I created the suit. We had to take it to the gas station to blow it up. Because I didn't really think about how I was gonna inflate it. It had no stitching, it was all seamed with tire glue. The outer layer — which was the patent leather vinyl — we were able to sew up. Any little leak could throw off the inflation.
It ended up being a really good malfunction, because if the suit stayed fully inflated, you couldn't see her movements. I ended up having to use a bicycle pump to keep it blown up, because it was losing air during the takes.
Which look would you say is the most culturally impactful?
I mentioned some of them, but artists like Missy Elliott and Jay-Z, that ended up on covers of European luxury magazines. We moved Missy from being a tomboy into more of a feminine aesthetic. We took Jay-Z out of jerseys and baggy clothes and moved him into a more structured, CEO persona. The first suit Jay-Z wore in a music video was a suit that I designed out of linen, because we were shooting in Jamaica. Jay-Z wasn't a big suit wearer, but I wanted a very specific silhouette and I tapped into that skillset to make that happen.
I couldn't call a fashion house and get that. We weren't even part of the conversation. It was all about high fashion models and magazine covers. So in the world of the music video, where my career was born as a costume designer, I wasn't afforded that privilege. I was fortunate enough to have a styling skill and I married the two. Then we had the attention of the high fashion houses.
What we did in that one genre of music has become pop culture. It became a culturally-defining moment of artistic expression that moved into streetwear and sports and lifestyle. It normalized the Cardi Bs and the Doja Cats and the Lizzos. You look at those type of artists and it just feels normal. When we were doing it, it was hugely a risk of alienating that consumer.
Can you talk about the vision behind Diddy's Met Gala look?
Sean really wanted to reintroduce the Sean John label. He bought the name recently and he was very insistent that that's how he wanted to return. Puff's persona is very specific — it's very alluring. It was kind of like Othello meets a really gangster version of Karl Lagerfeld.
I wanted to create this biker, tough, soft, romantic-man look and pay homage to André Leon Talley with a cape, but in a hip-hop way, with a puffer. He became the romantic Dark Knight. Puff has a very high taste level. He wanted something that looked luxurious, but also tapped into the spirit of Karl, who he was very fond of.
Outside of hip-hop, what are you excited about in the future of fashion within the Formula One space?
There's so much energy and so many opportunities. Now, a young consumer can participate in that space in a really approachable, accessible way. When you think about Puma as a brand, you think about performance and about their consciousness and sustainability and they're gonna infuse all of that into that space. I have no doubt that it will bleed into streetwear. It will bleed into commercial culture. It's going to be really exciting to see what comes out of the partnership.
Where does fashion intersect with sport, like Formula One?
Motorsport is a very elite space. It could be as alienating as high-fashion couture. The average customer couldn't necessarily imagine themselves wearing any of the pieces they see on the runways. When you think about Formula One, and Motorsport in general, you think of it in [the same] aspirational way.
You see Ferrari doing runway shows because they recognize that people love the style and DNA of Motorsport. All of the different cut lines have been infused in fashion since I can remember. We've all had biker jackets. Designers have been tapping into Motorsport on the runway for years.
This interview has been edited and condensed for clarity.