Kimora Lee Simmons Has Had Enough Drama. She Wouldn't Mind Being In Love Again.
The Baby Phat CEO reflects on the male ego, the backlash successful women face, and going single-mom mode with Khloé. Marriage, she says, "is not all that it's cracked up to be."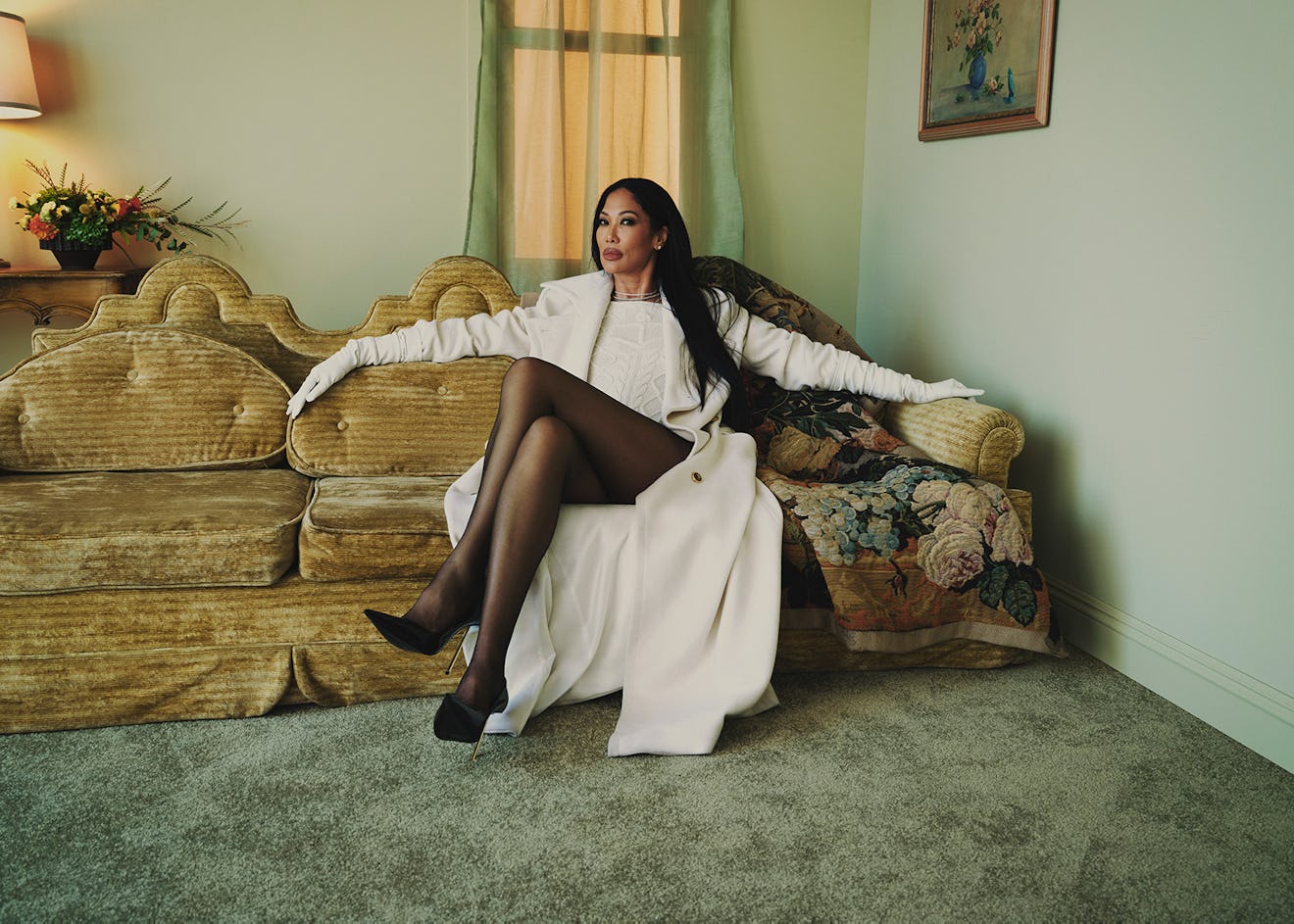 At 6 feet flat, former supermodel and current CEO of Baby Phat Kimora Lee Simmons, is used to towering over people. Today, she has an extra boost from black Jimmy Choo pumps in her preferred height: 4 inches. She strides into The Beverly Hills Hotel, dark hair pin straight, wearing blue Hudson jeans with a frayed hem and a long-sleeved logoless black shirt from her new Baby Phat collection. Her manicure is clear but elegant, and she wears no earrings. ("I just don't even have time," she says.) She carries a "nice and beat up" Hermès bag adorned with a kawaii Monchhichi monkey keychain she got from Tokyo. The fashion mogul and former Lagerfeld muse — who has mixed Japanese, Korean, and African-American ancestry — lives nearby in Beverly Hills, and throughout our conversation, staff at the hotel's Polo Lounge come by to respond to any of her potential needs or just to say hi. "It's like my office," she says, grinning.
Kimora is days away from launching a new Baby Phat collection online. Although she's been in the industry for more than 30 years — and has been the sole owner of Baby Phat, which she launched in 1999 with ex-husband Russell Simmons, since 2019 — she calls the collection her "first real run" at selling directly to her consumers online. "It's back to the basics for me, like the baby tees that I'm famous for discovering, and the tight, stretchy jeans," she says of the new collection. "It's very much Y2K brought modern."
Few brands are as synonymous with their era as Baby Phat and Y2K. Kimora's visionary, ostentatiously feminine designs — crystal-studded denim bra tops, pink velour tracksuits, fitted fur-lined puffers, curve-hugging size-inclusive jeans — revealed a lucrative market overlooked by streetwear's male-dominated culture and spawned many imitators. "Flashy is fun," Kimora says. "It's colorful and big. Diamonds, but [they] can be fake. Mine are not, but the world's can be. It doesn't matter. It's what looks good. If you feel glitzy, be glitzy. It doesn't matter that you don't have a billion-dollar glitzy budget." Baby Phat could be seen on Aaliyah, Alicia Keys, Lil' Kim, and Raven-Symoné, but also, the girl down the block. "I am a princess," Kimora states, "but I'm the people's princess."
The actor and musician Keke Palmer says that Kimora was responsible for "all the iconic looks" from her girlhood. Paris Hilton had a closet full of Baby Phat — "the tracksuits were sparkly and girly, and just very me," she says — but she was also drawn to Kimora's star power. "Kimora is definitely someone who lights up a room when she enters," Hilton says. "She would have the most epic fashion shows and I loved attending during NYFW." Rihanna reportedly bought over a dozen pieces from vintage collector and fashion historian Gabriel Held's Baby Phat archive. "I'm in the Smithsonian," Kimora says to me, proudly alluding to the custom white and pink Baby Phat sneakers designed for rapper MC Lyte in 1998 that reside in the National Museum of African American History and Culture's collection. The logo was crafted in the image of her late cat Max and is among the most popular brand tattoos in the world. "After all," she wrote in her 2006 book Fabulosity, "it's a glittering pussy — could there be a more fly logo for a girl?"
Luar jumpsuit, Araks bralette, Vintage Dior sunglasses c/o Paumé Los Angeles, Greenwich St. Jewelers jewelry, Wing + Weft gloves, FALKE stockings, Giuseppe Zanotti shoes
As for why the styles of the late '90s and early aughts are enjoying a new burst of popularity, Kimora says, "My cultural graduating class was the best. That's why we're here with Y2K [revival]." She includes among her class Jay-Z, who could, once upon a time, be seen modeling Phat Pharm (another branch of the erstwhile Phat Fashion umbrella) on the light pole outside the company's store in SoHo. "You were my model, Mr. Mogul," she teases. Britney Spears was frequently papped wearing the brand. "To this day, I love her," Kimora says. "I don't get to talk to her as much as I'd like, but I love her, and I definitely consider myself on her team." As she digs into her order of grilled artichokes, linguine vongole, and an iced tea that she takes with two Splenda packets she pulls out of her purse, we spend the next two hours discussing what it means to run Baby Phat with, for the first time in her life, total independence in business and at home.
Kimora just touched down in LA after a trip to New York for fashion week where she hung with her 20-something daughters Ming, who collaborates on Baby Phat designs and frequently ropes her mom into making viral TikToks, and Aoki, a recent Harvard grad and model who celebrated her first cover as a model with the September/October issue of Teen Vogue. Kimora feted Aoki with a blowout party at the Soho Grand Hotel in New York. "We all know about the September issue of Vogue or of any book really," Kimora says, full of pride. I share a quote about motherhood from voice actor Cree Summer that I recently came across: "No mirror could be clearer than your kids." Kimora beams. "Well then I'm great. My mirror is great, sparkly. My kids have really made me proud." She has five total and refers to them as her "tribe of Lee" because, though they come from four different fathers, they all have the "Lee" from her name as part of their first names: Ming Lee, Aoki Lee, Kenzo Lee, Wolfe Lee, and Gary Lee.
Earlier this year, Kimora's maternal peace was disrupted by the seemingly endless drama stemming from her family's estrangement from her ex-husband, Russell Simmons, the co-founder of Def Jam Recordings (who, after facing numerous sexual misconduct allegations in 2017, absconded to Bali, Indonesia, a country without an extradition treaty with the U.S.). In June, Ming celebrated her mother in a Father's Day post; Russell, her father, responded by suggesting that Kimora had prevented him from seeing them. Aoki, who backed her mother and older sister in the drama, came to Kimora in tears saying Russell threatened to undercut her modeling career for not choosing his side. "I know you're telling the truth," Kimora reassured her. "He said it to me [when I was] coming up."
This transgression against their kids marked "game over" for Kimora, who has previously lent him public support. She says her girls' social media comments were flooded with comments from male fans who took his side. "Some people were like, oh, how spoiled does she sound, that you are never going to work again, that your dad has to go get you everything?" she says. "[But] she wasn't saying my dad has to go get me everything. She was saying my dad has threatened to cancel everything that he could because they were his friends and because he was the more popular one or powerful one and that's wrong."
Sportmax clothing and choker, Greenwich St. Jewelers jewelry, FALKE tights, Gianvito Rossi shoes
Aoki's Teen Vogue cover is vindication that she will be fine and that Russell had overestimated his reach over their lives. "All my life I just sat there quietly and I took things, but I don't have to do that," Kimora tells me. She was quiet for years, she says, when Russell overstated his role in their children's lives. "At the end of the day you go to bed, you're with yourself. You have to be proud of the steps you've made and definitely not let somebody bully you or push you over … I don't care if that's your dad, your uncle, your friend, someone you don't know, we're not going to have it."
Kimora has a way of talking that feels deliciously conspiratorial. Like your friend's cool older sister, immaculately dressed even when dressed down, well-connected, gossipy but in a I'm-telling-you-because-you-need-to-know way. Growing up in St. Louis, she was bullied for her height and race, and to this day she has a strong instinct to stand up for herself. "You know how we say I'm going to be in my soft era now, but I'll slip that cover real quick and be about it. That's me."
Although Baby Phat was quickly successful, Kimora still had to fight for recognition. She and Russell were competitive, she says, and at first she thought it "was in good fun, family fun, and the nature of the business." Not unlike how the Kardashians are today, she says. "But I think at times, it quickly turned to an overpowering, overbearing presence, to where I couldn't really speak in interviews."
"They didn't want me to be there," she remembers, noting that I too, as a fellow Black woman, wouldn't have been welcomed. "You're too pretty, you're too brown, you're too this, you're too that. It's either a patriarchal male society, or something else that's very sterile, but it's not really us."
"I'm so bruised by it all. I feel like I've run into con artists every step of the way."
Kimora describes herself as "feisty" and "unapologetic." "I'm the one that got through where we weren't supposed to get through," she says. "Guys say that to me a lot. Russell's friends say that a lot. You let her get away, you let her get this far, and that's why she's like this now, because you didn't lock her down and keep her barefoot and pregnant and suppressed." She's not afraid of a fight, especially when she's defending her dignity. At times this has been misinterpreted as cattiness (see: the 2006 Vanity Fair article in which her jokes that she would "beat a b****'s ass" if a woman flirted with Russell were treated as a statement of fact). But, today, she gives the impression of someone who strives to stand alongside the people she loves when it matters. "I always have my nose in somebody else's business," she says. "I'm loud about it because if you get in trouble and I know that you cannot fight as well, I'm going to come jump into your trouble to help buffer, because at least the two of us are a little bit bigger than you by yourself."
There's something powerful about Kimora's willingness to admit that sometimes it really is a battle to be heard and valued. Keke Palmer says that her business ventures (she recently founded creator network KeyTV) have revealed to her how patriarchy is "etched" into society. "Even the kindest men can fall short of standing up against the societal norm that constantly tells them they deserve things simply based on gender," Palmer says in an email. "It can create a toxic environment for women because we have to often fight harder especially when it comes to business." For her, Kimora was a childhood inspiration who "represented elegance, beauty, power, and Black American success."
Lanvin coat and hoodie, Calle Del Mar briefs, Bottega Veneta sunglasses, FALKE tights, Gianvito Rossi shoes
Midway through our interview, Kimora opens up about a concern. "I fear that I sound way too much like, 'Screw all the men,'" she says. "We need them. I love them. I love men," she clarifies. "That's why I've been married so many times."
"I have beautiful children, but our necessity for [men] in our life is very minimal," she continues. "It's not all that it's cracked up to be. It's not giving what it was supposed to have gave!"
Kimora was only 23, "a child bride," when she married Russell ("I joke but it's not funny," she says), and they divorced when their children were still young. She was with actor Djimon Hounsou for five years in her 30s and, from 2014 until last year, she was married to former Goldman Sachs investment banker Tim Leissner, who is currently a key witness in a $4 billion fraud case. (In 2021, Russell sued Kimora and Leissner, accusing them of stealing his stocks from the energy drink company Celsius to cover Leissner's bail. Last year, it was reported a judge ordered Russell to pay Kimora $100,000 in legal fees. Meanwhile, it was revealed that Leissner had faked divorce papers, and was still married to his ex when he wed Kimora.) "I'm so bruised by it all," she says. "I feel like I've run into con artists every step of the way."
She says that she has not spoken to Russell in a few years, and she does not co-parent with any of her children's fathers. When she looks back on her relationships, she can see how she might seem like the common denominator. "It looks like, 'Well, it's all you, all fingers point to you, lady. You're the one.' I guess it is me, but I think it has more to do with my personality or my stance in society. Something about powerful men and how they really appear to be powerful and big and this and that. But they're nursing an ego inside of there. Not just these men, any men. Men, powerful men, famous men, rich men, business rich men, whatever you want to call it. There's a thing there and I don't know what it is, but I don't really have a great relationship with any of them and they've left me to it to just kind of do things on my own. I do everything on my own. Like I say, I'm a single mom."
Her view of partnership was altered by a recent (highly covered) girls trip to see Usher in Vegas planned by longtime pals Kim and Khloé Kardashian. "I asked Khloé to marry me and she said yes. … It was a joke, I had on a big diamond ring and so did she. We went to switch rings and I realized that's how it should be: I'm giving you something and you're giving me something and it's on the same level." In Kimora's world, all her girlfriends have multiple children, multiple properties. "We have our own money, we have our own businesses and brands. We don't need the guys. But it's always a small group of women in the scheme of things that have broken out of that system."
Kimora was more animated — making full use of the wide booth and her long hands — when discussing the ill-treatment she suffered in her past, but she's more passionate now, talking about the women and kids in her life. Kenzo, Wolfe, and Gary "know how to take all of your social media pictures so they got the Instagram boyfriend thing down for when they get into that," she jokes while seriously noting "they're just good boys and they're sensitive, and they know that it's OK to be sensitive sometimes."
A bougainvillea petal from above lands square on her face. "God's throwing pink flowers at us," she says, happily. "I love to be in love," she admits, lightly throwing up her hands. "It's a problem." "Maybe I'll be like Elizabeth Taylor," she offers. "She married like seven times, or maybe eight times." Kimora's right, it was eight (Taylor married Richard Burton twice). She tells me that she could, hypothetically, "quietly" date someone in private. But for now, the public loves in her life are her kids and herself. "It's probably the first time the world is really just seeing Kimora for Kimora," she says. "And that's probably why I'm so damn excited."
Though she previously warned me she was "the queen of ordering way too much and not eating it," Kimora has made an impressive dent in her lunch before we leave and takes the leftovers to go in a chic bubblegum pink Beverly Hills Hotel carryout bag. She is full, and her mirror is sparkly.
Top Image Credits: Dundas clothing, Greenwich St. Jewelers necklaces, Wing + Weft gloves, FALKE tights, Le Silla shoes
Photographs by Micaiah Carter
Styling by Jan-Michael Quammie
Set Designer: Kelly Fondry
Hair: Hachoo Johnson
Makeup: Porsche Cooper using La Mer
Production: Camp Productions
Talent Bookings: Special Projects
Video: Kyle Hartman
Associate Creative Director, Video: Samuel Schultz
Photo Director: Alex Pollack
Editor in Chief: Charlotte Owen
SVP Fashion: Tiffany Reid
SVP Creative: Karen Hibbert