Lidl Is Selling A More Affordable Alternative To The Dyson Airwrap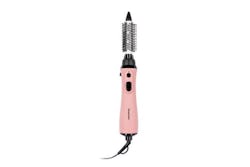 Dyson hair tools are often touted as the best around. But their hefty price tag can often detract from their allure, making them slightly out of reach for most. The good news is that there are some brilliant affordable tools out there, including a new bargain one by a beloved supermarket brand. Recently, Lidl launched a more affordable alternative to Dyson's AirWrap dupe, and it's a £11.99.
The Silvercrest Multi-Function Hot Air Styler comes with six attachments in total, meaning plenty of different looks are available. The attachments include a curling iron, vented brush, and double-sided brush, depending on how you'd like to dry and style your locks.
The cute design makes the styler super appealing too, as it has a vibrant pink handle, and comes with a handy storage bag. The functions also sound rather impressive, as the handheld tool comes with a couple of speed and heat settings, meaning you can really tailor your look to your style and proficiency level!
As mentioned, it's just £11.99, which makes it a huge bargain, and a great starter tool if you're wishing to work your way up to a Dyson one day. The Dyson AirWrap design — although expensive at £449 — is certainly impressive, with its unique coanda effect, which allows the tool to attract and wrap hair. The AirWrap also utilities intelligent heat control to maintain a temperature of under 150ºC at all times, and offers users a wide range of styling options thanks to its many heads.
The only bad news here is that the Lidl tool is currently sold out online. However, there could be hope for those doing their weekly shop in-store, where it's also available.
It's worth keeping an eye on the previous Lidl product page as well, just in case one day soon it makes its way back online.