Lily Collins Swears By This Product For Perfectly Air-Dried Hair
Plus, her $10 chapped lip cure.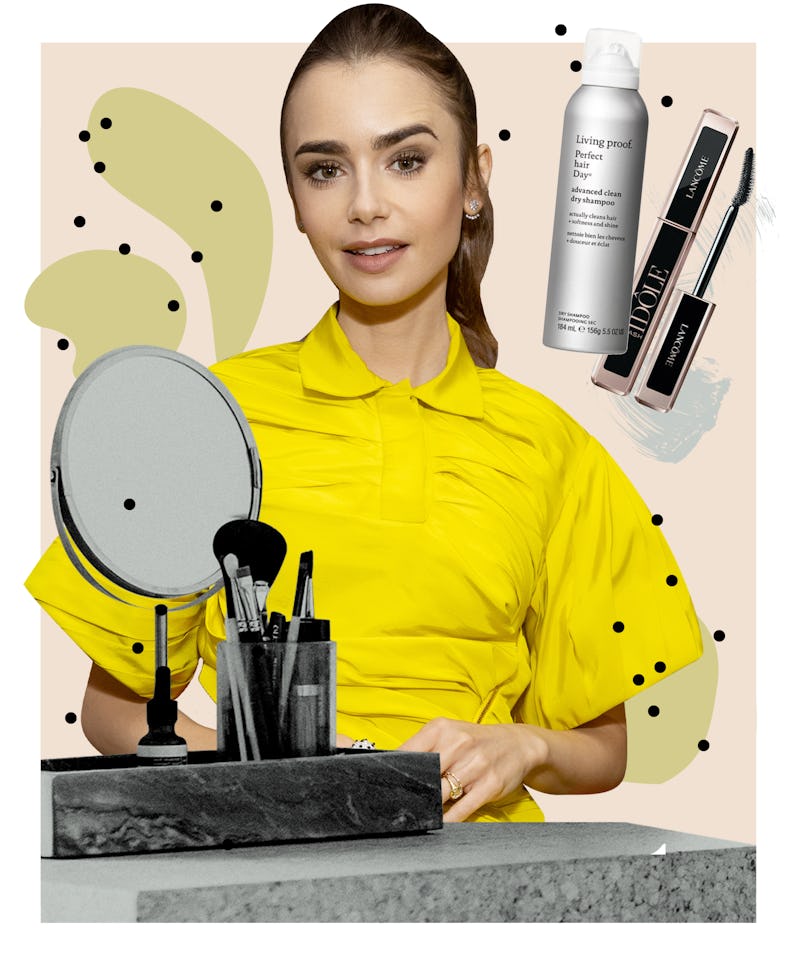 Emma McIntyre/Getty Images
In Bustle's Beauty Detail, we dive into the beauty bags of our favorite talents for intel on the rituals that keep them glowing and the MVPs (most valuable products) they can't live without. Here, Lily Collins tells Bustle about her new partnership with Living Proof, as well as how she prioritizes self-care.
It isn't groundbreaking to declare that Lily Collins looks like a Disney princess. For one thing, she's literally played Snow White — in Mirror Mirror, Tarsem Singh's deliriously giddy 2012 reimagining of the tale — and took on the ingenue-gone-wrong role of Fantine in the BBC's recent miniseries of Les Misérables. Then there's Emily in Paris. Type A to a fault and irrepressibly optimistic, Collins' portrayal of the titular Emily is about as close as one can get to what a Disney princess might act like in real life.
But for all the wide-eyed wonder Collins routinely brings to her roles, she gives off a far more measured, grounded vibe in person. To hear her tell it, adopting a down-to-earth approach has been her key to finding balance amid a fast-paced, glamorous — but often grueling — lifestyle, which now includes a new role: Collins was recently announced as hair care brand Living Proof's newest ambassador. "I'm a less-is-more person in my off time," she explains, "because I know that the next time I work I'm gonna be put through the ringer. I feel like a good mantra for me to remember about me is just breathe, because I'm always on the go." In that vein, her hair care routine is surprisingly low-key; she opts for air-drying over blowouts, and counts Living Proof's dry shampoo as a staple.
A low-effort hair routine leaves more room for self-care, a key part of how Collins stays grounded. "I feel like the attention that you give to yourself, even if it's a small amount of time, it feeds your insides as much as it does the physical," she says. "It's a really nice breather in the day, whether it's in the beginning or end of the day, to just kind of reset yourself." Her top indulgence? "I love heat," she laughs. "Sauna or steam! A bath with a candle and a hot tea is one of my dreams. I love it so much." Basically, anything that allows her to "repair and prepare," as she puts it, is a go-to on a self-care day. "My husband and I will wear face masks sometimes," she says. "It's just the best way to have a really quick result, and it's so fun. Some of them are really funny looking and you can, like, be an animal or a superhero! It's just a nice little thing to do for yourself."
By contrast, when on the clock, Collins gravitates towards the opposite end of the spectrum: the more dialed-in her beauty, the better. "When I'm playing a role, makeup and hair completely can transform you," she says. "It really helps inform the creation of a personality, of a feeling — it transcends the physical. You start to feel differently about yourself." That's not to say that a good role always comes down to picture-perfect hair and makeup; quite the opposite, in fact. "When I play characters where there's not an attention to perfection, and you can be grimy and dirty, and you're crying, and you're outside in the elements, and there's not really a lot of touch-ups," she says. "There's something very freeing to me about that, and I oddly can feel more comfortable on set like that sometimes because I know I'm not trying to look a certain way or look perfect." Even red carpets and promotional events involve inhabiting a type of role, as far as Collins is concerned: "Most often, I don't look in the mirror when I'm getting ready. I trust my hair and makeup team so much that we just talk about the outfit and the vibe, and then I go, 'Okay, have fun!' And then I get to see it and I'm like, oh, I'm that character tonight!"
But what about when she's just being Lily? On her own time, Collins gravitates towards anything that can help her feel chic with minimal effort. In that sense, her brand-new bangs are coming in clutch, and a tiny dollop Living Proof's hair oil keeps them sleek without weighing them down. "Putting a ponytail or a messy bun with bangs kind of creates a little bit more of a look than without them for me, because with them you feel like you've done something extra," she explains. "It's like a weird addition that all of a sudden feels a little bit more fancy." When I toss out a few names as examples — Jane Birkin, Marianne Faithfull — she nods enthusiastically, saying she's been "leaning as much into that French chic thing" that she can. "I'm not saying I'm nailing it, but I'm trying!" she laughs. "It's very much that French je ne sais quoi thing, but also very beachy Los Angeles — that perfect mix of carefree not-trying, but I did a little something."