Linjer Jewelry Is Running A Buy One, Get One 40% Off Sale — Here's What I'm Buying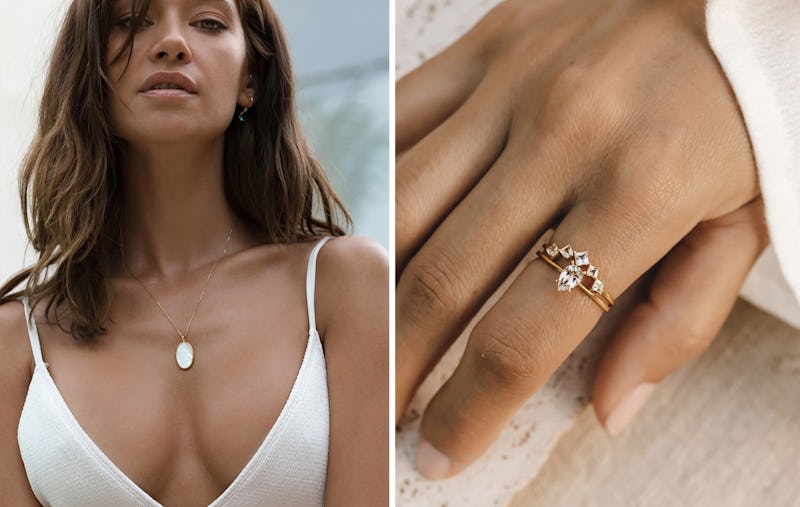 We may receive a portion of sales if you purchase a product through a link in this article.
Looking for a gift-y way to celebrate the women in your life? I've been a fan of boutique jewelry brand Linjer for a minute, and it just so happens that the brand is running a special promotion in honor of International Women's Day. If you happened to shop their sale on March 7th or 8th, Linjer donated 100% of the sale profits to the Malala Fund, but don't fret if you missed out; you can still take advantage of their promotional buy one, get one 40% off sale on all their jewelry right now.
Sustainable luxury is Linjer's mission, and the brand uses recycled materials wherever possible; this includes all their gold and silver, and even extends to their packing materials. They also use lab-grown diamonds, and all their precious metals are sourced from RJC (Responsible Jewelry Council) suppliers. Not only has Linjer really done their sustainability homework, but their pieces are fairly priced, as well; they're able to do this by selling directly to the customer from their website, which removes the markup normally expected with luxury products.
Whether it's a glowing moonstone ring, a mother of pearl pendant, or a tiny gemstone stacking ring, you're bound to find the perfect gift to celebrate the women you care for, even (or especially) one of those women is you. While all of Linjer's pieces are part of their buy one, get one promotion, I've included some of their best-sellers below to kickstart your shopping spree.
A Pair Of Everyday Pearl Huggie Earrings
Classic, elegant, and endlessly versatile, you'll wear this pair of huggie earrings every day. Crafted from recycled gold and silver and generously plated with 14-karat gold vermeil, the hoop is understated enough to blend in with casual attire, while a delicate, dangling freshwater pearl adds enough sophistication to combine with eveningwear as well, making this an effortless day-to-night option.
This Nesting Ring Set With So Many Styling Opportunities
Purchasing this two-for-one ring set on sale feels like getting away with something. Comprising two dainty stacking rings — one the pear-shaped white topaz Martine Ring, and the other the Aurora White Gemstone Ring — each ring is crafted from recycled gold and silver plated with 14-karat gold vermeil, and set with ethically sourced, hand-cut white topaz. It's a set with limitless styling opportunities, but whether you choose to stack them or wear them individually, all roads lead to beauty.
This Mother Of Pearl Pendant With An Adjustable Chain
This chic pendant features a large mother of pearl stone dangling from a delicate chain crafted of 14-karat gold vermeil over recycled gold and sterling silver, for an effect that's both minimal and statement-making. Even better, the chain can be adjusted to three different lengths for infinite layering (and neckline) potential. It's a masterclass in timeless minimalism that you'll reach for again and again.
The Statement Ring Set You Never Knew You Needed
If you haven't considered a statement ring as an outfit essential, allow the Elisa & Margit Statement Ring Set to expand your mind. Featuring the Elisa Moonstone Ring with three light-catching rainbow moonstones, and the Margit Mother of Pearl Ring set with one oval mother of pearl stone, each ring is plated with thick 14-karat gold vermeil over recycled sterling silver and gold. These statement-making rings can hold their own when worn individually, or stacked for a stunning punch. They'll look just as chic paired with elegant cocktail attire as your favorite worn-in band T-shirt.
A Rose Quartz Bracelet For Sophisticated Sparkle
The blush-toned rose quartz set in this dainty bracelet will add sophisticated sparkle to any ensemble. Crafted of 14-karat gold vermeil over recycled sterling silver and gold, one shopper described it as "the perfect shade of gold," continuing, "the framing of the stone is a little rugged, it's not a perfect round which gives it a rustic feeling that I love."
This Blue Topaz Ring To Add A Tiny Pop Of Color
Add a subtle pop of color to your outfit with the Ilse London Blue Topaz Ring; proof that big things can indeed come in small packages, the 14-karat gold vermeil-plated band is studded with tiny, vibrant blue topaz, hand-cut into the most gorgeously irregular shapes. Like all Linjer rings, it features a core of recycled metal (in the case of this ring, sterling silver and gold), and while it looks lovely all on its own, it would be just as gorgeous stacked with rings of varying colors and textures. Blue isn't your color? It comes in five more stone and metal variations, like peridot or citrine in gold settings.
A Classic Tennis Bracelet That Looks So Expensive
The classic bracelet with main character energy, this tennis bracelet is set with brilliant cubic zirconia stones that have no problem whatsoever being in the spotlight. Let it sparkle all its own, or create an ensemble cast with another of Linjer's sparkly bracelets. No one would believe this under-$100 bracelet isn't made of real diamonds.
This Sparkly Open Leaf Ring
Named for the Norwegian goddess of love and beauty, this leaf ring is proof positive that sparkle can be subtle; the small, marquis-cut cubic zirconia shimmer but never overwhelm this delicate ring. Set in 14-karat gold vermeil plated over recycled sterling silver and gold, double the sparkle by pairing it with the Ilse ring above.
A Solid Gold Circle Ring You'll Keep Forever
Every jewelry collection can benefit from the addition of this minimalist circle ring; made from solid 14-karat gold, it's the sort of heirloom piece you'll keep forever. It'd be worth buying even if you don't get another gorgeous piece at 40% off.
This Luxe Short Pearl Necklace
Elevate your necklace collection with this luxe short pearl necklace. Made of perfectly imperfect baroque pearls and tiny gold vermeil studs, you can wear this necklace as a 15-inch choker, or lengthen it to 17-inches.
This Set Of Huggie Earrings To Instantly Refresh Your Jewelry Collection
Ready for a jewelry refresh? This set of huggie earrings includes the white topaz-encrusted Eva Gem Huggie Earrings and the Kirsten Pearl Earrings already mentioned on this list — and if you order it now, you'll get to choose another item of jewelry for 40% off, so you could wind up with a totally updated jewelry collection. An instant shopping yes.