This Hydrating Self-Tanner Is A Celeb-Fave — And Now's Your Chance To Nab Its Previously Wait-Listed Bronzing Serum
Luna Bronze's Good Night Face Bronzing Serum has sold out four times over, but it's finally back.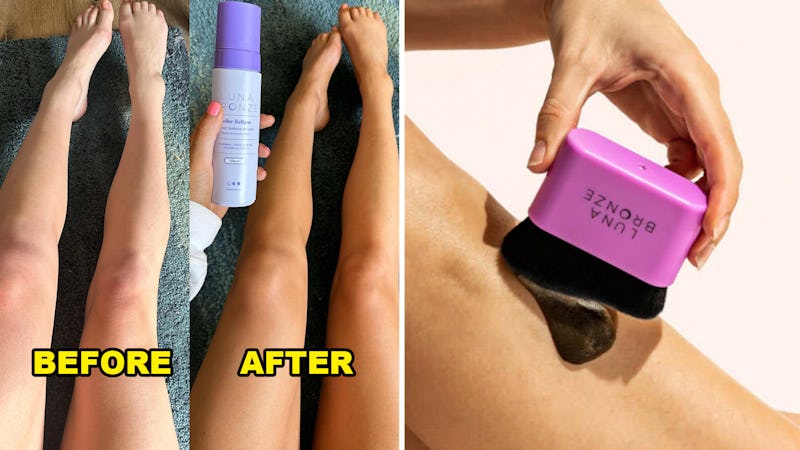 Luna Bronze
We may receive a portion of sales if you purchase a product through a link in this article.
Getting a beachy summer glow without baking in the sun is a win-win. But it can be hard to find a self-tanner that offers even, natural-looking application, not to mention one that's formulated to nourish skin in the process. This is likely why female-founded Aussie brand Luna Bronze is a reported favorite of celebrities like Hilary Duff, Bethenny Frankel, and Kelsea Ballerini. The brand's products range from mousses and moisturizers to mists and even a best-selling facial serum that once touted a 10,000-person waitlist — and they all feature skin-loving ingredients, like coconut oil, jojoba oil, and aloe.
Bridging the gap between skin care and tanning, Luna Bronze's products are loaded with hydrating, skin-soothing botanicals and promise to deliver a naturally sun-kissed look — all while letting you practice perfect sun safety. They're also vegan and PETA-certified cruelty-free, and they come in minimal packaging that's designed with sustainability in mind.
If you want a closer look at what all the hype is about, read on for some of Luna Bronze's most notable offerings (including its standout tanning serum).
The Popular Facial Serum That Tans Overnight
Having sold out four times already, it's safe to say this bronzing facial serum has its share of superfans (and it's also a Bustle Beauty Award winner). Mix a few drops with your favorite moisturizer or use it on its own before bedtime and you'll wake up with a natural-looking glow — sans sun. Like all Luna Bronze goods, it's designed to be nourishing for the skin and features zesty botanicals like desert lime extract and mandarin orange peel.
What Reviewers Say: "This stuff is the absolute best! Goes on as a soft serum making your skin feel amazing, then gradually tans overnight." — Alexis R.
The Daily Moisturizer That Gradually Tans (And Is Loved By Hilary Duff)
A multi-tasking moisturizer made of up to 98% certified-organic ingredients, this gradual tanning lotion (which is a Hilary Duff-fave) delivers a realistic bronze tone with daily application over the course of one to three days. It's formulated to nourish and hydrate skin, with ingredients like coconut and wheat germ oils, and it works for pale to medium skin tones.
What Reviewers Say: "This is the easiest gradual tan with the best results. It gives a glow from within look." — Samantha R.
A Buildable & Customizable Tanning Mousse
This unique mousse formula is lightweight and buildable — leave it on for anywhere from one to 12 hours depending on the level of tan you're after. It's clear, so there's no mess on your jammies or bedsheets. It boasts skin soothing ingredients like aloe vera juice and jojoba oil, and the essential oil blend (including orange blossom and lemon myrtle) means there's no weird self-tanner smell.
What Reviewers Say: "I was skeptical of the clear! But I love it. [...] the clear solar eclipse went on SO even and nicely. Very minimal smell and didn't get on clothes or anything!." — Hannah S.
An Applicator That's Got Your Back
Historically, getting a solid self-tanned glow was limited to the areas your hands can reach. With this cleverly designed back applicator, you can get everywhere from your shoulders to your booty with ease. Dispense your tanner of choice in the center of the velour side, then sweep back and forth over your desired area for smooth and even distribution.
What Reviewers Say: "I love this! I have been trying some DIY at home [...] and it has been a struggle... in 30 seconds I can achieve that now." — Julie M.
A Tanning Mousse That Delivers A Deeper Glow
For those looking to go deeper with their tan, the Total Eclipse Tanning Mousse has your number. Formulated to hydrate skin, it still features the lightweight, easy-to-apply mousse texture, and it imparts a medium-to-dark tan between one and eight hours after applying. And citrusy essential oils give it a fresh scent.
What Reviewers Say: "The best tanning mouse I have used in ages! I love the stunning colour that this tan leaves on the skin, it's so easy to apply, the texture is so silky and it dries really fast." — Annie S.
The Blending Brush That Gets All The Spots
For areas like hands and feet, or your jawline and hairline, this little contour brush is a self-tanning MVP. It's designed to be used with any Luna Bronze product and helps ensure you get a flawless, evenly bronzed finish from head to toe.
What Reviewers Say: "Best blending brush I used so far!" — Kira Frencesca O.
A Tanning Kit That Includes All The Goods
If you're ready to go all-in with your sunless tanning, this complete self-tanning kit includes the fan-favorite Good Night Face Bronzing Serum, the Glow Gradual tanning moisturizer, an exfoliating mitt for even application, and an oversize tee to ensure you're comfy while you bronze. Grabbing the bundle saves you 15% over buying each item on its own.
This article was originally published on