M.A.C's Latest VIVA GLAM x Keith Haring Collection Marks 27 Years Of Giving Back 100% To Underserved Communities In Need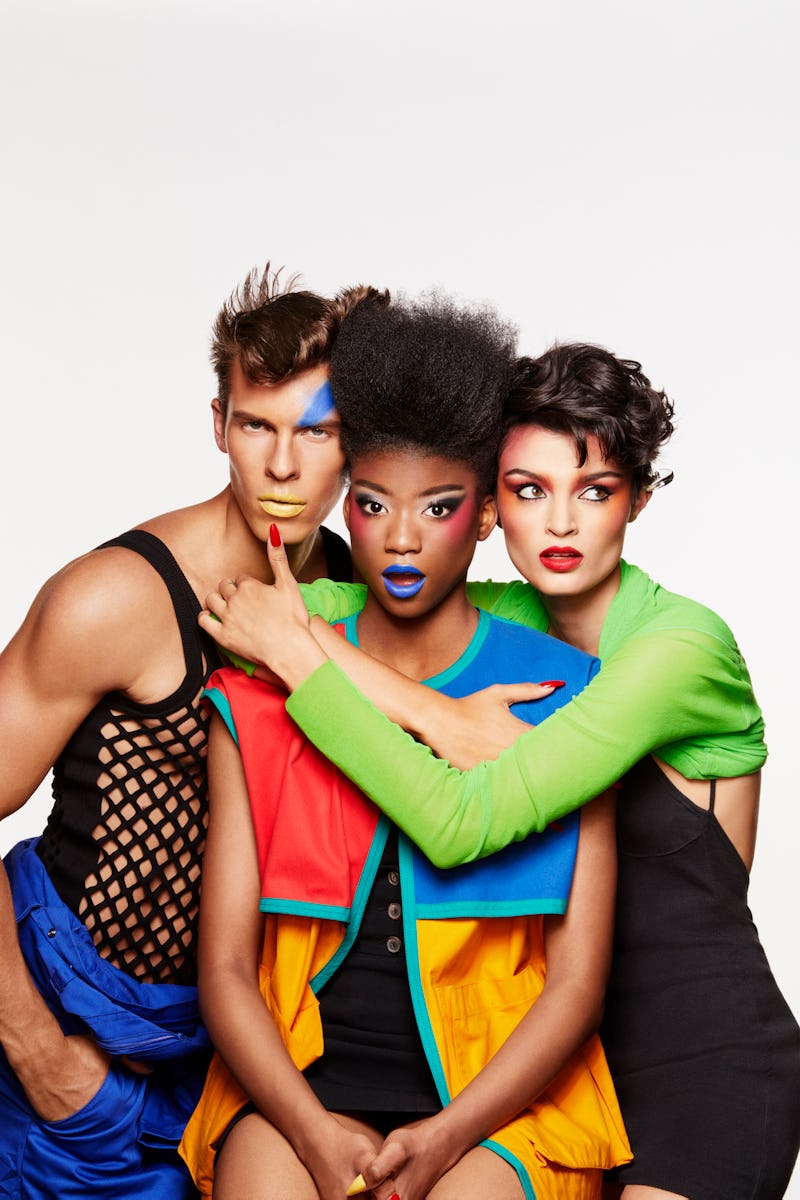 M.A.C Cosmetics
The beauty of M·A·C is that inclusivity and giving back are as intrinsic to the brand's DNA as beautiful makeup colors and artistic textures are. Take their long-standing VIVA GLAM campaign, which the brand started in 1994 with a single red lipstick to raise awareness and funds for the fight against HIV/AIDS. Since inception, 100 percent of the selling price of M.A.C's VIVA GLAM Lipsticks goes to organizations supporting people and communities in need — and in recent years, they've expanded their reach to advancing equal rights and healthy futures for women, girls, and members of the LGBTQIA+ community, while maintaining their decades-long support for people living with HIV/AIDS. To date, M·A·C VIVA GLAM has raised more than $500 million (and counting) globally — that's 9,700 grants to over 1,800 organizations in 92 different countries providing housing, food and health services to those most in need.
That brings us to VIVA GLAM's latest collection: VIVA GLAM x Keith Haring. To celebrate the campaign's 27th anniversary, M·A·C is honoring late iconic artist Keith Haring with a bold collection of three primary colored lipsticks. The lip colors — in the red, blue, and yellow shades you'd find on a classic color wheel — are an ode to Haring's signature pop street art that was a huge fixture of New York City graffiti subculture in the 1980s, right around the time when M·A·C Cosmetics launched as a makeup brand. Haring's work, known for its clean, rhythmic lines and saturated colors, often carried important social messages, and a few of his most famed sketches now live on as prints strewn across the three limited-edition lipstick tubes.
Haring himself suffered from HIV/AIDS and founded the Keith Haring Foundation to provide funding and awareness to AIDS organizations and children's educational programs. Many of those same organizations are also supported through M·A·C VIVA GLAM's 100% giving model, such as the LGBT Center in NYC and Positive East in the UK. Haring tragically lost his life to the epidemic in 1990, and so the VIVA GLAM x Keith Haring Collection hopes to recognize his legacy through the synergistic collaboration while carrying on his mission. Staying true to all the VIVA GLAM collections, every cent of the sales price from the limited-edition line will go to helping women, girls, the LGBTQIA+ community, and those living with and affected by HIV/AIDS.
"As one of the most disruptive beauty campaigns of all time, M·A·C VIVA GLAM set the standard for giving back within the industry thanks to the support of provocative powerhouse talent, our Artists and community," says John Demsey, Chairman of the M·A·C VIVA GLAM Fund and Executive Group President, The Estée Lauder Companies Inc. "For our 27th anniversary, we're thrilled to honor the late iconic artist Keith Haring and carry forward his mission of using his imagery to drive positive change for those most in need of support. He was a true visionary who used his talent for purpose. While he sadly passed during the height of the epidemic, we are so proud that his iconic art and philanthropy lives on through VIVA GLAM."
During the development process of the Keith Haring lip colors, M·A·C drew inspiration from Haring's belief that "art should be something that liberates your soul, provokes the imagination and encourages people to go further." Similar to how Haring used NYC subways as his laboratory for experimentation, VIVA GLAM x Keith Haring invites experimentation and creative exploration. The colors can be worn alone or mixed to create more bespoke shades of purple, green or orange. With that said, you still have options when it comes to supporting VIVA GLAM: These three neutral shades are permanent fixtures of the core collection that you can feel good about shopping and swiping on, whenever.
SHOP THE COLLECTION