Meet The New Peptide-Packed Hydrating Serum That Every Beauty Editor Is Slathering On This Winter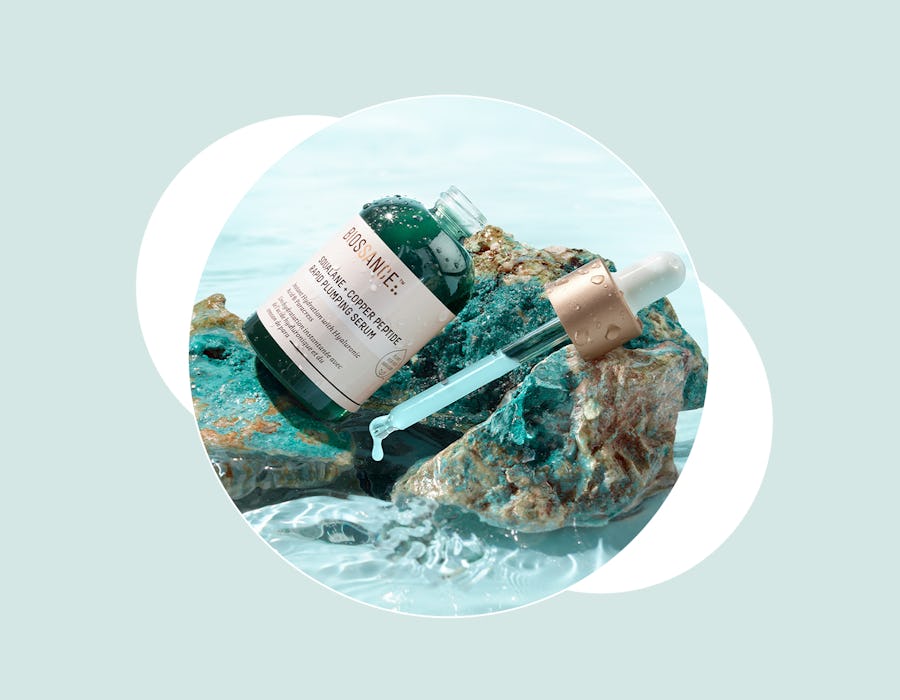 So much about winter makes us happy — cozy snow days; hunkering inside with a thick blanket; steamy cups of delicious hot beverages — but our skin would beg to differ. No matter your skin type, it's a fact that the moisture-less winter air and dry indoor heating don't do your skin any favors. In fact, we bet your skin is probably feeling tighter, more dehydrated, and duller than usual right now. Just like you change up your wardrobe come cold weather season, the same should go for your skin care: You need products that are going to layer on the moisture, and Biossance's new Squalane + Copper Peptide Rapid Plumping Serum is like a thermal undershirt, fuzzy wool sweater, and puffy winter coat for your skin: It's got everything your complexion needs to brave the cold and stay nourished, dewy, and plump.
Let's unpack what makes this new serum a wintertime winner: To start, the formula's base consists of a clinically-tested Rapid Plumping Complex. The complex is made up of hyaluronic acid, polyglutamic acid (PGA), and sugarcane-derived squalane, and they all work overtime to ramp up hydration levels the second you apply it (hence rapid in the name). Hyaluronic acid is able to hold 1,000 times its weight in water, grabbing moisture from the environment like a sponge and locking it into your complexion. PGA, an amino acid, fills in fine lines with juicy hydration, and squalane, a sugarcane-derived oil, soothes and boosts radiance. In addition, it's got a flower-derived extract called paracress, which lifts up your skin instantly so it looks nice and taut.
Now that we've run through the fast-acting ingredients, it's time to talk about the element that works overtime, the serum's Copper Peptide. This smart technology stimulates collagen and elastin production — the stuff that keeps your skin juicy and youthful — for firmer, more resilient skin the more you use it. Unlike other collagen-supporting ingredients, this one isn't going to cause any redness, flaking, or irritation. It just works quietly and effectively behind the scenes to give you a bouncier complexion.
The highly-concentrated serum is gentle enough to be used day and night and its watery, fluid-like texture makes it ideal for layering other products or makeup on top. Because this fast-acting serum with long-term results will make your skin better and better the longer you use it, it's obviously not just for winter. Start using it right now so your skin can thrive throughout winter and check back with us in the summer so we can see how incredible your skin looks, OK?