Lessons Learned On The Yard
10 women reflect on their experiences attending an HBCU — and the impact it left on their hair and identity.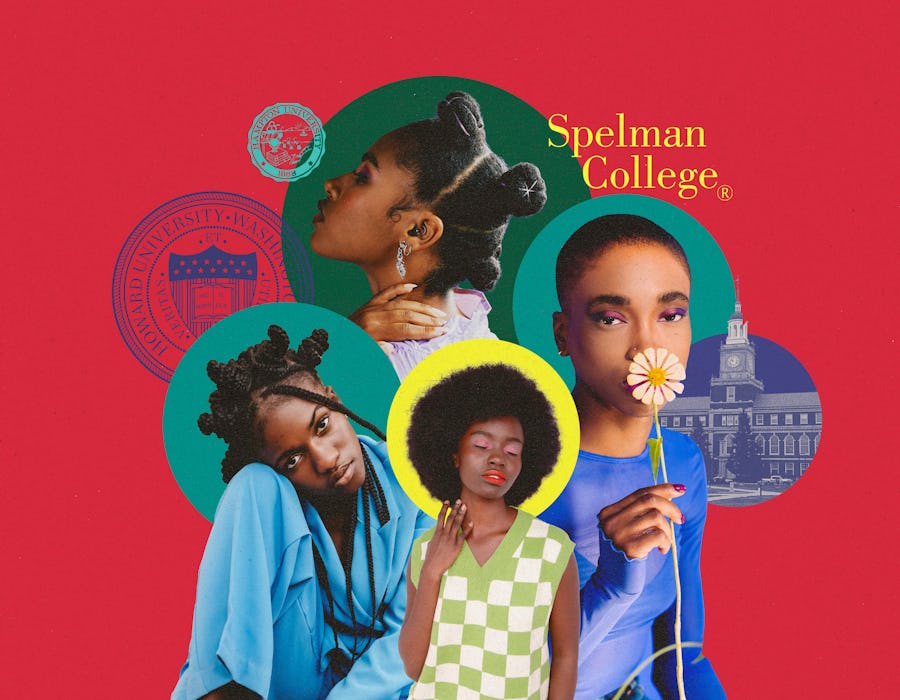 Braided & Laid
We may receive a portion of sales if you purchase a product through a link in this article.
Before I stepped foot on the campus of a historically Black college and university (also known as an HBCU), I didn't think my relationship with my hair needed repair or evolution. In hindsight, my view of how Black hair should have been presented and cared for was narrow at best. As a girl from the South, bone-straight hair and an emphasis on length — rather than hair health, in an effort to appeal to respectability politics — was paramount.
The moment I stepped on campus, that changed. Surrounded by rich coils and textures, styles I'd never seen up-close, and Black women who had extensive knowledge of hair care, I was suddenly immersed in an atmosphere self-love — and a deep knowledge about caring for natural hair that has followed me into adulthood.
This experience isn't exclusive to me. In fact, it's a rite of passage for so many of us who chose to pursue higher education at institutions such as Hampton University, Howard University, Spelman College, North Carolina A&T, Xavier University of Louisiana, Florida A&M University, and more. Ahead, 10 women reflect on their fondest hair memories at the HBCUs they attended, how it impacted their relationship with their hair, and the nostalgic products they discovered that they still use to this day.
Gabrielle Benson, Howard University
"Before college, I was just sticking to my braids, sew-ins, and traditional silk presses. But after arriving at Howard, I saw that I could do so much more. In some ways, there were still the expectations that you needed to have your hair done all the time — proof that there's no space that Black women can really become completely absolved of all of the societal expectations of their hair. However, I do think that being at an HBCU allowed me to see such an array of Black women and their hair that it does make you feel comfortable if you are in a certain state — like growing your relaxer out, if you just did the big chop, or if you're trying a new style and it's not working out. It felt like more of a safe space for you to find some type of assistance or solace. One of the biggest staples of a lot of women's experiences at HBCUs are having people that literally do hair in the dorms."
Asia Milia, Hampton University
"I finally learned how to take care of the hair on my own head during college because it was my first time being away from New York for a substantial amount of time. There was no going to get my Dominican blowout every two weeks or going to get a relaxer every eight weeks. Being surrounded by so many different Black women and having a roommate who had been natural her whole life showed me all the different ways to care for my hair. There were so many hairstylists on campus who did weaves and other protective styles who came from all different walks of life. They had different textures and knew how to take care of not only their hair, but just hair in general. Ultimately, it resulted in me going natural and although I'm no longer natural, spending those four years at an HBCU made me feel like, wow, I can also embrace my own curls."
Alliyah Gary, Howard University
"Howard taught me that 'good hair' does not relate to texture, but more so the health of your hair. I remember when I came to campus, I didn't have a relaxer but my hair was bone-straight just from getting it pressed every two weeks. Seeing women with all different types of hair textures redefined what I considered to be good hair. It was really the first step in my journey of embracing my natural curls — I remember doing twist-outs, Bantu knots, wash-and-gos, and more."
Sydney Stinson-Ferguson, Spelman College
"I actually hated my hair as a child, but Spelman taught me that my hair really did not define who I was. I embraced my hair when I was at school and then after graduating, it really became just an accessory — so I shaved my hair bald. My family used to call me Sinead O'Connor — but just like my handbags and my shoes, hair was just an additive to me, not something that defined me."
Nia Imani, Hampton University
"Being at an HBCU actually made me even a bigger advocate for natural hair and taught me not to compare my hair journey to others. I've been natural my whole life and started wearing my hair more curly when I was in high school. But when I got to college, I met a lot of peers who were not necessarily ashamed to wear their hair in its natural state but didn't know how to properly take care of it or didn't think that their curls were 'presentable.' Being this type of advocate was actually the reason I founded my natural hair organization CampusCurlz, because a lot of students did not feel like they had a voice to stand up for themselves when it came to wearing their natural hair."
Keya Kellum, Howard University
"Growing up, my family definitely encouraged me to wear my hair however I wanted, but when I looked around, there weren't many women wearing their hair curly and natural — so of course, I didn't either. After I started at an HBCU, it was a breath of fresh air to see other young women going through their same hair care journey and starting to understand that they don't have to wear their hair straightened every day. It taught me that what works for your hair could be different for someone else's, and that's okay. It also helped that we always had a hair care brand visiting on campus and there were dorm room hairstylists everywhere."
Jaz Turner, Spelman College
"A lot of people, particularly from Spelman, grew up and went to predominantly white high schools. So we grew up in environments where the people around us didn't understand why our identity was so closely linked to our hair. But at an HBCU, it's this common link that connected us as sisters — it made it such a positive experience. Spelman was actually where I wore my natural hair for the first time and nobody said anything. In non-Black spaces, changing my hair had become such a big deal — I would get asked questions. One of my greatest memories at Spelman was Orientation Week: it started thunderstorming out of nowhere, so we were all running inside covering each other's hair — because we all understood.
Janell Hickman, Hampton University
"While attending an HBCU, I discovered the versatility of Black hair — even though college may feel like a late stage to do so. I was from Minnesota, and I met Black people from Alaska, California, down South. Just to see how people took care of their hair in different regions was really fascinating to me because at that time I had a relaxer — I thought that was the only thing I could do. I didn't have a weave and I didn't necessarily have the resources to get a very good one in Minneapolis. When I finally did get one, it was the greatest. It was also just incredible to see how long people's natural hair was, because I was taught Black hair could only grow to a certain length if you didn't have a weave in. That clearly wasn't true!"
Chelsea Cooper, Howard University
"Attending Howard taught me the importance of dismantling any harmful practices or beliefs about my hair. It's where I could foster a healthy and educated relationship between my hair and my identity. Whether it was through beading, Bantu knots, or cornrows, an HBCU definitely taught me how to embrace the beautiful complexities of my coils through unique hairstyles as a way of cultural storytelling and preservation."
Micaella Duncan, Howard University
"The greatest hair lesson I learned from attending an HBCU is that hair is meant to be played with. Your hair is an accessory and it does not define you. There is no hair that is 'better,' there is no hair that is 'worse.' It is your hair and you can move with it as you please. I grew up going to Dominican salons and getting blowouts every two weeks, so I didn't know how to do my own hair. I had to learn quickly. My roommates and floormates taught me how to straighten my hair, what kind of heat protectant to use, and how to pin curl my hair. I had to learn how to take care of it, especially because the Washington, D.C. water was so harsh.
We're taught that thick, tight coils are not beautiful and not worth being shown — but going to an HBCU taught me that it's perfectly fine. I watched women walk around campus with all different types of hair; I'm still jealous that I didn't learn how to do a good twist-out. But it showed me that my hair is malleable and I can do whatever I want with it because it's mine."