This Influencer-Loved Skin Care Kit Covers All The Bases — & It's A *Must* For Dry Skin
There is a reason why people are so obsessed.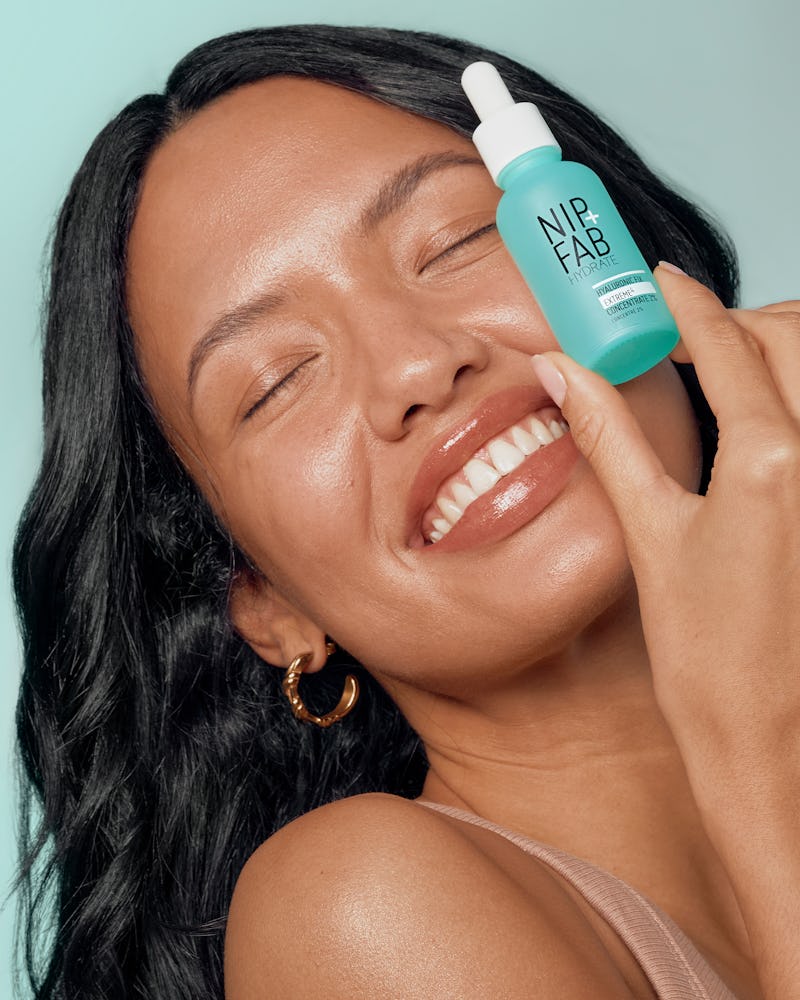 Nip + Fab
We may receive a portion of sales if you purchase a product through a link in this article.
It doesn't matter how much makeup you collect — if your skin care is lacking, you're never going to get the results you're after. And while it makes sense (and is perfectly justifiable, if your budget allows) to invest in luxury skin care, the evolution of high street beauty means you no longer really need to. Leading the charge in quality formulas at an affordable price is Nip+Fab, the influencer-loved skin care brand whose core values include science and sustainability (they've pledged to have 100% recyclable packaging by the end of 2023 and are aiming to go completely vegan by the end of the year). Since its launch in 2010, Nip+Fab has continued to set the standard for high street skin care, being one of the first brands at its price point to introduce glycolic acid products into its range.
One of Nip+Fab's most popular lines is their Hyaluronic Fix Extreme4 range — an absolute must for dry, winter skin, but a solid option any time of the year, really. To make things super simple for consumers, the brand makes a four-piece kit that includes full-size bottles of each product from the collection — and it costs less than £50 (bought separately, all four products would ring up at nearly £80, so you're saving about 40%). Fragrance-free and sensitive skin-friendly, you can use the entire routine morning and night, or pick and choose from your favourites (and mix and match with other products) according to what your skin needs. Ahead, get the details on all of the products included in the kit.
What's Included In The Kit?
Hyaluronic Fix Extreme4 Cleansing Cream
You can use this cleansing cream in the morning to gently refresh your skin for the day ahead, or massage it onto dry skin at night to help break down any makeup, dirt, and oil that accumulates throughout the day. The creamy formula combines both high and low molecular weight hyaluronic acids (as do all of the products from the line) to draw more moisture to both the surface and the deeper layers of the skin. Castor seed oil in the cleanser offers further moisturizing benefits, and works to effectively dissolve makeup — particularly stubborn waterproof formulas — without causing irritation.
Hyaluronic Fix Extreme4 Micellar Cleansing Pads
You'll find the same hero ingredients as Nip+Fab's cleansing cream in these convenient micellar cleansing pads, which are biodegradable and made from 100% plant-based fabric. The multi-purpose pads can be used as the second step of a more thorough double-cleansing routine, or as a gentler way to breakdown eye makeup (as opposed to rubbing at your eyes with a cleanser, you can hold one of these pads against your eye area for several seconds before gently wiping the makeup away). You can also keep these on hand for lazy evenings when you can't be bothered to wash your face, or pack them on your next trip since the rinse-free pads are perfect for on-the-go use.
Hyaluronic Fix Extreme4 Concentrate 2%
If your skin is feeling drier than usual, or you need to pair an exfoliating ingredient (like retinol) with more moisture to avoid dryness in the first place, follow up your cleanser with the brand's hydrating serum. It features a higher percentage of high and low molecular weight hyaluronic acid to immediately plump up your skin and improve hydration. (In the brand's clinical trial, the concentrate increased hydration by 150%.) To deliver more moisturizing and skin-softening benefits, the concentrate also contains polyglutamic acid, and a snow mushroom extract that's a naturally derived form of hyaluronic acid. Nip+Fab notes that you can use this after cleansing and before moisturizing each night, or you can mix a drop of the concentrate into your foundation for a dewier, "glass skin" effect.
Hyaluronic Fix Extreme4 Hybrid Gel Cream
To seal in all of your skin care products, this gel cream also delivers soothing and moisturizing benefits. The gel is extremely lightweight, so it doesn't leave behind a greasy film (something that's particularly helpful for anyone with oily skin), but it still packs in plenty of hydrating heavy hitters like hyaluronic acid, glycerin, castor oil, snow mushroom extract, and polyglutamic acid. The gel formula feels cooling on skin for an instant soothing effect, plus, it includes the sensitive skin-friendly ingredient baobab oil, which is anti-inflammatory and helps to calm irritation.
Shop The Hyaluronic Fix Regime Kit
This article was originally published on