No Sesso's Designers On The Joy Of Creating Clothes For Everyone
"We want to stay pure, hold our power."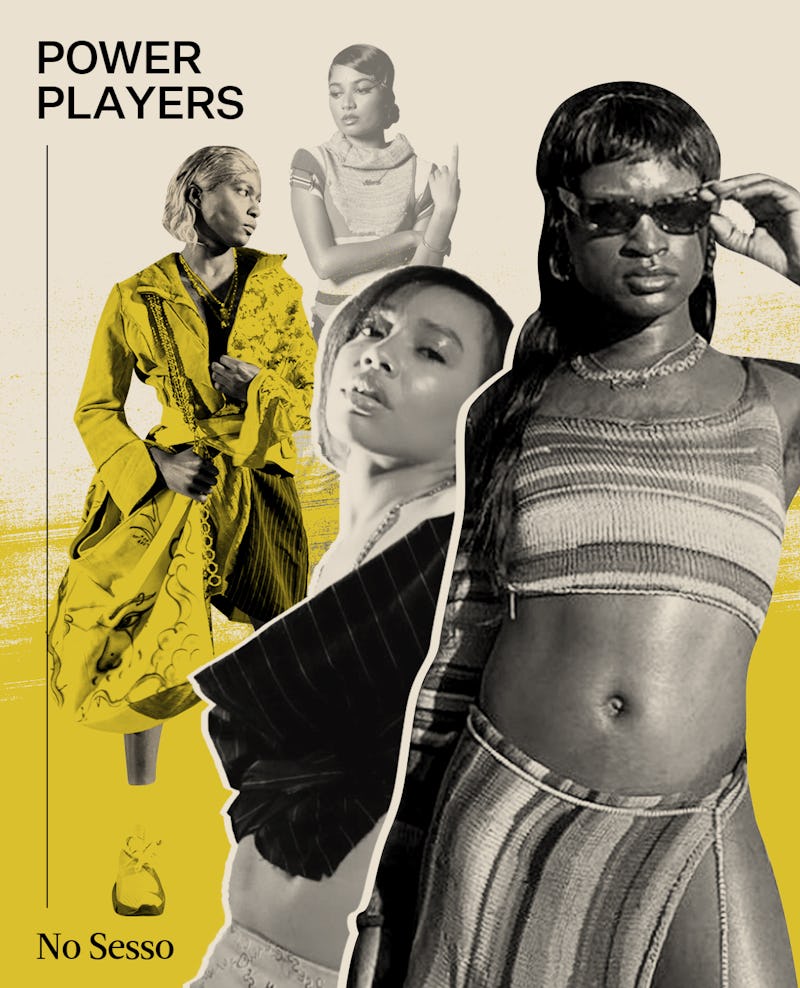 In "Power Players," change makers in the fashion industry tell Bustle how they're pushing boundaries and moving the culture forward, whether they're advocating for sustainability, bringing more inclusivity to the runway, or making strides in technology and innovation. Here, Pierre Davis and Autumn Randolph of No Sesso discuss why ignoring gender labels is central to their brand and creative process.
Nonconformity is built into the DNA of No Sesso, the loud, punky label that's been making waves in the fashion world since launching in 2015. "No sesso" translates to no sex/gender in Italian, and that fluidity is evident in the brand's designs, which become more colorful and exuberant with each season. The brand is made both for men and women, leaving it up to consumers to choose how they want to present.
"We are fed information every day and don't want to be forceful or diminishing in our designs," co-designer Autumn Randolph, 32, tells Bustle. "It's important for us to acknowledge the different body types men and women have, so we approach our designs with respect to that, and we like to accentuate that."
Simply put, the brand believes power is found in the freedom to wear whatever you please without societal labels limiting you.
"We're trying to reach the highest level of freedom in who you are," co-founder Pierre Davis, 31, says. "The brand pushes for everyone to be their best selves [and] to use imagination. What does freedom and being carefree look like to you as far as how you dress and present yourself?"
No Sesso recently released a collection of knits — exclusively sold online with Depop — made of recycled tees and sweaters sourced from the designers' wardrobe and past collections. Davis and her co-designer, Autumn Randolph, wanted to create one-of-a-kind pieces for their Depop collection that stay true to the brand ethos.
"Pierre and I came into this kind of new existence," Randolph says. "It's about reaching the depths of ourselves and presenting the brand in that way. We're exploring our creativity, sharing that with the world, and helping to represent the underrepresented."
Next, the duo is working on a collaboration with Levi's, which will launch later this year. They're also preparing to debut their inaugural couture collection.
"We've been working on our couture collection for the past year, and it's almost time to reveal it," Randolph says. "We're shooting the last segment of it next week. That's really exciting, and that's one big thing we've had to look forward to."
Davis and Randolph sat down with Bustle to chat about gender inclusivity in fashion, what power means to them, and their hopes for the future of the industry.
How would you assess the state of gender inclusivity in fashion?
AR: We tend not to keep up with other brands' initiatives so that we stay in a more artistic and intellectual realm of thought and process. Honestly, even though genderless apparel has been a topic of discussion, we don't go looking for other brands in that supposed category, so we can't give you names. We don't want to narrow our lane, and we support everyone doing their own thing.
What would you like to see more of?
PD: More collaborations — smaller brands working with bigger brands, hiring smaller design houses to work with them for a season or two. That [way], there are more resources for smaller design houses to stay creative and to continue to run their brands.
You've always prioritized gender inclusivity as a brand — why is that important to you?
PD: We prioritize our collections and the looks we put on the runway because it's pieces we want to wear. We have fun with fashion and style, and believe everyone should wear what they want. For us, that just comes off naturally. It's something that should be a little bit more natural for everyone else in the world.
Who do you think holds the power in fashion right now?
AR: There's a split with the people who have more money and resources. The bigger brands have power in that way. But the real creativity and power of the fashion industry is coming from the subcultures and young creatives who are making new categories in fashion — subcultures, as in club-goers and people who design their own looks to make something unique, which trickles up. Artists and smaller companies that have to be so resourceful are forced to create something out of nothing and come up with new ideas. They're bringing in nuanced work — kind of a resurgence from the boring fashion stuff we've been seeing. We wouldn't want to say making new categories. People are just exploring. There doesn't have to be boundaries and lines around that.
How do you define power?
AR: We define it by something that's divine and pure. It's also subjective. Power is innate. It's progressive and effective with the right intentions.
Is there a specific time recently when you felt powerful?
AR: For our last collection at the Moca Geffen. We were going through a lot personally and wanted to express that through our art — whether through Autumn's training in dance, directing to both of our opposing and colliding music choices that we blended together, to [my] amazing patchworking skills, and ability to take the best parts of something and put them together. That was a time of discomfort that we flipped and, in return, felt powerful from. Whether it was best or not doesn't matter. It was the dance of syncing up, being vulnerable, and creating something more than fashion.
What have been some of the most valuable lessons you've learned working in fashion?
PD: To challenge yourself, your brain, and your creativity constantly. Studying, doing your own thing, staying in your own lane, creating your own lane.
AR: Work on your own time. Make sure you're working at your own pace. Also to realize there's not much new under the sun. Lessons learned are simply for us to use our time wisely, more than just [being] in constant work mode. [Be wise] in the rest you allow yourself, the information you intake, and also what you choose not to intake. Sometimes the answers are in places you refuse to look. Calendars can hinder you. Sculpt and shape what you put out with much intention and produce what you yourself would pay for. Be legitimate. Don't try to find your style and creativity online through another person's lens.
What are your hopes for the future of fashion?
AR: We have a lot! [Laughs.] For the survival of stylists and designers. For the industry to keep growing outside all the economic hardship that's happening. We wish stability on smaller brands and designers.
PD: Resources and collaboration with smaller brands being able to work with larger brands. Artists in general working with other brands and big rollers in the industry.
How do you deal with negativity and not letting outside distractions interfere with your progress?
AR: Staying on track, creating your own time and guidelines for what your narrative is. Knowing what your intentions and goals are, staying focused, and having great meditation outlets — so that when you build up the stress, you have a good way of releasing it.
How do you stay motivated while working toward more inclusivity during this tumultuous time?
AR: We have to realize life is always this way — there's ups and downs in every generation and era. There's no real wall in front of us. We don't want to navigate our time here as if we're victims. We don't want that to inhibit us. We want to stay pure, hold our power, and know we have what we need.
This interview has been edited and condensed.