The Only Princess Diana Outfit Inspo You Need This Summer
Consider adding dramatic shoulders, chokers, and playful prints to your looks.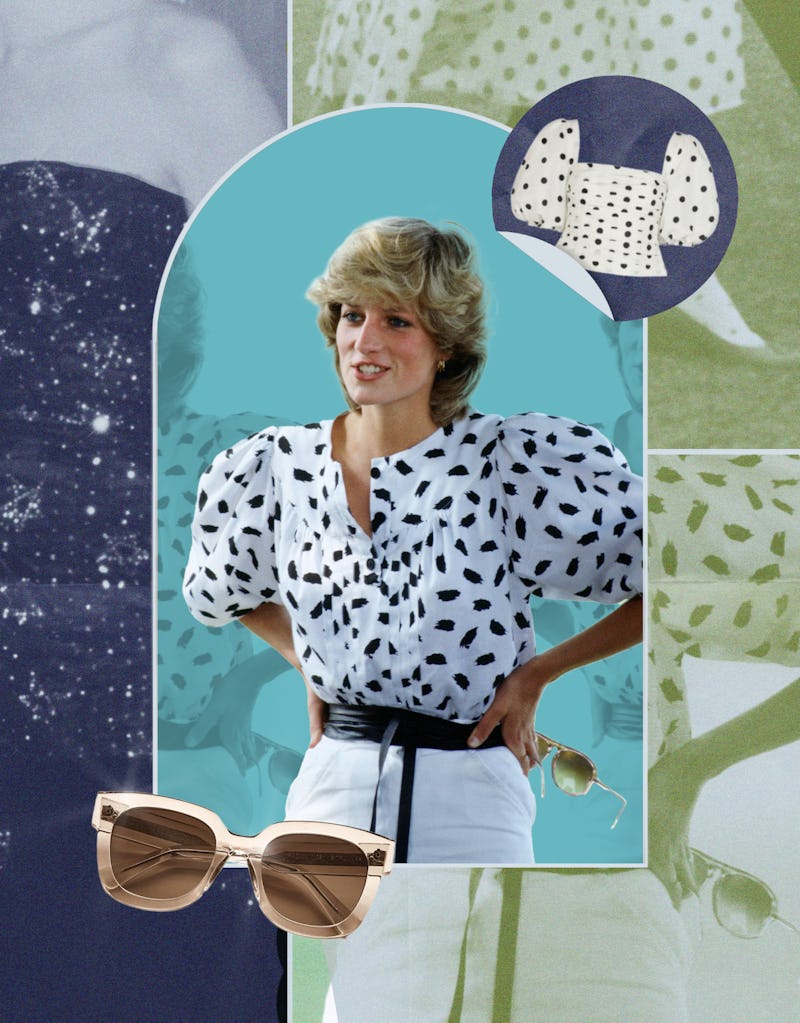 When it comes to stylish women to take a cue from, no one is quite like the late Princess Diana. Biking shorts with oversized sweatshirts? Before Hailey Bieber tried that pairing, Diana wore it first. A big slouchy menswear blazer with a baseball cap? Yup, that styling trick was all her as well. And while those looks are the ones you'll see over and over again, might we suggest some new Princess Diana outfit inspo that goes beyond the same four photos commonly found on Pinterest?
Take for example the big black-and-white blouse she wore while watching a polo match. While you might not be watching royalty ride around on horses, you can definitely wear a similar top to brunch. Or if you're feeling like you need some date night ideas, Princess Diana's combo of a polka dot skirt, low socks, and heels is a flirty and sweet mix that's unexpectedly fun for an evening out. And should you want some ideas for wedding season that go beyond that standard cocktail dress, consider a dramatic neckline and some interesting sleeve details, no tiara required.
Read on to see three Princess Diana outfits we're inspired to try this summer and shop similar pieces.
Bustle Shop is Bustle's shoppable guide to editor-approved buys in fashion, beauty, wellness, and lifestyle. We may receive a portion of sales if you purchase a product through a link in this article.
For Brunch, Try Big, Fluffy Sleeves
The bigger the sleeve the closer to... OK fine, that's not quite the line, but there's something to be said about a blouse that's not afraid to take up space. While Princess Diana's version has buttons up to the collarbone, this similar Self Portrait top features a sweetheart square neckline that'll reveal just the perfect amount of décolletage. Skip the black belt though: the horizontal pleats do the same trick to cinch in the waist. That said, do take a cue from this photo and opt for white on the bottom, in the form of loose trousers from Khaite. Finish off with neutral sunglasses and you have the ideal brunch outfit.
Date Night Calls For Sweet Details
Socks with sandals sounds like it wouldn't work for a date but before you write it off, look at this outfit! It's playful, flirty, and best of all: far from boring. Your version doesn't need to be so matchy-matchy. Instead of a red-and-white palette, try a black and white skirt with white socks and minimal silver sandals. As for the top? Well, a slouchy sweater could work or you could go for the coordinating crop top in the same pattern as the skirt — it just depends on how much skin you want to show.
Go For A Dramatic Wedding Guest Outfit
It's easy to panic when it comes to wedding outfits and wind up in the same ruffly chiffon cocktail dress that five other girls are all wearing, albeit in different colors. Why not go out on a limb and try something with a snatched waist and over-the-top accessories? The Princess Diana inspiration photo features fuchsia elbow length opera gloves, which really only works when you're royalty, but if you're looking for the same dramatic energy, this jumpsuit with off-white sleeves has similar vibes. And while a tiara might be a tad much, you do need a little sparkle, in the form of a necklace and dangly earrings.
Bustle Shop brings you the editor-approved buys we can't get enough of and think you'll adore, too. Best of all, you can shop all of the products above directly on this page without visiting multiple retailers. Simply click on an item to learn more, choose your size or favorite color (if applicable), and then hit "add to cart." When you're done, you can click over to your cart in the top right corner of your screen to purchase all your stellar selects at once. How easy is that?
Questions about shipping, returns, or your order in general? Click here for more information.
Explore more of Bustle Shop (and our fashion, beauty, and lifestyle must-haves) here.