9 Products To Help Combat "Maskne," According To A Dermatologist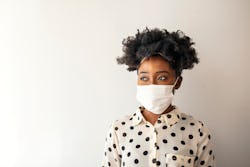 Shutterstock
At the beginning of April, the Center for Disease Control and Prevention (CDC) recommended that people wear cloth face coverings in public. So if you've been one of the people who have taken the recommendation seriously, you're going on about three months of consistently wearing a mask whenever you go out. But while you're keeping yourself safe with masks, you might also want to consider what products might help you combat maskne, too.
Maskne (acne caused by wearing masks) is most likely caused by the sweat and oils that get trapped under your mask when you keep it on for a while. "When wearing a tight mask on the face, there is very little air flow and this creates a warm, moist environment, which is ideal for skin bacteria to flourish and cultivate," Dr. Rina Allawh, MD, board-certified dermatologist, tells Bustle. "As this skin bacteria grows, it starts to occlude or block the openings of hair follicles causing black heads, white heads, painful pimples and pus bumps." While she recommends keeping your mask sanitized to prevent new acne, she has a few ideas of what to do should you get maskne anyway.
Here are nine products that can help fight your maskne.