Retinol Serums Vs. Creams: Which One Is Right For You?
Dermatologists explain how to choose the best formula for your skin.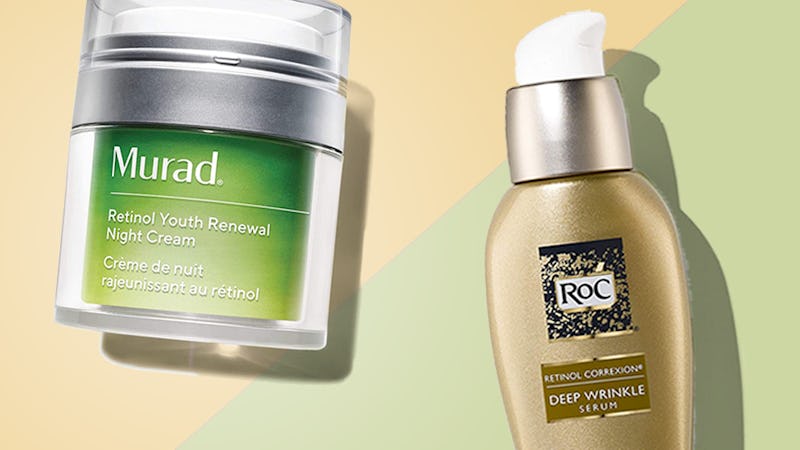 Amazon / Bustle
We may receive a portion of sales if you purchase a product through a link in this article.
Retinol: As close to a magic potion as a regular human can get. But alas! It's actually science. Retinol is the "scientific name for vitamin A," Dr. Craig A. Kraffert, a board-certified dermatologist and president of Amarte Skin Care, tells Bustle. The magic happens when it's absorbed into skin and converts into retinoic acid. But there are so many retinols, in so many vehicles, available in over-the-counter formulations — including (but not limited to) creams and serums. So if you're wondering what's the difference between retinol serums vs. creams, you've come to the right place.
Retinol Cream Or Serum?
For the most part, deciding to go with a retinol serum vs. cream is a matter of personal preference — the most important thing is that the retinol is getting onto and into your skin, which both can do. But for some more guidance here, I also spoke with board-certified dermatologists Dr. Susan Van Dyke and Dr. Orit Markowitz.
Serums contain higher concentrations of active ingredients, and since they're so thin and light, Dr. Van Dyke says, they penetrate skin more efficiently than creams. And since they're grease-free, serums work especially well for people with oily skin. Regardless, if you're going for a retinol serum, all three dermatologists recommend checking up on any other active ingredients present in the formula. "Retinol need not live in a formulation vacuum," Dr. Kraffert says. "Look for retinol formulations that contain other actives, like arbutin and antioxidants, and make sure they provide the hydration you need." But even if your retinol serum does contain hydrating ingredients (such as hyaluronic acid), you'll still need to apply a moisturizer on top.
Dr. Markowitz recommends "creams over serums any day" for that exact reason — unlike serums, she says, creams "actually create a skin barrier that prevents moisture loss." So if you have dry skin, a retinol cream is probably the better choice for you.
How To Use Retinol
Moisturizing is especially important when using retinol, since this potent active can cause peeling, drying, and flaking when you first start using it. That's also why every dermatologist I, and probably you, have ever spoken to recommends starting slowly with your retinol of choice — like, once or twice a week slowly — then building up to basically however often your skin can tolerate it.
Whether you're committing to a cream or a serum, I've got you covered. Scroll on to shop three of the best retinol serums, and three of the best retinol creams (for your face and your body) you can get on Amazon.
Shop The Best Retinol Serums & Creams
In a hurry? Here are the top picks for both retinol creams and serums.
This article was originally published on