The Best Alternative To Rhode's Peptide Lip Treatment
Because it's bound to sell out (again).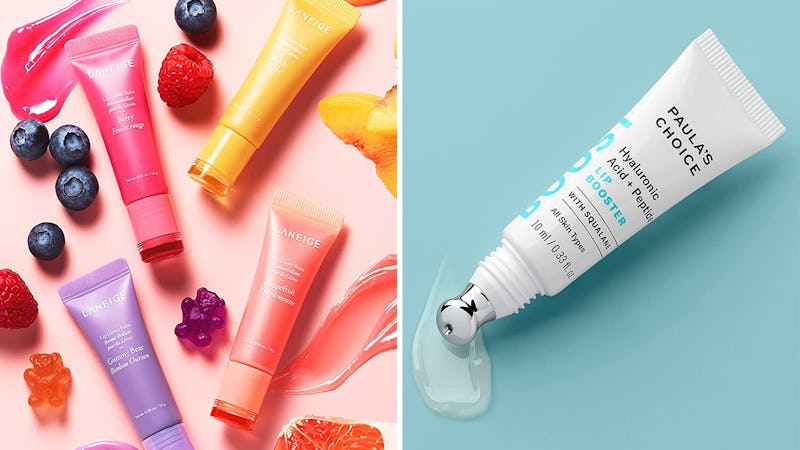 Amazon
We may receive a portion of sales if you purchase a product through a link in this article.
Few beauty products have achieved the hype surrounding the Peptide Lip Treatment from Hailey Bieber's skin care line, Rhode. The constantly-sold-out balm once had a waitlist of over 300,000 and continues to draw in fans with limited-edition scents like 'Vanilla Cake' (which celebrated Bieber's birthday) and the recently launched 'Passionfruit Jelly' ('Unscented,' 'Watermelon Slice,' and 'Salted Caramel' are the three of the line's permanent offerings). If you can't get your hands on the lip treatment, which currently retails for $16, the best Rhode Peptide Lip Treatment alternatives deliver comparable results — but you won't need to add your email to a waitlist to get your hands on them.
In the roundup ahead, you'll find a range of similar options, from drugstore staples to prestige formulas that will cost a bit more. Unscented, scented, and even tinted balms made the cut (Rhode glosses are completely clear, in case you were wondering), too. But regardless of the fragrance or scent, all of the glossy formulas on this list contain a handful of the same ingredients you'd find in Rhode's lip treatment, such as shea butter and vitamin E. A few of the balms even include peptides, the highlighted ingredient in Rhode's formula that helps to plump up your lips immediately and in the long run by keeping them hydrated and helping to stimulate collagen production.
Shop The Best Rhode Peptide Lip Treatment Alternatives
In a hurry? Here are the best Rhode Peptide Lip Treatment Alternatives:
1. The Overall Best Alternative, According To Social Media
For an alternative that's TikTok-approved, try Naturium's Phyto-Glow Lip Balm. The less-expensive balm shares several key ingredients with Rhode's Peptide Lip Treatment, including shea and cupuacu butters to lock in moisture and ease any irritation that comes along with dry, chapped lips. Plant-based squalane is also included in the formula to further boost moisture. The gloss comes in a clear option that's unscented, as well as four scented options that give your lips a subtle wash of pink or red color.
Available Shades: 5 Shared Ingredients With The Rhode Lip Treatment: Shea Butter, Cupuacu Butter, Vitamin E Other Beneficial Ingredients: Squalane Cruelty-Free: Yes
Relevant Review: "I got the clear, jam, and red one…I love the color on each one, it looks more like a gloss than a balm. The moisture is perfect and thick. It reminds me of the Rhode Peptide lip balm from Hailey Bieber. I 1000% recommend!"
2. Another Great (Albeit Pricier) Alternative
Though TULA's Lip SOS Lip Treatment Balm is actually pricier than the Rhode Peptide Lip Treatment, it's still an amazing option worth considering — and it even feature Rhode's hero plumping ingredient, peptides. Sold in three fruit-inspired shades, the formula uses a combination of fruit-derived oils and extracts like pomegranate, watermelon, and strawberry to help leave lips feeling softer while also giving them antioxidant protection. Like many of the other balms on this list, hyaluronic acid, vitamin E, and squalane are included to provide hydration, but TULA also uses its own patent-pending complex of prebiotics and probiotics to restore the balance of your skin for healthier lips overall.
Available Shades: 3 Shared Ingredients With The Rhode Lip Treatment: Palmitoyl Tripeptide-1, Vitamin E Other Beneficial Ingredients: Avocado Oil, Squalane, Blackberry Fruit Extract, Pomegranate Seed Oil, Hyaluronic Acid, Lactic Acid, Jojoba Seed Oil Cruelty-Free: Yes
Relevant Review: "I was thinking of buying Hailey Bieber's lip treatment, but it was sold out and also quite pricey. Google told me this was an alternative, and it was such a good price I figured it would be no real loss if I didn't like it. But it's great!"
3. A Glowier, Glossier Alternative
You're probably already familiar with the cult-favorite Laneige Lip Sleeping Mask, but for more of a traditional gloss that channels Rhode's Peptide Lip Treatment, try the brand's Lip Glowy Balm. Formulated with moisturizing and antioxidant-rich ingredients like shea butter, murumuru seed butter, and goji berry fruit extract, the balm also comes in five fruity scents (each of them is tinted, except for the 'Pear' balm, which is clear).
Available Shades: 5 Shared Ingredients With The Rhode Lip Treatment: Shea Butter, Synthetic Wax Other Beneficial Ingredients: Murumuru Seed Butter, Goji Berry Fruit Extract, Raspberry Fruit Extract, Blueberry Fruit Extract, Cranberry Fruit Extract, Strawberry Fruit Extract, Coffee Seed Extract Cruelty-Free: No
Relevant Review: "I bought this after buying the Lip Peptide Treatment by Rhode. It may not have lasted on my lips as long, but it left my lips feeling super moisturized, plump, and soft. I didn't have to re-apply several times; once was enough! If you want to wear it as a glossy finish you may wish for something longer-lasting, but if you're buying it for lip care, it's perfect!"
4. A Clear, Fragrance-Free Alternative
After good old Vaseline, this is my favorite lip treatment for deeply nourishing my lips when they feel dry and cracked. Like the Rhode lip treatment, Paula's Choice Hyaluronic Acid + Peptide Lip Booster uses shea butter and vitamin E to condition dry lips, as well as cocoa seed butter, squalane, and hyaluronic acid. You'll also get a touch of exfoliation in this balm thanks to lactic acid, plus more collagen-boosting benefits courtesy of peptides (another feature this balm shares with the Rhode lip treatment). The applicator tip is a step above the Rhode lip treatment, as it features a metal applicator that feels cooling when you glide it over your lips. Because this is on the pricey side, I reserve it for nighttime use only, but be prepared to wake up to super-smooth, lipstick-ready lips.
Shared Ingredients With The Rhode Lip Treatment: Shea Butter, Vitamin E, Palmitoyl Tripeptide-1, Lactic Acid Other Beneficial Ingredients: Hydrogenated Castor Oil, Cocoa Seed Butter, Squalane, Hyaluronic Acid, Polypeptide, Palmitoyl Tripeptide-38 Cruelty-Free: Yes
Relevant Review: "This lip treatment product is pricey, but it works amazingly well. […] I like how quickly this works to transform the appearance and condition of my lips. It is very moisturizing and fragrance-free. I like the metal applicator tip because it feels cool and soothing on my lips."
5. One Final Alternative To Consider
This cruelty-free lip treatment is an Amazon favorite with more than 7,000 five-star ratings and counting. Hanalei's Kukui Oil Lip Treatment combines Hawaiian kukui nut oil and shea butter with antioxidant-rich agave nectar and grape seed oil to restore dry lips while helping to protect them from damage caused by environmental exposure. You can saturate your lips in the clear formula for an overnight treatment, or try one of the brighter tints over some lip liner (or on its own) during the daytime.
Available Shades: 5 Shared Ingredients With The Rhode Lip Treatment: Shea Butter, Vitamin E Other Beneficial Ingredients: Castor Seed Oil, Kukui Seed Oil, Grape Seed Oil, Agave Leaf Extract, Safflower Seed Oil, Olive Oil Cruelty-Free: Yes
Relevant Review: "This is the best lip product I have ever used. It tops any drugstore brand, overnight lip masks costing 30+ at Sephora, etc. It stays on but is not sticky. Moderate sheen/shiny."