I Tried A Custom-Made Home Teeth Whitening Kit & I'm Obsessed With The Results
We only recommend products we love and that we think you will, too. We may receive a portion of sales from products purchased from this article, which was written by our Commerce team.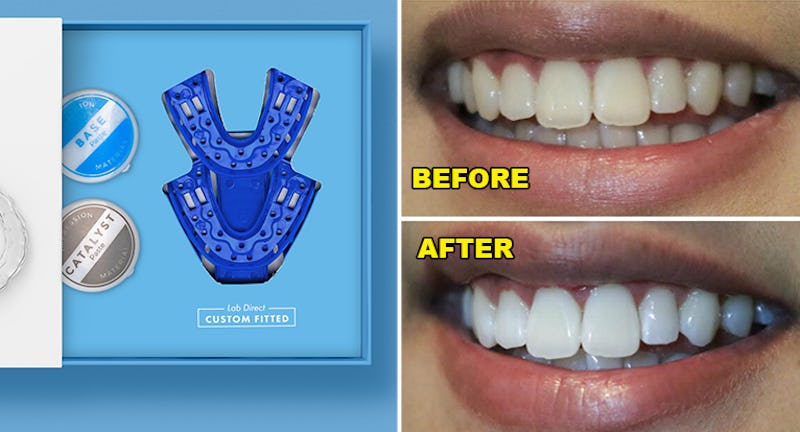 Maybe it's because I idolized Julia Roberts growing up, but there's something about having bright, sparkly teeth that puts a little pep in my step. So I was intrigued when I learned about Smile Brilliant — a lab-direct service that offers professional teeth whitening kits without the cost and effort of going to the dentist. I was eager to see if this was the best way to whiten teeth at home — and if it would fulfill my quest for a '90s romantic comedy-quality smile.
What Is Smile Brilliant?
Smile Brilliant is a lab-direct service that lets you get a professional at-home teeth whitening kit for a budget-friendly price — all from the comfort of your couch. The company provides all the materials you need to make your own impressions at home: molding clay, trays, and a prepaid postage envelope for returning your impressions by mail. The lab then sends you custom-made trays and whitening gel, so you can get started.
Besides the convenience factor (no sitting around in a dentist's waiting room), the system is about five times cheaper than standard professional whitening since you don't have to pay for the services of a D.D.S. — but it can provide the same professional results.
Fast Facts
Smile Brilliant is about five times cheaper than using a dentist for professional whitening.
With the exception of a run to the post office, everything can be done at home.
Custom-fit trays help keep the whitening gel in place, so it's less likely to irritate gums
You can choose from sensitive and non-sensitive systems, depending on your tolerance.
Desensitizing gel is available if your teeth tend to react strongly to whitening treatments.
My Previous Issues With Whitening Teeth At Home
I've never taken the leap into professional whitening territory for two reasons: 1) If I can avoid going to the dentist, I will, and 2) I don't want to spend big money. (What can I say? I'd rather not shell out cash to hear someone scold me about not flossing enough.) That being said, I've been curious about the possibility of getting better results than I get from the whitening strips I occasionally use.
Speaking of whitening strips, I've always been frustrated that you can't really get them to reach the crevices between your teeth. (Trust me — I have tried to push them in there with only minimal success.) And though it's a small complaint, I also dislike the way they slide around in my mouth when I wear them, and I find that I usually have to reposition them several times during the 30-minute treatment. Could a tray that's molded to fit my mouth be the answer? I was ready to find out.
A Quick Explainer On Why Custom-Fit Trays Might Be Better
Unlike strips, custom-made trays reach every tooth in your mouth, so they're arguably a better option than whitening strips if you're looking for full coverage. They may also be a better pick for anyone who's prone to sensitivity; according to the American Dental Association, you're less likely to see gum irritation with a customized tray than you would with strips or poorly fit boil-and-bite trays, since gel is less likely to make contact with the gums. Beyond that, Smile Brilliant has kits designed specifically for sensitive teeth, as well as desensitizing gel to help soothe and hydrate teeth after whitening.
What I Loved
Lower cost: Ever Googled "how much does professional teeth whitening cost"? It probably sent shudders up your spine. Personally, I'm a stickler for sticking to a budget and could never convince myself to pay upwards of $600 for professional whitening, but I found the $150 ballpark to be totally reasonable.
Results: I got more even coverage, so my teeth — including the crevices between them — looked brighter overall.
Actual treatment: Interestingly, I found the trays to be less noticeable in my mouth than whitening strips, as they didn't slide or shift. Last but not least, the taste of the whitening gel was significantly less noticeable since it remained in the tray, not smeared all around.
Start-to-finish process: I found the whole Smile Brilliant process to be pretty simple and streamlined. The instructions were detailed, customer service was helpful, and I didn't even have to stand in line at the post office — I just chucked the envelope with my teeth impressions in the package drop box. Also, I appreciate that I can now hop on the Smile Brilliant website at any time to re-up on teeth whitening gel for trays the next time I notice new coffee stains setting in.
What I Didn't Love
Making the impressions of my teeth proved to be more challenging than I thought it would be. There's a fair bit of technique involved — get the putty into the trays within 30 seconds, place your teeth in the center of the tray, don't remove too soon or risk ruining the mold — and it was a bit nerve-wracking. It actually took me multiple attempts before getting it right (when I was a kid, my orthodontist told me I had a very small mouth, and I suspect this may have something to do with my difficulty).
Fortunately, you get a couple of jars of putty in case of mishaps. You can also email photos of your molds to Smile Brilliant before sending them back, and they'll let you know if the impression is usable. I did this, and someone replied within 24 hours. (I actually had to make one more teeth impression because it wasn't quite right). Still, it's a faster, easier, and cheaper process than going to the dentist, so I find the tradeoff to be worthy.
Is Professional Teeth Whitening Safe For Everyone?
Almost — but you should be over 12 years of age and not currently pregnant or nursing.
And if you have sensitive teeth, opt for a gentle teeth whitening kit to help ease your way in. It's also a good idea to check in with your dentist if you have any particular concerns.
Final Verdict
All in all, I give the Smile Brilliant at-home teeth whitening kit an enthusiastic two thumbs up. If you're looking for professional-level results, but have been dissuaded because of the cost or the idea of having to drag yourself to the dentist, this might be your best bet. (I'd like to think Julia Roberts' mega-watt smile would approve.)
Shop Smile Brilliant's At-Home Teeth Whitening Kits
This article was originally published on