Meet The Woman Changing The Conversation Around African Luxury Fashion
Studio 189 co-founder Abrima Erwiah shares her journey to building a fashion social enterprise through the lens of optimism.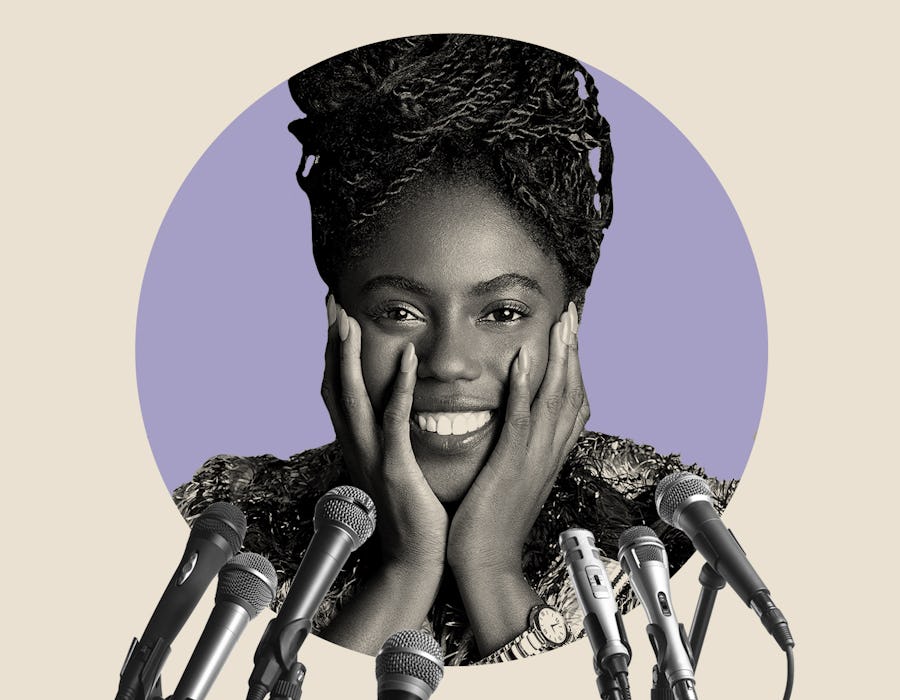 In Bustle's Quick Question, we ask women leaders all about advice — from the best guidance they've ever gotten to what they're still figuring out. Here, Abrima Erwiah discusses value-based career choices, conscious consumerism, and why she's hopeful.
"Do it, that's my advice — do it," Abrima Erwiah says. This unbridled optimism is her natural state. Whether she's speaking on international issues, sharing her own personal values, or helping to create progress in the fashion industry, the Studio 189 co-founder projects a balance of empathy, focus, and positivity in all things she does.
Prior to starting fashion brand Studio 189 alongside Rosario Dawson, Erwiah spent almost a decade at luxury fashion house Bottega Veneta. During her time at the Italian heritage brand, Erwiah learned the value of artisan craftsmanship and the merit of luxury goods. In 2011, Dawson invited Erwiah on a trip to the Congo that opened her eyes to what sustainability could look like. With the idea of fashion as a source of social change, Erwiah moved to Ghana and co-founded Studio 189 with Dawson two years later.
As the brand's enterprise has grown, they have brought African luxury goods into American shopping spaces. Their pieces are now sold at large, luxury retailers like Neiman Marcus. Erwiah considers this a very important and collaborative partnership — one that's essential to a business during dark times, like the pandemic.
At an intimate dinner hosted by Studio 189 at Camp Neiman Marcus, Bustle spoke with Erwiah about upholding your personal values in business, changes in consumerism, and race relations in the fashion industry.
You and Rosario started the brand in 2013 around social-impact-driven fashion. How has that changed from then to now?
It's changed a lot. I think in particular, this last couple years, it has really shifted. When we started, I knew it was going to change and I know it's going to change again. It has to change, it's a matter of statistics. The global population is changing both in terms of numbers, but also in terms of demographics. Then on top of that, you add climate change and its impact, so I just can't imagine a world where you can't have a level of consciousness. And I think that it puts you in a position to ask different types of questions.
When I learned of statistics, like a T-shirt is two years of drinking water, you really have to consider: do I want to have water or do I want to have that extra T-shirt that serves no purpose? It doesn't mean you shouldn't have clothes, it just changes the kind of clothes you choose to buy. I think it makes you more intentional.
And I also saw a change tied to the death of George Floyd, as a result of the civil rights movement. We had one of the second largest civil rights movements since the sixties in America — whichever side you sit on, you can't not see it.
Studio189 is now sold through large retailers like Neiman Marcus — how do you uphold the message of your brand when selling on mass market platforms?
I think it's this: finding partners that get what you're trying to do. I did one of those appointments [to pitch the brand] and the woman didn't barely look at my stuff. She was like, "it's too ethnic." And I was like, "it's yellow." And then she basically killed the appointment. That story doesn't exist [in society] anymore, just for the record, but it did teach me the importance of really building community. That's really important, because it allows you to find partners that you resonate with.
Bergdorf Goodman did that for us — they really saw us. I remember our first conversation, I was like, "you sure you don't want to get off the phone?" We were on for hours and I was telling them about how it was made by hand and there was nothing I was saying that was boring them. They were really invested. But Neiman's is the same — coming up with projects that resonate with our brand. You don't have to be everywhere, you have to find people who want to support your vision and who want to partner with you in the long term.
With so much work to be done in the fashion industry around race, how do you think brands can create actual change?
It's not about hiring a diversity director, it's not about getting a couple faces in the picture, it's also about how you stay the course. And hold yourself accountable. I hold myself accountable. We each have a responsibility to impact change, and sometimes it's doing nothing, sometimes just please be quiet. But sometimes it's like, you have a voice too, and how do you choose to use your voice? And history will remember that. You have to make that choice.
As a brand based in deeply in values, what would you tell young people to look for in or keep in mind about a company as they embark on a job search?
Really know who you are, know why you're here and it's really important, because people will challenge that. Write down your mission, to write down your goals. What are your core values? What do you believe in? I think if you do that, you're going to find [a company] that will resonate with that. Set your intention and see yourself somewhere. It doesn't mean you can't pivot and bob and swing, but see yourself somewhere.
I think you need to do that before you start something — anything, like a relationship, a partnership, a job search, etc. It can't just be about making money, because money comes, money goes.