An Honest Review of Target's New TOMBOYX Compression Top
Here's how it stacks up to a regular chest binder.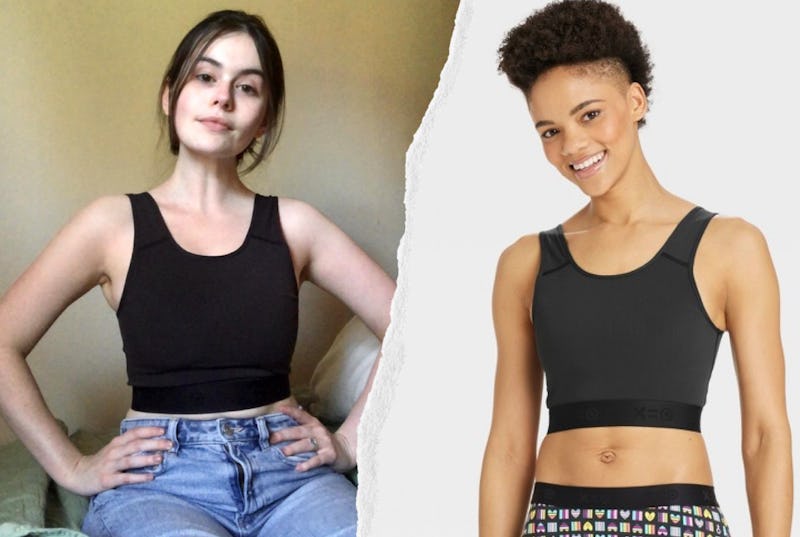 Courtesy of Syd Stephenson/Target
Trigger warning: This piece contains a brief mention of suicidal ideation.
A few weeks before Pride month, Target released a line of queer and trans-inclusive undergarments as a collab with TomboyX. And though I'm generally pretty skeptical of Pride merch (shucking out a bunch of crappy "Love Wins" T-shirts doesn't provide meaningful support for LGBTQ+ youth), when Target announced they'd be releasing chest compression tops, I actually felt excited: Finally, a big-name retailer is using Pride not as a cash grab, but to create products that are actually useful for trans people.
Growing up a transgender person in Oklahoma was isolating and lonely. I was depressed, anxious, and, at my lowest points, even suicidal. As a teenager, I didn't have the language to explain how I felt about my body and gender. Oklahoma, an infamously red state, isn't welcoming toward transgender people, particularly youth. Just this year, the legislature enacted a ban on transgender people competing in sports and heard many other bills that lessen the rights of transgender youth.
By giving transgender youth access to gender-affirming clothing, Target is quite literally saving lives. My mental health would have vastly improved had I been able to wear compression tops as a teen. Having gender-affirming undergarments available at a major chain store is a massive step for making these transition tools more widely available. With that in mind, I wanted to try the new binder for myself.
We at Bustle only include products that have been independently selected by our editors. We may receive a portion of sales if you purchase a product through a link in this article.
Fast Facts
Best for: compressing small breasts
My rating: 3.75 out of 5 stars
Brand: TOMBOYX
What I like: the breathable fabric and accessibility
What I don't like: the limited quantity (the beige style is already sold out)
Why Use A Chest Binder?
Chest binding refers to the practice of wearing compressive garments/materials to reduce the appearance of breasts. This is common among transgender and gender non-conforming people.
I am non-binary — specifically, agender, which means I don't have a gender. Because of this, I experience pretty crippling gender dysphoria, because I've always had larger-than-average breasts. By the end of middle school, I was a DDD. Now, at age 24, I fluctuate between a 32F and a 32G. Having a large chest, while wanting to have no breasts at all, makes finding clothes that make me feel like myself an absolute nightmare — until I got my first binder. It made me feel so much better about how I presented in public.
Rather than a traditional binder, however, Target's design is a compression top — similar to a chest binder, just not as restrictive. It's an exciting style, because binding can be incredibly uncomfortable, sometimes making you feel claustrophobic and overwhelmed.
The Product: Pride Adult TOMBOYX Compression Top
For Pride month, Target teamed up with queer-owned brands TomboyX and Humankind to release two different clothing collections, in addition to their usual Pride merch. The lines include gender-affirming clothing, swimwear, and undergarments for LGBTQ+ people, by LGBTQ+ people. The TomboyX Compression Top, in particular, received massive amounts of support on social media. Folks across the internet praised Target for supplying such a highly needed product.
First Impression
I ordered the Pride Adult TOMBOYX Compression Top in black from Target's website. I was hoping to be able to try a few sizes in-store, but the Pride merch at my local Target was limited to rainbow-splashed dog toys. It wasn't too surprising given my home state, but it seemed like a missed opportunity on Target's behalf, since many transgender and queer people here could use easier access to gender-affirming clothes.
The top was $25 — less expensive than TomboyX's typical prices ($39-$42) and other notable brands like GC2B ($35-$45). I usually wear an XS in anything I get from Target and the online sizing chart reflected that, listing the XS bust and waist measurements as 32" and 26," respectively. I have a petite frame, so this is just a bit bigger than my actual measurements.
When I unpackaged the top, I noticed there was no care tag inside and that the inside lining was a very smooth mesh — so the top immediately got points on my Need To Be Comfy At All Times requirement.
Methodology
I tested out the compression top by wearing it under a light, button-down short-sleeved shirt for a day (about 6 hours). Most of the binders I own have super thick fabric, so binding during the warmer months is usually a no for me — I have overheated more than once while doing so. For this reason, I tested the top both in an air-conditioned environment and outdoors. It was 90 degrees out and uncomfortably humid when I tried out the top, but I hardly broke a sweat.
The Results
Thanks to the stretchy elastic band and the flexible fabric, the compression top was much easier to put on than a chest binder. The XS top was way too small for me, however. It wasn't accommodating of my chest at all and was, frankly, uncomfortable. It was clear that breasts my size were not meant for this top. It felt like everything on my chest and torso was being pushed out the sides, rather than being comfortably compressed. I'm not sure if the online sizing chart was wrong or if the designers just forgot that there are trans people with big boobs.
Since the XS was too small, I decided to try a size up to see if that would be a better fit. Luckily, I was able to get my hands on a size small (difficult, as these tops are quickly selling out). Getting a small was a massive improvement — there was a lot more room for my chest, and the elastic sat more comfortably on my body. Most importantly, the compression actually worked, and my chest was far less noticeable.
The fabric is super light and breathable, which I really love — especially since Oklahoma summers are famously humid. I also liked how smooth the fabric felt. I refuse to wear things that cause any sort of itchiness or chafing, but the lining felt really nice on my skin — more like wearing a sports bra than a traditional binder.
Target's compression top provided better compression compared to my regular sports bras, although not as much support. True to its name, the top definitely didn't provide as much compression as my binder, and I could still see my chest under my shirt somewhat.
With The Pride Adult TOMBOYX Compression Top
Without The Pride Adult TOMBOYX Compression Top
Cons
My biggest issue with the compression top was that the sizing didn't work for me very well. This has been a common problem with many of the binders or chest compressors I've worn. If I go with my actual measurements, it barely fits across the chest and makes everything else fit uncomfortably. If I go up a size, it's too loose across my shoulders and under my bust to provide any support or compression.
It would be great to see brands further diversify their sizing for gender-affirming garments or provide adjustable straps, like traditional bras do.
Similar Products
Two binders I wear frequently are GC2B's Nude No. 4 Half and Underworks' Power Chest Binder Top. Both of these binders provide a lot better compression and comfortability in the shoulders and below the bust, compared to Target's compression top. However, Target's fabric is much more comfortable and breathable overall. Pricing wise, Target is the most affordable ($25), while the binder I got from Underworks cost only a few dollars more ($29.99), and GC2B's binder cost $10 more ($35).
Final Verdict
Though this compression top (size S) was a bit too big in a few spots, it was incredibly comfy and I plan to wear it often in the coming months. However, there are some sizing issues with this top. It might be helpful for Target to offer more sizes and create tops specifically for people who, like me, have bigger chests.
If your breasts fit an average or below-average cup size, then this top is well worth the $25 investment. It's a much more comfortable alternative to a chest binder. If you have larger-than-average breasts, though, definitely try before you buy.
BDG product reviews and recommendations are written and conducted by writers and editors with expertise in their fields. Testers often have specific experience with the situation or product at hand, and/or their review or recommendation is provided in consultation with experts. You can learn more about our standards here.