The Best Organic Shampoos To Give Your Hair A Gentle Cleanse
We only recommend products we love and that we think you will, too. We may receive a portion of sales from products purchased from this article, which was written by our Commerce team.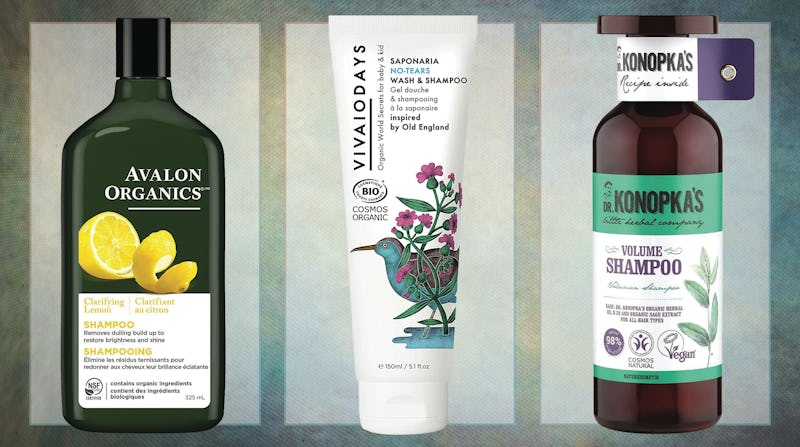 Bustle/Amazon
Finding a hair care product that's actually organic is a near-impossible task. For example, a product can contain just one organic ingredient and market itself as an organic product, or, a brand can say its ingredients are organic without actually providing any sort of evidence to back that claim up. To make things even trickier, organic certifications vary widely by country, and each each third-party agency that provides these certifications has different criteria. To help shed some light on organic hair care products — and, more specifically, the best organic shampoos — Bustle spoke with the creators behind Intelligent Nutrients, one of the most eco-conscious hair care brands around.
"For shampoo, skin care, aroma, or any beauty product, the words 'truly organic' do not really mean anything right now," explains Nicole Rechelbacher, Co-Owner of Intelligent Nutrients. Additionally, "The words clean, organic and natural are not clearly defined or monitored by any government agency in the USA. Until all are defined by a government agency, brands have been left to define these terms for themselves, leading to 'green-washing' and misleading the consumer."
Rechelbacher goes on to note, "Because of this lack of standards or enforcement, just adding one drop of organic ingredients to a synthetic product allows brands to add the word organic to the label" — another example of how you can never rely on marketing. So if labels can be this misleading, how can a customer tell if the product they're buying is truly organic? "Right now, the best way to know is to look for the words USDA certified-organic and check the label for ingredients. Check for third-party certifications!" Rechelbacher says.
One of the most trustworthy third-party certifications to look for is the COSMOS standard, which, as Rechelbacher explains, "requires 95% of the product's agro-ingredients be organically produced. The remaining ingredients pose no known risk to health or environment." You can also look out for certifications from European organizations such as the Soil Assocation (the UK), ICEA (Italy), and ECOCERT (France), which regulate the amount of certified-organic ingredients a product must contain to be labelled as organic. Similarly, if a product boasts an NSF or NSF/ANSI 305 certification, that's a promising sign, too.
While all of this is undoubtedly illuminating information to absorb, right now, you're probably just wondering what the best organic shampoos are. Scroll on to discover 10 great picks that you can trust.
Experts:
Nicole Rechelbacher, Co-Owner of Intelligent Nutrients