The 3 Best Bakuchiol Products
We only recommend products we love and that we think you will, too. We may receive a portion of sales from products purchased from this article, which was written by our Commerce team.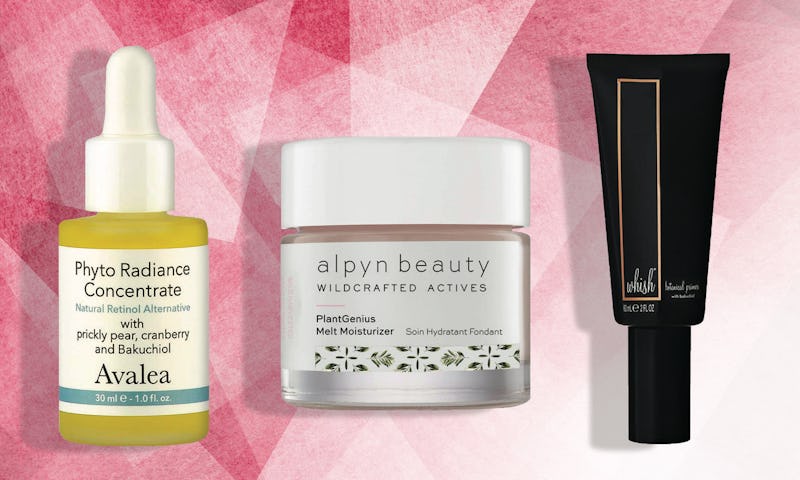 Amazon/Bustle
In the always innovating skin-care industry, there's never a shortage of trending ingredients. But every once in a while, an It ingredient comes along that seemingly works for every skin type — and delivers impressive results. That's exactly what's made bakuchiol skin-care products so popular as of late. The best bakuchiol products have earned comparisons to retinol, with its ability to increase skin cell turnover, stimulate collagen production, and reduce hyperpigmentation — without much of the irritation retinol is known for like redness, dryness, peeling, and sensitivity to the sun. Bakuchiol, you see, is a plant-based ingredient, and a friendlier choice for sensitive and easily irritated complexions.
Because bakuchiol is so gentle, you don't have to follow strict guidelines when it comes to application. Skin-care expert and Lion/ne co-founder Ksenia Selivanova told Bustle that bakuchiol is safe for women to use during pregnancy (though, if you're pregnant, you should still consult with your doctor before adding a bakuchiol product to your skin-care routine just to be safe). It can also be used in the morning and at night, because unlike retinol, bakuchiol doesn't cause sensitivity to sunlight.
In a hurry? These are the best bakuchiol products.
1. The Best Bakuchiol Moisturizer: Alpyn Beauty Natural PlantGenius Melt Moisturizer
2. The Best Bakuchiol Face Oil: Avalea Phyto Radiance Concentrate
3. The Best Bakuchiol Primer: Whish Botanical Primer With Bakuchiol
A serum, moisturizer, or facial oil are the most common ways to incorporate bakuchiol into your skin-care routine. And while the ingredient offers plenty of benefits on its own, you'll definitely want to keep an eye out for other moisturizing and skin-restoring ingredients to help boost its results. Ingredients like hyaluronic acid and squalane will help attract and seal in moisture, while vitamin C and other antioxidant-rich oils can help brighten skin, even out tone and texture, and provide protection from environmental aggressors.
No matter how you want to use it in your routine, ahead, find three of the best bakuchiol products to try out.
This article was originally published on