The 6 Best Soaps To Clean Tattoos
We only recommend products we love and that we think you will, too. We may receive a portion of sales from products purchased from this article, which was written by our Commerce team.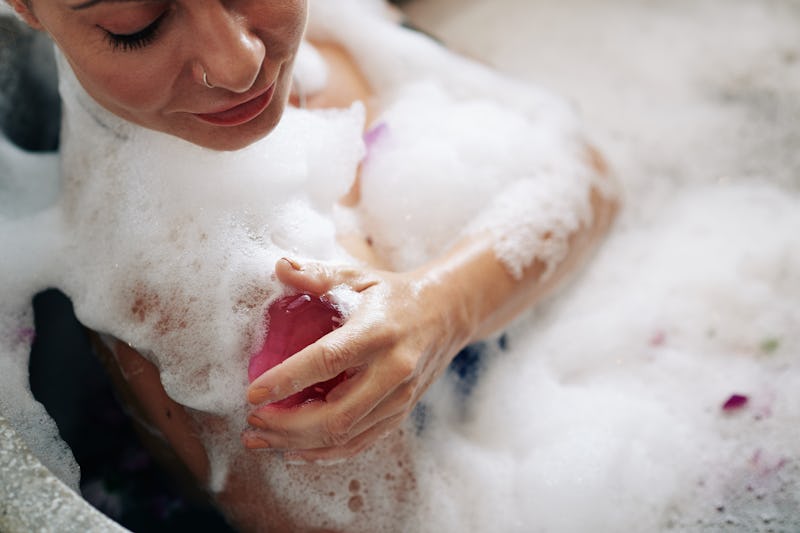 Shutterstock
I got my first tattoo when I was 18, and since then, I've gotten six more, each with their own personal significance. Though each one has a different meaning, the aftercare process has remained the same. Whether you're getting a big piece from a renowned shop or a stick n' poke from your friend, your tattoo needs to be properly cleaned and cared for if you want it to remain vibrant and healthy. That's why, with the help of one of my favorite tattooers, Joseph Bryce, I've put together this list of the best soaps to clean your tattoos — plus, some key tattoo aftercare tips.
Something to keep in mind when it comes to caring for tattoos is that "Everyone is different," according to Bryce. "The soap is just to keep it clean. Tattoos are technically wounds," he explains. Bryce says that in order to keep your tattoo free of infection, you should be washing it twice a day and keeping it clean and dry in between washes (meaning as free as possible from sweat and oils).
How to wash tattoos safely
First, you'll want to wait a full 24 hours before washing your new tattoo. Once you're ready to remove your bandage, very gently wash your tattoo with warm (not hot) water and an antimicrobial soap. Carefully pat it dry afterwards — never rub a new tattoo — then apply a thin layer of your preferred aftercare ointment. Repeat this process twice a day throughout the healing phase.
When it comes to tattoo aftercare, Bryce also recommends "just listening to your body ... if you have a brand that works well with you, just look for their unscented, antibacterial product." And he doesn't just mean soap that's specifically made for the face and body. Sometimes, the best tattoo aftercare cleansers are hand soaps that you'd generally find in any bathroom!
Additionally, according to the American Academy of Dermatology, it's important to keep your new tattoo well-protected from the sun using a sunscreen with an SPF of at least 30 or more. Also, don't forget to regularly moisture your fresh ink with one of the best tattoo aftercare lotions.
Read on to find out more cleaning and caring for new tattoos.
This article was originally published on