The Best Moisturizers To Use With Tretinoin Cream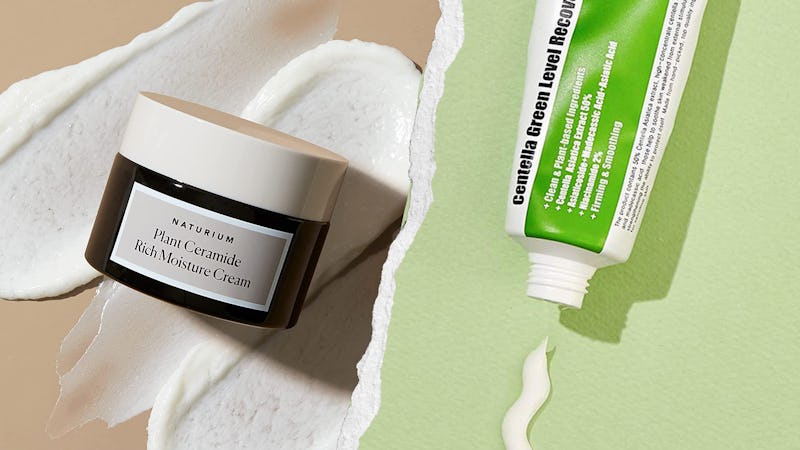 Amazon / Shutterstock
We may receive a portion of sales if you purchase a product through a link in this article.
Serious acne is no joke and, more often than not, clearing it requires a trip to the dermatologist. Unfortunately, things don't end there. Topical prescription acne treatments like tretinoin, for example, won't give you the best results if they aren't used properly. That said, the best moisturizers to use with tretinoin cream (also known by the brand name Retin A) won't interfere with the medication, but will prevent and relieve common side effects — namely, drying, flaking, sensitivity, and inflammation.
What Is Tretinoin Cream?
Tretinoin is a topical form of vitamin A that works as both an anti-inflammatory and a chemical exfoliant. By increasing skin cell turnover, it helps get rid of stubborn acne and can also prevent breakouts and clogged pores. Seems simple (and amazing), right? It is, but a lot of times, people make the mistake of simply adding tretinoin cream into their existing acne-fighting routine without making any alterations. Doing this can cause seriously dry skin and severe irritation that presents as flaking, redness, and burning. Ouch!
What Moisturizer Should I Use With Tretinoin Cream?
According to Dr. David Lortscher, a board-certified dermatologist (and founder and CEO of Curology), you'll want to pair your tretinoin cream with a deeply hydrating moisturizer that's oil-free and noncomedogenic to keep breakouts at bay, while still providing enough hydration to counteract tretinoin's drying effects. "Generally, you may find you need a more hydrating moisturizer with a cream or gel base to help combat flaking or dryness, especially in the winter months," Dr. Lortscher tells Bustle. Another tip? "Avoid or use caution when moisturizers contain harsh alcohols, vitamin C, benzoyl peroxide, and glycolic and lactic acids."
If you've recently obtained prescription tretinoin cream and are afraid to make its drying effects worse, the key to choosing the right moisturizer is to err on the gentle side. Any one of the seven options below will provide the hydration your skin needs so that you can be on your way to clear, glowing skin ASAP.
Shop The Best Moisturizers To Use With Tretinoin Cream
In a hurry? These are the top three best moisturizers to use with tretinoin cream:
The Overall Best: Avène Eau Thermale Tolerance Control Soothing Skin Recovery Cream
The Best Night Cream: Naturium Plant Ceramide Rich Moisture Cream
The Best Budget Moisturizer: CeraVe Moisturizing Cream
Studies referenced:
Tretinoin: A Review Of Its Anti-inflammatory Properties in the Treatment Of Acne, Nicholas Schmidt-Eugene Gans - https://www.ncbi.nlm.nih.gov/pmc/articles/PMC3225141/
Experts:
Dr. David Lortscher, a board-certified dermatologist and founder and CEO of Curology.
This article was originally published on