The 11 Best Hair Towels To Dry Hair Quickly Without Damage
We only recommend products we love and that we think you will, too. We may receive a portion of sales from products purchased from this article, which was written by our Commerce team.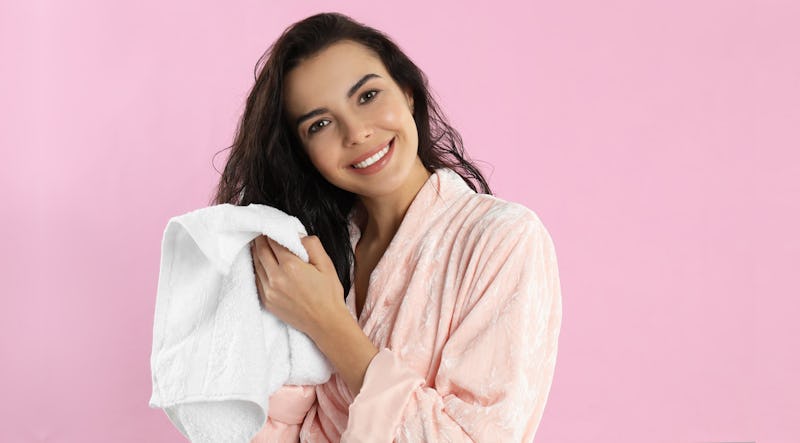 Shutterstock/New Africa
It's a little weird to say that my life has been vastly improved by a wad of absorbent fabric, but it's true. I recently invested in one of the best hair towels, and since then, my daily routine has gone a whole lot more smoothly. No longer do I have to bend my neck like an ostrich to keep the towel on top of my head. No longer do I feel beads of cold water dripping down my back, or end up damaging my hair by twisting too hard.
Most stylists would agree that, believe it or not, you should never dry your hair with a regular towel. That's because hair is especially delicate when it's wet, and the texture and material of a regular towel is often too coarse for fragile wet hair to handle. Your average bath towel might also not be the most absorbent, so if you do choose to blow dry your hair after towel drying it, you're not preventing as much heat damage as you could be.
Not only is a great hair towel made from a soft, special material that's effective at absorbing water without damage, but it actually stays on your head while you move on with the rest of your routine. These top-rated hair-drying towels can help you dry your hair faster with less damage. Keep scrolling for the best hair towels that dry your hair fast.
This article was originally published on