The Best Shampoos For Acne-Prone Skin To Banish Scalp Breakouts For Good
We only recommend products we love and that we think you will, too. We may receive a portion of sales from products purchased from this article, which was written by our Commerce team.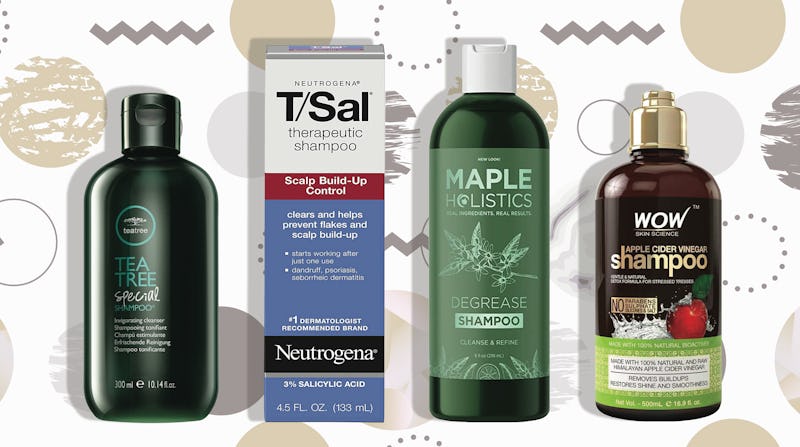 Bustle/Amazon
As if run-of-the-mill facial acne wasn't enough to deal with, acne of the scalp is another thing many of us have to wrestle with. Scalp acne forms when there's a buildup of clogged oil, dead skin, or bacteria in our pores, but the best shampoos for acne prone skin can help treat breakouts at their source. To find out more about scalp acne and acne shampoos, Bustle reached out to Dr. Anna Guanche, M.D. F.A.A.D., a board-certified dermatologist, dermatologic surgeon, and the founder/director of the Bella Skin Institute.
Dr. Guanche advises avoiding oil-based shampoos since "[…] the main components of acne is increased sebum (oil) production that can lead to clogged pores." This means that using oil-rich or ointment-based products with ingredients like silicones, jojoba oil, shea butter, and petroleum may not be the best choices for acne prone skin, according to Dr. Guanche.
However, she does qualify that when it comes to treating scalp acne, there's no universal solution and, for some, oils like jojoba and coconut can be "[…] compatible with acne-prone skin because of their anti-inflammatory and soothing properties. [...]".
Although your scalp and hair require nourishing ingredients that won't cause dandruff, dryness, or brittleness, many ingredients found in the best acne products for skin work for your scalp, too, like salicylic acid, which is the main ingredient in Dr. Guanche's top pick, Neutrogena T/Sal, a shampoo "[…] that would not aggravate acne, rather, it may help improve it. It's also free of fragrance and dermatologist-recommended to treat dandruff, psoriasis, and dermatitis."
Otherwise Dr. Guanche advises tea tree shampoos, sulfur-based shampoos, antibacterial shampoos, and apple cider vinegar shampoos, since the latter are "acidic, antibacterial or keratolytic, which makes them more compatible with oily skin."
Some shampoos contain certain chemicals and harsh ingredients that, unbeknownst to many consumers, can clog pores and create a messy situation on your scalp and along your hairline. Generally, searching for shampoos for sensitive skin or those that are free of sulfates and mineral oil can help keep pimples, whiteheads, and blackheads at bay.
Scroll on to get rid of scalp acne by choosing one of the best shampoos for acne and other related scalp conditions.
1. This Salicylic Acid Shampoo For Fast, Powerful Results
Salicylic acid is a beta-hydroxy acid that's commonly used to treat acne, psoriasis, and other similar skin conditions — including scalp dryness, which can lead to pimples. Not only is Neutrogena T/Sal Shampoo Dr. Guanche's top pick, but it also contains a fast-acting punch of ingredients, with 3% salicylic acid taking top billing as its star. It's also free of fragrance and dermatologist-recommended to treat dandruff, psoriasis, and dermatitis.
According to one reviewer: "I have scalp acne. I've tried everything to get rid of it. This shampoo is what finally helped me. It took me a whole bottle and I had to use it every time I showered for a while. I'm on my 2nd bottle and now I'm only using it every other shampoo. Thankful I found this!"
2. An Anti-Fungal Shampoo That Banishes Bacteria From Pores
When pores are clogged with bacteria, you can experience a major case of scalp acne. The ProBliva anti-fungal shampoo combines emu oil, coconut oil, jojoba oil, grapefruit seed extract, and more to help eliminate bacteria and fungi while treating inflammation that can lead to dandruff and acne. Over 1,500 reviewers have given it a five-star rating or review, and it has earned an impressive overall rating of 4.5 stars.
According to one reviewer: "I was battling scalp folliculitis for about 5 years. Everything the dermatologist told me to do and take never worked. I finally tried this shampoo and after a week the scalp acne has disappeared completly. The trick is you have to leave the shampoo in about 5 min before rinsing out. This is the only product that worked. Thanks."
3. A Tea Tree & Peppermint Shampoo With Calming Lavender Oil
Over time, the old skin that accumulates with dandruff can lead to painful and unwanted breakouts on the scalp. Banish dandruff naturally with this tea tree shampoo, which contains tea tree, a recommended base ingredient for acne-prone skin according to Dr. Guanche. It also contains peppermint and lavender oils — all of which are proven to help flaky, dry skin — which contribute to its soothing, herbal scent.
According to one reviewer: "Absolutely LOVE this shampoo. I was struggling with dry scalp and breakouts of scalp acne. Since using this product for several months I no longer have those issues! Love the smell as well."
4. An Antifungal Sulfur & Salicylic Acid Bar Soap
It might take some getting used to at first, but this salicylic acid and sulfur bar soap contains two of Dr. Guanche's recommended ingredients for a shampoo that's great for acne-prone skin: salicylic acid and sulfur. This bar soap can heal acne, itch, and dry skin anywhere — on your body, face, and scalp. Expect a slightly stinky experience (that's the 10% sulfur working alongside the 3% salicylic acid), but reviewers say it's worth it: It will clear up your scalp and can do wonders for facial acne, too.
According to one reviewer: "It doesn't smell great but I honestly expected WAY worse-- it is sulfur, after all. I bought this to use on my scalp and I'm very pleased with it so far. It's really helped with the dryness and itching I've been experiencing this winter, plus my hair actually feels softer which was surprising. I only wash my hair once or twice a week and I have replaced my regular shampoo with this bar. I've also used it to wash my body and it has diminished the itching there as well. [...]"
5. An Apple Cider Vinegar-Based Shampoo & Conditioner Set
This apple cider vinegar-based shampoo and conditioner set is a great buy for those looking to rid their scalp of acne, as Dr. Guanche likes apple cider vinegar for its antibacterial, acidic, or keratolytic properties. Plus this set's ingredients include coconut oil, which Dr. Guanche said works for some people who struggle with scalp acne because of its "[...] anti-inflammatory and soothing properties." The coconut oil along with aloe promises to help strengthen and rejuvenate hair while the apple cider vinegar clears pores. The formula also contains vitamins E and B5, keratin proteins, and palmetto extract which promises more hydration for your hair and scalp. Over 35,000 Amazon reviewers have awarded it a perfect five-star rating.
According to one reviewer: "I truly love this stuff. I get acne on my scalp with just about every other shampoo and conditioner I've tried. I also have fine, oily hair. Not only has my hair not been oily at all but I haven't had a single problem with my scalp, and my hair looks and feels fuller."
6. A Botanical Shampoo Made With Ingredients Straight From The Forest
If Snow White had a favorite shampoo, this would be it: a hypoallergenic, soapberry shampoo made with olive leaf, gotu kola, and chamomile, which work together to treat dandruff and other scalp sensitivities. It's free of sulfates, parabens, silicones, perfume, and dyes, so it's an especially good choice for people with delicate skin.
According to one reviewer: "This was amazing for the scalp acne I was experiencing. I've purchased this product twice and will continue to do so! The scent is refreshing and left my hair smelling great. I've tried all of the drugstore brands for scalp issues and nothing worked like this did!"
7. Another Plant-Based Shampoo, But This One's Even Cheaper
This natural shampoo for oily and greasy hair contains ingredients like basil, cypress, jojoba, rosemary, and lemon essential oil that help balance your scalp, eliminate excess oils, prevent dandruff, and alleviate itching. Remember, Dr. Guanche qualifies that jojoba oil can be great for some people dealing with acne-prone skin given its anti-inflammatory and soothing properties. This shampoo is also paraben- and sulfate-free, and contains no dyes or artificial fragrances; it's also hypoallergenic and safe for sensitive skin.
According to one reviewer: "I love this shampoo. It smells great, and has noticeably cleared up the acne that i had on my scalp. It is the only shampoo that I use now. I find it reasonably priced for the the changes it has made to my hair/scalp. I have noticed that if I skip using the shampoo and use something else, I start to breakout again."
Expert:
Dr. Anna Guanche, M.D. F.A.A.D., a board-certified dermatologist, dermatologic surgeon, and the founder/director of the Bella Skin Institute.
This article was originally published on