These Are The Most Comfortable Sneakers On Amazon, According To Thousands Of Glowing Reviews
We only recommend products we love and that we think you will, too. We may receive a portion of sales from products purchased from this article, which was written by our Commerce team.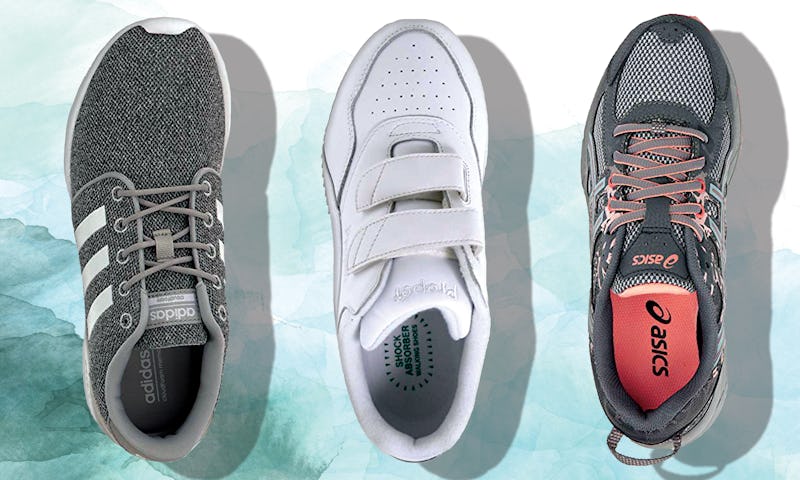 Amazon / Bustle
While sneakers are touted as one of the feet-friendliest shoe choices, not all options are created equal when it comes to comfort. In fact, the most comfortable sneakers are ones that are optimal for your specific feet and boast features that fit your lifestyle.
In the quest for the comfiest sneaker, pay close attention to pronation. This fancy term simply means the way your feet roll when you walk or run. People with low arches tend to overpronate, aka their foot's arch collapses inwards too much. People with high arches tend to underpronate, aka their foot rolls too much outward.
The type of pronation you have will be a big factor in what will be the most comfortable sneaker for you, as well as the right amount of arch support and cushioning:
Arch support: A good pair of sneakers will give your arches support, making each step that much comfier. Arch support is an important factor for everyone, but is especially important if you have low arches. People whose feet overpronate should especially be on the lookout for shoes with really good arch support and structured cushioning.
Cushioning: Do you want to walk on pillows? I certainly do, and the comfiest sneakers boast the perfect amount of cushioning to make this happen. Cushioning comes in many different forms, including memory foam, which essentially gives your foot a big hug. People with high arches and whose feet underpronate should especially be on the lookout for sneakers that boast a lot of cushioning, especially in the heel.
Other things to keep in mind are breathability and traction. Design features like mesh are especially great if you find that your feet sweat easily. And without a good grip, it is so much easier for you to slip, slide, or fall while wearing your sneakers. Traction will help you stay upright and make it easier to walk comfortably.
With all of this in mind, I wanted to help you narrow down your search, so here are 11 of the comfiest sneakers in a range of sizes, colors, and styles that Amazon reviewers swear by.