9 Sunscreens For Sensitive Skin That Won't Cause Irritation
We only recommend products we love and that we think you will, too. We may receive a portion of sales from products purchased from this article, which was written by our Commerce team.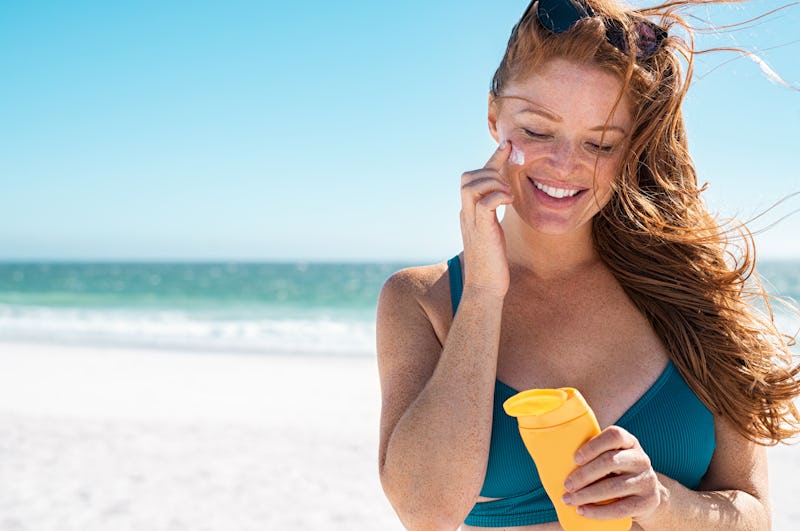 Shutterstock
If you're here, you already know how important it is to wear sunscreen every day to protect your skin from harmful rays. But people with sensitive skin need one that also won't leave it looking and feeling as raw as the worst sunburn. Luckily, the best sunscreens for sensitive skin have all the UVA and UVB protection your skin is begging for, without the irritation.
"Sensitivities to sunscreen can fall under a few categories," Dr. Erum Ilyas of Schweiger Dermatology Group tells Bustle. "There can be an actual allergy or sensitivity to one of the active ingredients in the sunscreen. There can be an actual allergy or sensitivity to one of the inactive ingredients, i.e., the preservatives or fragrance, in the sunscreen. Some people experience burning in their eyes once they start sweating from the sunscreen product actually running into their eyes."
Sensitive skin types tend to react more to chemicals in products, so it's easy to see why certain chemicals should be avoided at all costs. The simplest way to address this is to focus your search on sunscreens that use zinc and/or titanium as their active ingredients and avoid preservatives such as parabens, as well as fragrances, dyes, and formaldehyde.
"Zinc and titanium tend to be 'inert,' meaning that they are less likely to cause true allergic reactions," Dr. Ilyas says. "If there are still sensitivities to these sunscreen products, patch testing patients to determine the true cause of the reaction can be helpful. Routinely these results have indicated that the preservatives and/or fragrances added to sunscreen products are often the true cause of the reactions. By seeking products that minimize preservatives and fragrances, the chances of feeling burning or stinging in the eyes with sweating is also less likely."
The good news is there are more amazing sunscreens for sensitive skin out there than ever before and they aren't all the same goopy, white cream formula from the past. These nine sunscreens are designed for sensitive skin that needs that little bit of extra TLC, including skin that suffers from rosacea or eczema. Plus they offer optimum protection, too.
This article was originally published on