These Are Hands-Down The Best Bronzers For Dark Skin Tones
Not all bronzers can cater to the needs of darker skin tones, but I found the holy grail.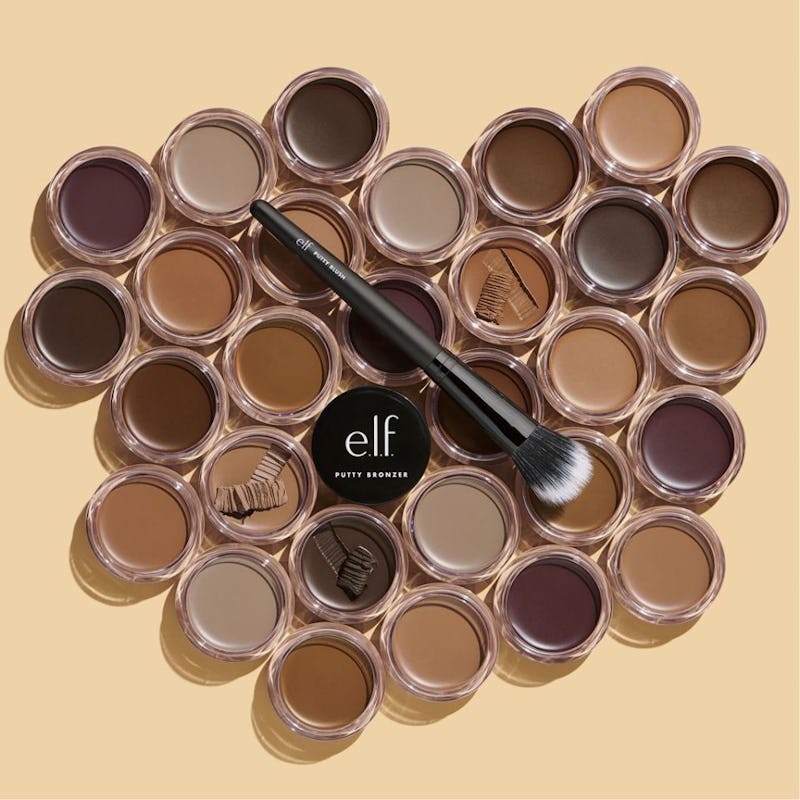 Courtesy Of e.l.f. Cosmetics
Who doesn't love a sun-kissed summer glow? (Minus the actual sun damage, please.) But, as a gal with a deep olive and honey(ish) skin tone, I know that achieving that beautifully bronzed look isn't always as easy as a quick swipe of a brush over any shimmery compact. It's that shade struggle that led me on a quest to find the best bronzers for dark skin tones, hands down.
The first bronzer I ever purchased turned out to be a total dud: Instead of lit-from-within warmth, it left behind dull, chalky streaks that looked like I used the wrong foundation shade — ugh. While not all bronzers are able to cater to the needs of darker skin tones, after much searching, swiping, and swatching, I'm happy to report that I've found some holy grail bronzing products in a range of formulas — and, of course, a plethora of shades.
Some special shout-outs? e.l.f. Cosmetics' Putty Bronzer and its unique putty-to-powder formulation, and Chantecaille's gel-powder bronzer that delivers enviable illumination. Yes, our melanin count already renders a natural tan, but thanks to these bronzing powerhouses, we can still turn it up for a seriously radiant look.
To find the shade that best complements your skin and brings out your inner radiance, choosing a bronzer that's one to two shades darker than your natural skin tone is usually your best bet. Ready to start shopping? Below, find the best bronzers for dark skin tones you won't be able to leave the house without.
Bustle Shop is Bustle's shoppable guide to editor-approved buys in fashion, beauty, wellness, and lifestyle. We may receive a portion of sales if you purchase a product through a link in this article.
Bustle Shop brings you the editor-approved buys we can't get enough of and think you'll adore, too. Best of all, you can shop all of the products above directly on this page without visiting multiple retailers. Simply click on an item to learn more, choose your size or favorite color (if applicable), and then hit "add to cart." When you're done, you can click over to your cart in the top right corner of your screen to purchase all your stellar selects at once. How easy is that?
Questions about shipping, returns, or your order in general? Click here for more information.
Explore more of Bustle Shop (and our fashion, beauty, and lifestyle must-haves) here.
This article was originally published on