The Budget-Conscious Guide To Shopping Sustainably
Buying better doesn't have to cost you.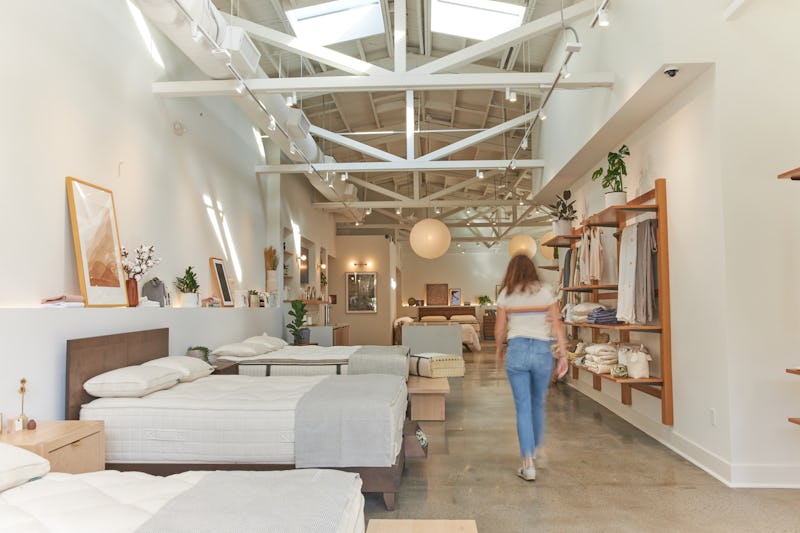 It's no secret that there is a lot of waste on this planet. According to the Environmental Protection Agency, 292.4 million tons of municipal solid waste was produced in a single year by the United States alone. And while the powers that be (read: large corporations) are responsible for generating more than half of said waste, there are certain things we as individuals can do to live a more sustainable life. After all, every little thing we do can make a difference, even the way in which we approach one of life's greatest pastimes: shopping.
If the concept of shopping more sustainably sounds a little intimidating, don't fret! It's actually a lot simpler than you may think. It's not necessary to go to extremes, like committing to a zero-waste lifestyle or spending tons of money on a high-end eco-conscious wardrobe (although if that's up your alley, more power to you!). One of the easiest ways you can kick off a more thoughtful shopping experience is by supporting companies that keep Mother Earth in mind from the get-go, like bedding and bath brand Avocado Green. As a Certified B Corporation brand, Avocado is also Climate Neutral certified, and even went carbon negative in 2020. (It's almost like they're doing the hard stuff for you!)
If you're ready to become a more sustainable shopper but aren't sure where to start, keep scrolling for an easy guide to making little changes that go a long way.
1. Invest In Pieces That Will Last
When shopping for furniture or clothes, it can be tempting to settle for something that does the job just fine, even if it might not be the best quality. This often happens if you're in a rush to buy, like when you move to a new place and find yourself sleeping on an air mattress or using a cardboard box as a temporary dresser (been there). Have you ever impulse shopped in one of these moments, only to make a purchase that ended up falling apart a lot sooner than expected? Cue the instant regret.
That's why investing in a good quality item from the jump is key. The good thing is, you don't always have to spend a ton of money in order to get something that will last. Case in point: the Avocado Green Eco Organic Mattress. Made with a combination of 100 percent certified organic latex and 100 percent certified organic cotton, plus non-toxic materials that are sustainably sourced, you'll be able to sleep peacefully knowing that you're in a bed that's not only healthy for the planet, but for you too. Best of all? It clocks in at an extremely accessible price point.
2. Lean Into Secondhand Chic
While picking out something shiny and brand-new can certainly be enticing, it's important not to disregard the magic of shopping secondhand. First of all, it's better for the environment. The more we shop for things already out there in the world, the less need there will be for new items to be manufactured. (Plus, haven't you noticed that items made way back when often last a lot longer than stuff made today? Hello, planned obsolescence.)
Secondhand items can also carry more character and a certain je ne sais quoi when it comes to defining your personal style. Who knows what kind of story is behind that rustic old dining table or vintage concert t-shirt? Whether you find the fun in hunting for treasures at local thrift stores and antique shops, or would rather put together a swap-and-shop with friends (and wine), finding new life in used products can make a world of difference.
3. Reject The Trend Mindset
Trends are trends for a reason; they come and shake things up for a minute, and then — poof! —they're gone with the wind and something entirely new has taken over. And while buying something that's hot right now can feel exciting and relevant, what happens when the wave crashes and it suddenly seems like just another victim of fast fashion? Avoid falling for the trend trap by purchasing items with timeless, functional design. Whether it's a perfectly fitting pair of jeans or something bigger, like bedroom furniture, try your best to stick with the classics.
Take the City Bed Frame from Avocado Green for example. Handcrafted from sustainably harvested American timber and in a chic, non-toxic brown stain or clear blonde finish, it's the perfect home for your mattress and its simple, clean design means it'll never go out of style.
4. Take Care Of What You Have
It's all in those six simple words. Once you've figured out what to buy and have it in your possession, all that's left is making sure it lasts. If you're careless with your belongings, then chances are you'll find yourself buying a replacement sooner rather than later. Where's the sustainability in that? Now, that doesn't mean you have to go around giving everything you own the white glove treatment, but there are ways to extend the life of the things you use most often. For instance, keep your investment pillows clean and lasting longer with the Avocado Quilted Pillow Protector. Made with 400 thread-count, hand-stitched, 100 percent GOTs certified organic cotton, this comfy pillowcase will protect your pillows from stains and discoloration while also providing support for your neck and head. Sweet dreams, indeed.
No matter how you choose to shop responsibility, remember that every small effort on your part has the power to make a major impact on the planet.