6 Apps That'll Help You Find Cleaner Beauty Products
Decode those ingredient labels.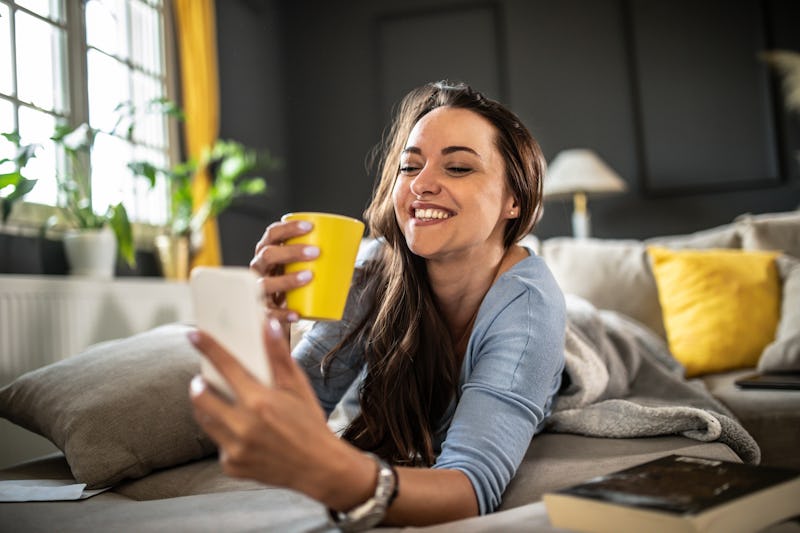 zeljkosantrac/E+/Getty Images
G.I. Joe said it best — knowing is half the battle. You owe it to yourself, your health, your body, your skin, and your loved ones to make informed choices by knowing the ingredients in the beauty products and cosmetics you use.
For some, the "Cruelty Free" bunny logo is paramount, since it indicates that a product is not tested on animals. But what about items labeled as organic, natural, clean, or green? Many marketing campaigns use those words interchangeably and that's where things can get tricky. As the Think Dirty app notes, the term "natural" isn't regulated. Though a lot of change has been made in recent years (and the topic has been getting more PR, thanks to high-profile celebs like Kourtney Kardashian and Michelle Pfeiffer using their influence to push for stricter regulations in the beauty world), there's still a lot of murkiness that surrounds the clean beauty world. Therefore, words like "natural" can be very misleading and don't necessarily mean that your products don't contain harmful chemicals.
In order to better educate yourself (and because knowledge is indeed power), there are plenty of apps to help you decode the terminology and to understand the toxicity — or lack thereof — regarding ingredients. Their sole function is to assist you in understanding the ingredients in your beauty products and most have accompanying websites that serve as valuable resources, too.
Below are six apps to help you wade through the informational ether and aid in understanding what you are using and what those ingredients with the really long and science-y names actually do. Download and keep them handy for your next beauty buy — you never know when they'll be able to help you make smarter choices.
1. The Think Dirty App
The Think Dirty app is the Holy Grail of this category — it's free, easy to use, and comprehensive. It offers incredible and careful detail about what's in your personal care products and translates the information so you can easily process and understand it. All you have to do is scan a product bar code and Think Dirty will generate its "Dirty Meter" report on the ingredients and offer suggestions for cleaner alternatives. You'll have no shortage of options; the database contains over 550,000 products.
2. CosmEthics
CosmEthics is a European app that analyzes a product when you scan the bar code. It does so in a matter of seconds. If a better-for-you alternative exists, CosmEthics will let you know. Like other apps of its ilk, the cleverly-named CosmEthics has a database of thousands of products and its information is gathered from manufacturers and retailers. You can also personalize the app for your shopping and product preferences.
3. EWG Healthy Living
There are so many products on shelves that it can make choosing the safest ones a daunting task. The Skin Deep website and Healthy Living App are part of the Environmental Working Group. That org's mission is to "empower people to live healthier lives in a healthier environment. With breakthrough research and education, we drive consumer choice and civic action." The group uses the "EWG VERIFIED" mark and when a product has this distinction, you know it passes the EWG's standards.
4. Detox Me
Detox Me is also free (love to see it) and uses research to help reduce a consumer's exposure to potentially harmful chemicals in all household products, including beauty items. The apps' ethos is that knowledge is "a prescription for prevention." It allows you to track your progress in terms of eliminating toxic products, offers tips and recommendations for safer alternatives, and breaks down those often confusing labels and technical terminology.
5. Chemical Maze
Do those hard-to-pronounce ingredients intimidate you? Just know you're not alone. Thanks to Chemical Maze, you may be ready to tackle the task of translating your new serum's ingredients label with renewed confidence. The app makes it easier for you to recognize cosmetic ingredients (and food additives) that may cause you discomfort or any possible negative side effects. Simply look up ingredients by name or INS number, and you'll find that each ingredient is either assigned a smiley, neutral, or sad face. It's incredibly easy for you to figure out if an ingredient is a potentially good or bad choice for you.
6. CodeCheck
With CodeCheck, you can check if a product is safe for you by simply scanning its barcode on your phone. The app uses experts and data sources — like the European Commission and the California Department of Public Health — to rate ingredients for you. Every ingredient gets analyzed on how it will affect you and the environment.
Finding safe beauty products are super easy, especially with these apps. So download one — or all because why not? Any or all of these apps will help you make better, more informed choices that you and your skin will be thankful for.
Additional reporting by Audrey Noble.
This article was originally published on