PSA: This Easy Foot Treatment Gave Me The Softest Skin Of My Life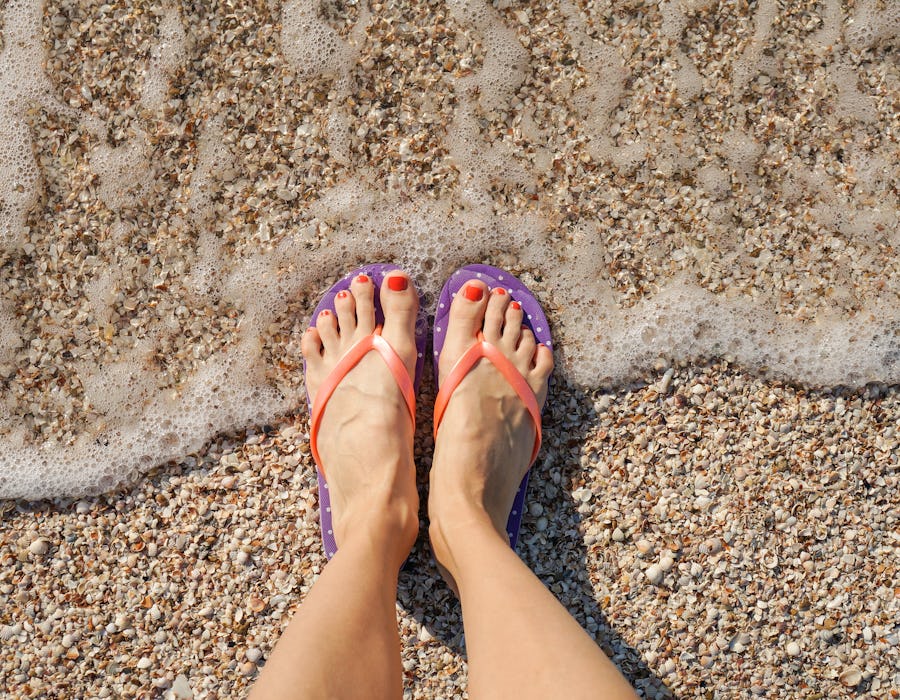 Shuttershock/Sun City
I envy people with naturally soft feet. Take my boyfriend, who has probably never touched a body lotion — no mind a foot treatment — in his entire life. And yet, the bottoms of his feet are as soft and silky and plush as a baby's bottom. My feet, on the other hand, are dry, scaly and cracked by default. My only recourse up until recently was a pedicure every two weeks or so, expressly so the bottoms of my feet could be properly exfoliated and I could enjoy a few days of suppleness. But we all know that pedis can be both expensive and time consuming; hence why I set out to find at-home alternatives and discovered Amopé, a range of powerhouse foot-care products crafted by experts.
The brand's innovative tools and treatments are easy to use and deliver results in mere minutes — actually, their Pedi Perfect Advanced gave me the softest skin of my life in seconds. In fact, they're so impressive, the only reason I book a pedicure these days is for a polish change. Because I consider myself a pro on rough foot skin, I'm providing my thoughts on four of their products in hopes of making your search (and feet) as smooth as can be.
The Showstopper: Pedi Perfect Advanced Electronic Foot File
This is most definitely my favorite product from the entire line, so I'm starting here first. This game-changing tool looks like a paint roller at first glance — switch it on and the roller head, made of finely ground exfoliating crystals, spins at two different adjustable speeds. Using the fastest speed setting, I focus the roller head on my heels for about 20 seconds, sliding it up and down the bottoms and sides. For the last 10 seconds, I shift to the slowest speed and glide the tool up toward the balls of my feet. When I'm done, I always allocate a few minutes to admire the work of this tool, ogling over how buttery soft, smooth and plush my feet feel and look: It completely files away rough patches and thickened skin without irritation, pain, or rawness, and and because it's battery-powered, it's virtually effortless. I've been using this once a week, in the shower (it can be used on wet or dry skin), because it's cleaner that way. You may notice a flurry of dead skin flakes shed from your feet while using it, a telltale sign of a job well done — not to mention deeply satisfying.
The Must-Have: Pedi Perfect File Refills
Just like a nail file, the heads of the Amopé exfoliating tools get worn down over time. I'd recommend replacing yours every three months or so for maximum results, and when it's time to do so, the brand gives you different refill options so you can give your feet what they need. They've got their Ultra Coarse Refills for the toughest, hardest foot skin you can imagine, Extra Coarse refills for very hard skin, and a variety pack that contains an Ultra Coarse refill and Regular Coarse refill.
The Maintenance MVP: Pedimask 20-Minute Foot Masks
Lined with nourishing hydrators and oils like lavender, macadamia, and coconut, these single use foot masks are designed to lock moisture into your feet without the greasiness or mess. Essentially a treatment-infused sock, I'll usually slip these on after I exfoliate with the Pedi Perfect Advanced in order to drive moisture deep into the fresh new layers of skin. However, they're also great to use in between exfoliating treatments, when my feet are in need of a little softening or soothing. Just 20 minutes leaves them supple, rejuvenated and refreshed, and unlike other foot masks, they won't leave your skin slimy or slippery, so you can simply remove them, massage in any excess product, and go on with your day.
This consumer was provided with a payment for written preparation of their experience in the use of product. Results may vary depending upon your specific need or condition.