Three Boots, Three Looks: Here's What We're Wearing For Every Activity This Fall
From hiking to gardening, here's how we're getting outdoors, in style.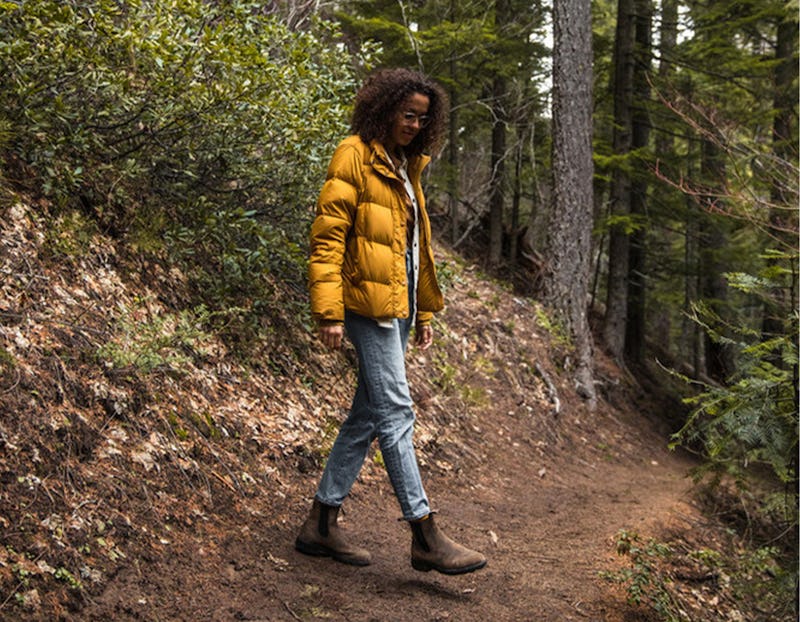 We've all been itching to get outdoors over the last several months, and whether that's meant taking on a new hobby or picking up an old one, finding a balance between work and play has never felt more necessary. Luckily, if you're still trying to find your niche, the cooler weather and changing seasons make fall the perfect time to do so.
Teaming up with Blundstone, we're offering up a few of our favorite outdoor activities (and corresponding looks for each) to help get you started. From a printed maxi dress for a socially-distanced date night to vintage-inspired denim for a weekend morning spent gardening, these three looks will get you out and moving this fall.
Sunset Hike
Hiking is one of the easiest ways to get moving outdoors, and having a sturdy boot is essential, no matter the terrain. We're pairing Blundstone's brown Chelsea boot with technical pants and a lavender pullover for a look that's cute enough to wear to dinner after.
Date Night
Date night might look a little different these days, but we're still turning to the staples that make us feel our best. Whether you're embracing outdoor dining or sticking to a backyard happy hour, a tiered maxi dress and heeled booties help make the moment feel special.
Weekend Gardening
Whether you're growing potted herbs on your fire escape or tending to a fully-fledged assortment in your backyard, gardening can be a seriously fulfilling way to spend some time in the sun. If you're getting down and dirty with your plants, slide on these stylish leather Chelsea boots and pair them with a vintage-inspired look that's comfortable and functional.