Three Creatives Put Their Spin On Puma's Latest Sneaker Drop
Brand new styles have entered the chat.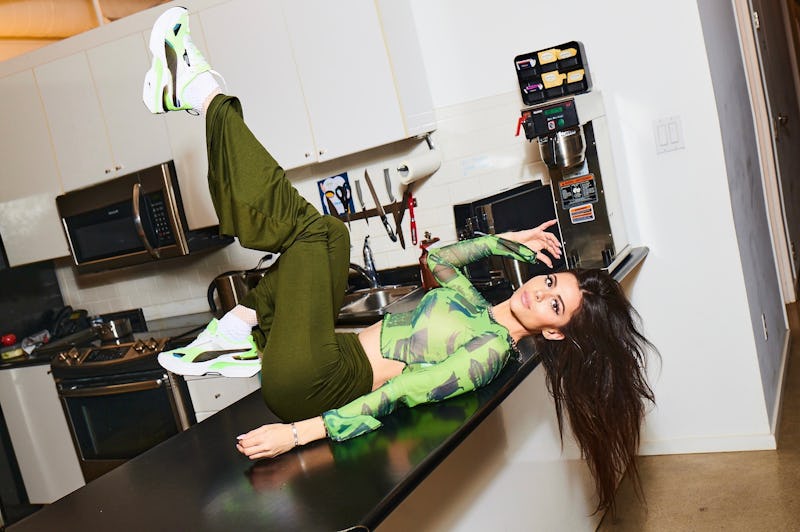 Courtesy: Puma
If you consider yourself a sneakerhead, then you're probably aware of the welcome shift in the street-style space that's brought more sneaker-loving women into the spotlight. It's a celebration of key community contributors that's long overdue, and thankfully, Puma has been one of the brands leading that charge. Through high-profile collaborations with top female athletes and the inspiring She Moves Us initiative, the sportswear authority aims to empower girls and women on a global level.
Three of Puma's latest sneaker drops in the She Moves Us collection — the Kosmo Rider, Mayze, and Cali Dream — bring thoughtful designs with a spectrum of style POVs and technical capabilities to female aficionados. Bold features are abundant in the trendy new Kosmo Rider, chunky creeper-style Mayze, and the Cali Dream with its stacked sole and soft pastel hues. To show off these must-have styles, Bustle tapped three creatives to share how they're wearing the sneakers — and how they're celebrating women in their own lives. Ahead, YouTube comedian Azzy, AfroPop artist Amanie Illfated, and fashion personality Nicole Zajac put their spin on Puma's latest.
What does 'She Moves Us' mean to you?
I've come to find that many people falsely believe there isn't enough room for everyone to succeed. In reality, the success of one person doesn't take away from any other.
I have always found successful women to be incredibly motivating, and 'She Moves Us' helps direct our attention to the inspiring nature of passionately driven and successful women. I feel lucky to have been moved by so many important women throughout my life. My dream is that I can do the same for other women, and when they look at me they'll think, "If she can do it, so can I!" Nothing makes me happier than seeing women grow, overcome, and thrive!
How do you celebrate the women in your life?
My mom would certainly be the most notable woman in my life. Years ago, she had immigrated from Macedonia leaving her family and friends behind in hopes of giving my sister and I a better life. She wanted us to have the opportunities she never did. While things weren't always easy growing up as we lived well below the poverty line, there wasn't anything my mom wouldn't do for us. Her faith in me has never wavered and I work hard every day, taking every opportunity I get to make sure the sacrifices she had to make are never in vain or taken for granted. I'll never be able to repay her for all that she has done, but I am forever grateful. I make sure that she will never have to deal with the struggles she's experienced early in life. I celebrate my mother by spending quality time with her. To me that's the backbone. Love you mom!
Tell us about your own personal style and how you've incorporated Puma's Kosmo Rider silhouette.
I tend to break the mould of mainstream fashion with bold colours and unusual patterns. I don't believe in trying to fit in and prefer to use fashion as a form of expression. It doesn't always make sense, but that's half the fun! For this shoot, I paired my Pumas with neon, mesh, and funky prints – going for streetwear with a bit of edge. It's definitely in line with my quirky, eclectic style.
What does 'She Moves Us' mean to you?
For me, She Moves Us is all about leading through strength. As a young South Sudanese refugee living in Canada, I struggled a lot trying to figure out my cultural identity while navigating the music industry. It was seeing other strong, successful women who were triumphing through their challenges and creating their own paths that encouraged me to see the strength in myself. I use that strength to overcome challenges, create my own authentic path, and help inspire others to do the same.
How do you celebrate the women in your life?
My favourite way to celebrate the women in my life is by supporting their endeavours – whether that's by purchasing their products, cheering them on at their shows, or promoting their businesses and talents to everyone I know!
Tell us about your own personal style and how you've incorporated Puma's Mayze silhouette.
My day-to-day consists of a lot of movement — from the photo studio to the recording studio to the dance studio and everywhere in between — so I like to be comfortable, but with an extra stylish flair. Crop tops, hair ribbons, oversized sweaters, joggers, and band tees are my go-to style off-stage, and adding the Mayze gives me a crisp, clean look that makes me feel ready to dance and take on whatever the day brings.
What does 'She Moves Us' mean to you?
For me, it means the passion of growth. It's the reminder to keep pushing to be the best version of yourself, to not let anyone or anything get in the way of what fuels your passion.
How do you celebrate the women in your life?
I celebrate the women in my life in so many ways! From being a support system to their goals and ambitions, to showing them love through words of affirmation. Women should be celebrated every day!
Tell us about your own personal style and how you've incorporated Puma's Cali Dream silhouette.
I would say my style is pretty dynamic. I can be edgy and bold one day and girly the next. I decided to style my Cali Dream sneakers with a bubbly spring outfit that captures my personality.
To view PUMA's She Moves Us anthem, check out the video below.