Tory Burch Was Always Determined To Uplift Ambitious Women
The fashion mogul's foundation hosted its third Embrace Ambition Summit to empower entrepreneurs.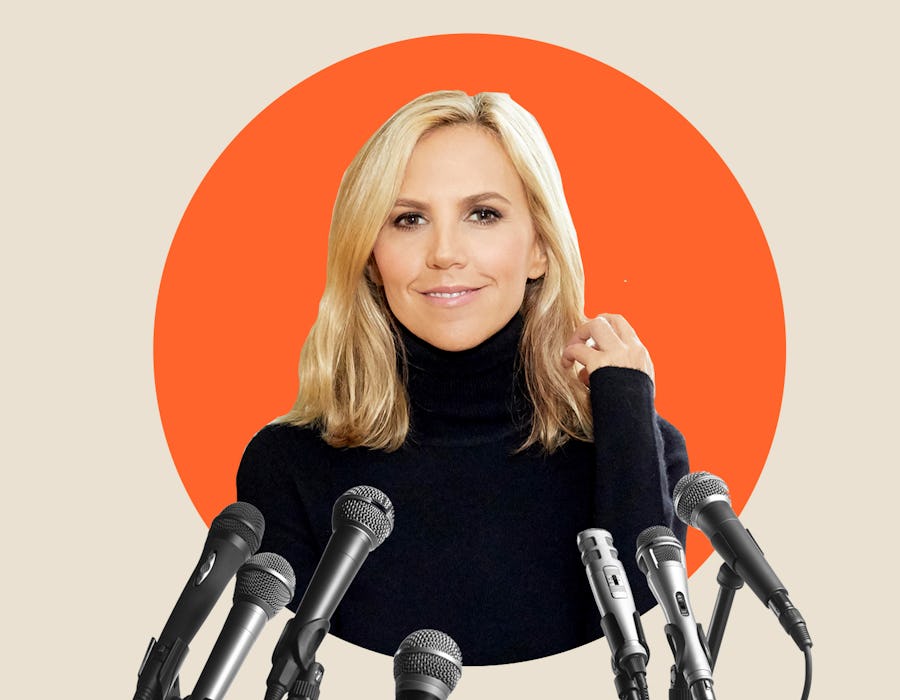 Rose Hartman/Getty Images
In Bustle's Quick Question, we ask women leaders all about advice — from the best guidance they've ever gotten to what they're still figuring out. Here, Tory Burch discusses her foundation's #EmbraceAmbition initiative and summit, dealing with self-doubt, and the go-to business advice she gives budding entrepreneurs.
If there's one thing you should know about Tory Burch, it's that she's determined to empower other women. She wants to see women with a vision, with drive, and determination — qualities that still (astoundingly) have negative connotations attached to them — succeed.
In 2009, the fashion mogul, whose company's annual revenue is reported to be over a billion dollars, launched the Tory Burch Foundation to support women's entrepreneurship by supplying access to capital and education. Providing $1.2M+ in grants to help women grow their businesses and $75M+ in loans to nearly 4,800 women entrepreneurs, you could say that the foundation is certainly achieving what it set out to do.
Recently, the foundation hosted its third Embrace Ambition Summit, covering a range of important topics, including the state of women and work today, mental health, and the inequitable effects of the pandemic. Inspiring, multifaceted women like Julianne Moore, Mindy Kaling, and Billie Jean King spoke and though the event took place in NYC, you can tune in virtually here.
Over the phone, I chatted with Burch about the summit, what inspires her, and the advice she lives by.
Did you always want to start a foundation to help other women?
From the very beginning, I knew it would be about women, but I had to build a successful company in order to be able to achieve the foundation and have the financials to do that. When I started the company in 2004, I had in my business plan that I wanted to start a global lifestyle brand so I could start a foundation for women. So, that's what I went and talked to investors about and they weren't exactly thrilled. But the concept of business and purpose now...it's such a change today. It's very gratifying to see.
People need to understand that purpose is good for business. I would suggest always thinking about the positive impact your company can have. And that can be the culture of your company, how you treat people and creating a safe environment, impacting a cause you care about. That can manifest in many different ways.
The space is never too crowded if you have a unique vision.
What has been the most rewarding part of the #EmbraceAmbition campaign?
I think one of the things that really drives me, aside from the product and company that we have, is the work of the foundation. And really, the Embrace Ambition [Summit] summarizes a lot of that. It's about making women believe in themselves and building their confidence. And when I say that…it can be as a stay-at-home mom. It doesn't have to be a CEO, you know? It's in the way they live their lives and how they look at themselves. It comes down to confidence.
The summit tackles a lot of issues around ambition, bias, unconscious bias, and stereotypes, so we're really honed in on tough conversations. At the end of the day, I want people to come away with things they can [put into] action. Really, it's women believing in themselves that I'm very, very inspired by.
You mentioned in a piece that you "bristled" when a New York Times reporter asked if you were ambitious in the early 2000s. Why did that question bother you?
I didn't know I bristled until a friend pointed it out in the interview, and then I realized she was absolutely right. In 2004, it was perceived as a very rude question. I think times have changed a bit — that said, not enough. I think there are negative associations with ambitious women versus ambitious men. I have spent many years [trying] to get rid of that stereotype around women and to have women embrace their ambition.
You've said before that your mother reminds you that "negativity is noise." How has that advice helped you in your career?
I think everyone has self-doubt. People will say to me: How do you do it all? You're just so seamless and things don't rattle you. And I think growing up, that was just something my parents instilled in me…to believe in myself. It's something that's served me quite well, just to tune it out.
What other advice has stuck with you over the years?
A lot of entrepreneurs talk to me about the market being saturated. I always say, 'the space is never too crowded if you have a unique vision.' I think that's very important. If you believe in something that's making you stand apart, you're onto something. That's something that takes a lot of hard work and a lot of resources and a lot of time, but don't be dissuaded.
This interview has been edited and condensed for clarity.