Lenny Kravitz Just Made Toothpaste Sexy
Meet Twice, the World's Sexiest Toothpaste (according to me).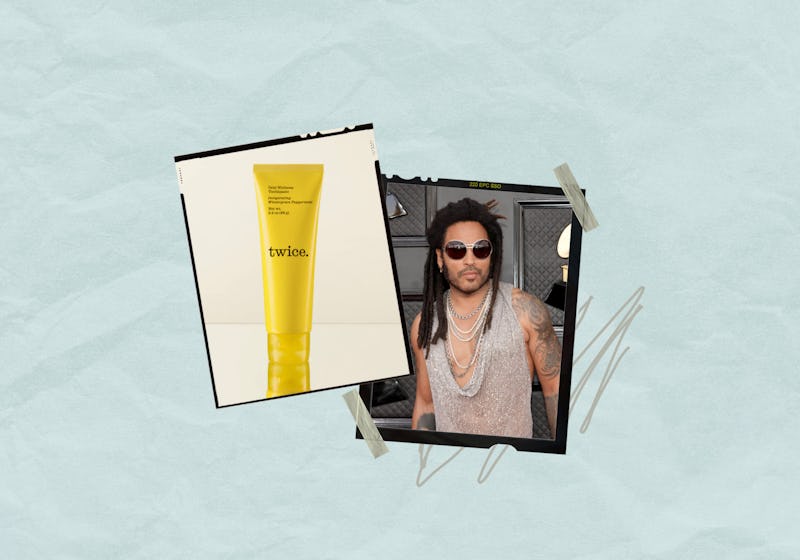 Lenny Kravitz can do no wrong in my book. He's a true rockstar, an unproblematic king, and indisputably one of the sexiest (half) Jewish men alive. Everything about him is just... cool, effortless, and chic. He lives a fascinating and beautiful life: splitting time between his gorgeous Basquiat and Warhol-filled four-story townhouse in Paris, riding horses on his lush farm in Brazil, and decompressing in an Airstream on a small island in the Bahamas. But he's not just a rockstar with an impressive real estate portfolio: He's a professional aesthete. He has an interior design firm with an extensive list of clients. He has his own furniture line with CB2 that's inspired by his nomad lifestyle and his "seductive global aesthetic."
He's also a beauty and fashion icon — he's the male face of YSL beauty! He exfoliates with sand! He's a giant scarf pioneer! And of course, he's the coolest person ever to have a penis piercing. (To be clear, according to his piercer, it's a pubic piercing meant to stimulate a woman's clitoris during sex, but who's counting?)
Basically Lenny Kravitz is my lifestyle guru, and I would kill to either be him or have sex with him. Which is why I was absolutely thrilled to hear Lenny K was finally getting into the celebeauty game — with, of all things, his very own line of oral care products called TWICE. (Note: TWICE actually launched in 2018, but has recently relaunched with sexier packaging and an updated product line.)
As evidenced by the mere existence of this column, I am down to buy or try any celebrity beauty product. But even to me, "Lenny Kravitz's toothpaste brand" sounded like a 30 Rock joke. Firstly, Lenny Kravitz's teeth are the last body part of his that comes to mind. I'm sure he has really nice chompers, but let's be honest, his delicious abs and lickable V-lines are his best assets. I'm surprised Lenny didn't launch a product that was more on brand — like a protein powder, or an at-home penis piercing kit. Toothpaste is just so... un-sexy and un-Lenny. Not to mention, his products would have to compete with the other celebrity toothpaste brand Moon — Kendall Jenner's line of oral care products! But if anyone can loosen the KardashJenner chokehold on the celebrity toothpaste industry, I know Lenny can.
Lenny's surprise path to the oral care category has a fascinating backstory. Lenny's dentist Dr. Jonathan B. Levine (a fascinating and dare I say sexy man in his own right) cofounded Glo, an oral care company that seems successful even though I absolutely have not heard of it. In addition to founding Glo, Lenny's dentist devotes a lot of his resources to the Glo Good Foundation, which provides dental care to people in developing nations. Lenny, with the help of the Glo Good Foundation, brought a (now annual) dental and health care clinic to his community in the Bahamas. Which is really beautiful and sweet! Somewhere along this journey, Lenny hooked up with his dentist's hot kids Julian Levine and Cody Levine and came up with the idea to launch TWICE, a new, mission-driven line of oral products, including toothpaste, mouthwash, and floss.
Twice recently completely rebranded with a cool yellow packaging (the Starface effect?!), genuinely innovative products, and an inclusive vibe. Also, Lenny Kravitz is their chief creative officer, so yeah you bet I want it in my mouth right now.
The formulas are Goop-y and healthy-seeming — they're all vegan, SLS, paraben, dye, gluten, and cruelty-free, and the packaging is BPA-free and recyclable. This is like, the chicest and healthiest sounding toothpaste ever. I knew Lenny wouldn't steer my mouth wrong.
First I dove into the Oral Wellness Toothpaste. It's "formulated to balance your oral microbiome" (obviously I have no clue what that means). It has a whitening formula (which is a must for me), contains fluoride (also a must for me!) and has a vitamin-enriched formula (the toothpaste contains aloe, vitamins A, C, and E). It was a lovely formula that I enjoyed using. The Invigorating Wintergreen Peppermint flavor wasn't quite minty enough to eradicate my perma-garlic breath but I was cool with it. It had more of an Orbitz sweet mint flavor? My biggest issue was that the tube contained a relatively small amount of product. The product is touted as "travel friendly" at 3.4 ounces, but with daily use I finished it in like two weeks.
The tube also had a weird hand-feel (not a thing, but I'm making it one). I think toothpaste needs a squeezier, softer, more pliable tube. This had a hard plastic that reminded me of a face wash. I found it hard to squeeze all the product out, which was hugely offensive to me as I typically like to aggressively, methodically squeeze every single last nano-ounce out of a tube of toothpaste.
The Oral Wellness Floss is not just floss. It's cool floss, made with "plant based fibers and coated in dental grade baking soda." Never thought floss could sound sexy but leave it to Lenny to figure it out. Sadly, the first time I used it, I immediately dropped and broke it and I absolutely could not figure out how to it back together. It was literally like a Swiss watch inside and I immediately gave up. But it came in a two-pack — thank you Lenny, ILY — and I loved its thicc strands. I really appreciate a thicker, textured grippy floss that really gets all up in there, you know?
The mouthwash (excuse me, Oral Wellness Immunity Rinse) was both absolutely innovative and slightly terrifying. It had two nozzles attached to two barrels, which (for mouthwash) is basically space-age, boundary-pushing packaging. It has "nano-emulsion technology" (WTF?!?), and is formulated with bacteria-busting zinc and hydrogen peroxide and detoxifying botanical and herbal ingredients. And also nano-silver is in there because sure why not! The instructions told me to put one to two pumps in my mouth, swish to coat, and spit out. Not gonna lie, it was truly weird to swoosh a weirdly small amount of VERY thick fluid in my mouth. The experience took some getting used to, but again, at this point, I trust Lenny Kravitz with my mouth's life. It wasn't quite as REFRESHING (i.e. burning) as I'm used to in a mouthwash, but I took great solace in knowing my teeth were coated in something called nano-silver. Whatever it does, I could feel it working.
The Oral Wellness Whitening Pen was intriguing. It promised to lighten my teeth by 23 shades without sensitivity. I found it relatively easy to use (I literally applied it while driving home using my rearview mirror), but it gave me a fully foamy, rabid-dog-esque mouth that I was supposed to let sit on my teeth for 30 minutes. It also had a weird, semi-sweet taste that I did not personally enjoy continuously tasting for half an hour. The packaging is literally the same as YSL Touche Éclat concealer, and there's something I find disturbing about rubbing a small brush all over my disgusting teeth. After using it two times, I felt too ashamed to put it back into my mouth without sanitizing it, which I am obviously not going to do because I am busy and tired.
TL;DR
Overall? There's something undeniably sexy about TWICE. It might be because of Lenny Kravitz's involvement, but I'm more than happy to deem it the world's Sexiest Toothpaste brand. The products are definitely worth trying if you have high, Goop-y standards for the ingredients in your oral care. They're mid-priced (the products range in cost from $7.99 for the toothpaste to $27.99 for the whitening pen), plus there's something soul-affirming about knowing you're using the same oral care products as one of the most timeless male beauty icons on god's beautiful green earth.
Cult of Celebeauty is a beauty column from writer Caroline Goldfarb, who reviews the latest, buzziest, and weirdest celebrity-helmed beauty lines.