15 Vegan Makeup Brands To Shop For Cruelty-Free Glam
Clean, animal-friendly beauty starts here.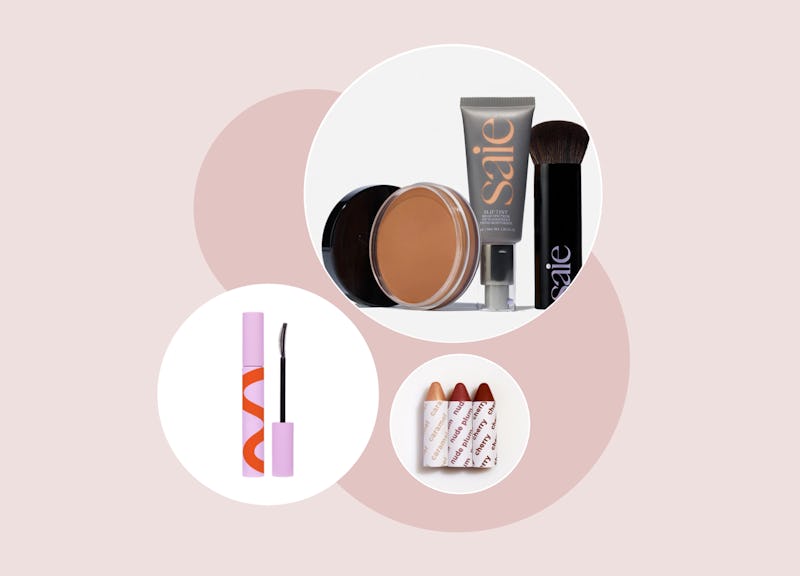 We may receive a portion of sales if you purchase a product through a link in this article.
Many people want their makeup products to not only perform well but to also be as clean and cruelty-free as possible. That's where vegan makeup comes in — but what does it actually mean when a lipstick or eyeshadow is considered vegan?
Though more and more makeup brands are rehauling formulations and labeling themselves as such, it is important to note that U.S. Food and Drug Administration (FDA) does not regulate or define what it means for makeup to be vegan. That means that a true definition is still up in the air. "Generally, people think of vegan cosmetics or cruelty-free products as avoiding animal-derived ingredients or testing on animals respectively," Emily Spilman, a science analyst at the Environmental Working Group (EWG), tells Bustle. "But because these terms are not legally defined, they can be used freely without having to meet any regulations or criteria; each company decides what these terms mean."
Spilman says that it's ultimately up to consumers to gauge the merit of product labels. "It is a lifestyle choice as how people choose to be vegan; some ingredients like lanolin, from sheep grease, may cause an allergic reaction in some people but not all," adds cosmetic chemist and founder of FanLoveBeauty Ginger King. "It really comes down to how 'clean' a brand wants to be and the consumer's lifestyle."
There are a couple of ways to help you navigate through all the marketing B.S. to ensure the products you invest in are made of ingredients you want to use. Spilman recommends using the Skin Deep database or the Healthy Living app to help you read through ingredient lists and labels and avoid products with ingredients linked to health hazards. She also recommends looking for trusted third-party marks on the packaging, such as Certified Vegan, Leaping Bunny, PETA cruelty-free, or EWG VERIFIED to help you verify the claims made by brands. It's important to always do your research.
"If vegan, organic, cruelty-free, or natural products are important to you, don't rely on marketing claims alone," says Spilman. "You must always look for the brand's definition of specific terms to be sure they align with your interpretation."
If this seems overwhelming, many vegan makeup brands have made their ingredient lists available so you can choose what works best for you. See 15 brands to shop below.