We Tried e.l.f.'s Most Viral TikTok Products & Now We Can't Live Without Them
The hype is in fact real, y'all.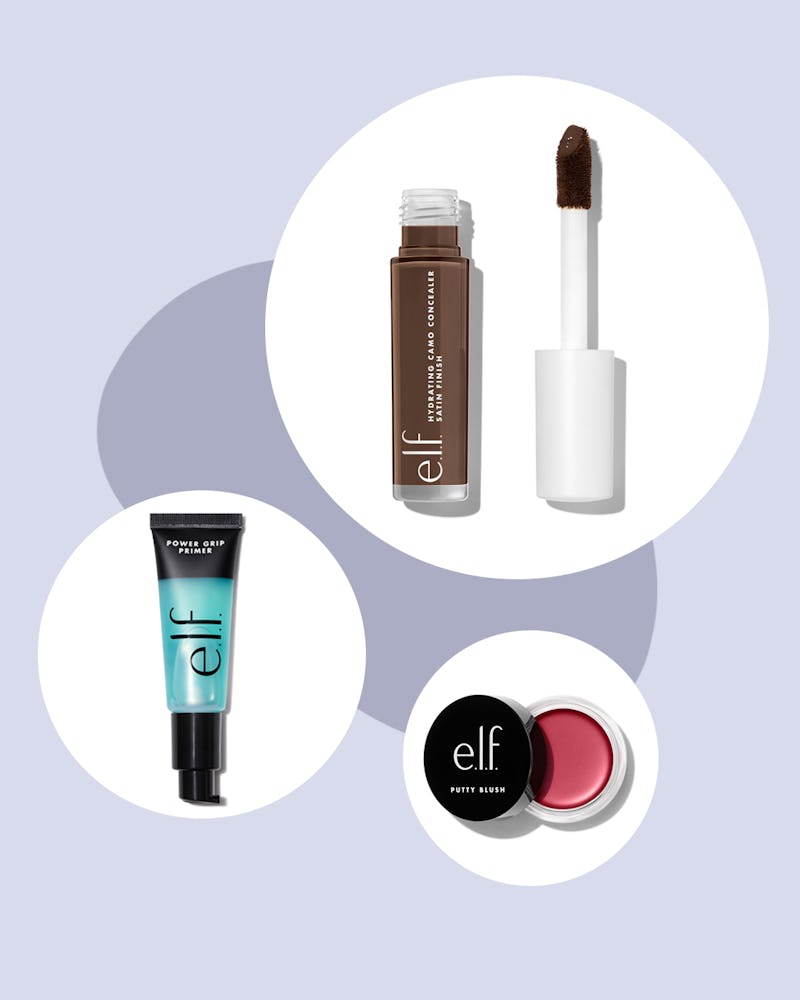 e.l.f. Cosmetics/Angela Poccia
TikTok is a particularly unique platform in that it has the ability to turn both people — and products — into viral sensations. As beauty editors, we've witnessed this first-hand with e.l.f. Cosmetics. The OG beauty brand has been around since 2004, and has always been loved for making quality products at accessible price points. Since blowing up on TikTok though, many of e.l.f.'s products have gone full-on viral, with legions of millennials and Gen Zers ultra-eager to get their hands on them. And naturally, we're no exception.
Much to our delight, we had the chance to put the brand's most viral products to the test — and well, as you can probably already tell from the headline, they didn't disappoint. In fact, these gorgeous formulas are already on their way to reaching holy grail status in our routines (which is saying a lot considering how many products we get to try as editors).
Curious what has us so obsessed? Keep on reading for our mini reviews of e.l.f.'s most sought-after formulas.
Lexi Novak, Senior Director, Branded Content
"I always need more than one eyeshadow to create a look, but those huge palettes aren't quite right for me — four of the shades will get used to the tin, while the other 38 are untouched. The Bite-Size Eyeshadows from e.l.f. are perfect. The formulas are creamy, blendable, and buildable. And the quad combos have the exact colors I need. Right now, I'm loving Truffles to create a warm red-brown smoky eye with a hint of champagne shimmer."
"I reapply lip balm about 3,000 times a day (like everyone, right?). So it's nice to use one that not only conditions and moisturizes my lips but also adds a little something something. There's a reason the e.l.f. Hydrating Core Lip Shine went viral. The vitamin-E-infused formula is super hydrating. It feels light and conditioning to wear. Then the subtle tint leaves behind just enough color to add oomph — and look great on camera."
Bianca Lambert, Beauty Contributor
"Lately, I've given up traditional foundations. I enjoy coverage, but without the heavy feeling, a foundation can leave. So CC creams are a part of the makeup routine these days. When I tried e.l.f.'s Camo CC Cream. I can't lie. I was surprised that the formula matched my deep skin to perfection. And it was even more impressive that I gave myself just enough coverage to even out my skin tone without feeling cakey. Oh, and an added bonus: the SPF."
"I grew up during a time when finding a drugstore concealer to match my brown skin was low-key impossible. And I love that e.l.f.'s 16HR Camo Concealer offers shades I can use to highlight, conceal (my hyperpigmentation and under eyes) and contour. And it's full coverage, so it's long-lasting. A little goes a long way because the satin formula is super blendable, so much, so that use it with or without foundation."
Irma Elezovic, Beauty Director, Branded Content
"Recently I've swapped lipsticks for glosses and stains for a more subdued look, and I love that e.l.f. 's Glossy Lip Stain combines both. I've been wearing shade Basic Beige on repeat for a just-bitten, glossy lip vibe. It's also buildable, so I can layer for a brighter pop of color and the formula won't dry out my lips or transfer."
"Now that I'm in my early 30s, incorporating Vitamin C into my skin-care routine is a must. I discovered e.l.f.'s Vitamin C Serum on TikTok and I love that it's only $16! It's lightweight, refreshing, and leaves my skin soft, smooth, and glowing."
Shyema Azam, Senior Beauty Editor, Branded Content
"e.l.f.'s Poreless Putty Primer is so soft but has grip to it which is the perfect first step before my makeup. This feels like butter and goes on seamlessly. The squalane-infused formula keeps my skin hydrated, and blurs my pores like no other."
"My brows are extremely stubborn and just sit in one direction, so I need a good shaping wax to give it a soft, feathery effect. e.l.f.'s Brow Lift is great to hold and lift even the most stubborn hairs. I use this to get my hairs set perfectly before filling in with a brow pencil. The clear gel helps my brow hairs stay put all day."
Kaleigh Fasanella, Beauty Editor, Branded Content
"As someone with naturally rosy skin, I tend to be quite picky when it comes to blushes — especially powder formulas because they tend to look cakey on my dry skin. Not e.l.f.'s Putty Blush though. The plush, creamy formula feels cushiony and light on my skin, and the shades are all stunning. It's buildable and always looks so natural on the skin, like I just got back from a jog or a day at the beach, which is my favorite. I also appreciate that they're infused with vitamin E for a little added skin-care benefit."
"A lot of primers tend to dry my skin out, but e.l.f.'s Power Grip Primer is infused with hyaluronic acid, which I can actually feel helps my skin hold onto hydration. It also prolongs the wear of my makeup without pilling — and it delivers a stunning soft-focus effect that's so gorgeous in photos."