The History Of Men & Skirts, From Ancient Times To Today
They've been sporting flowing hemlines for eons.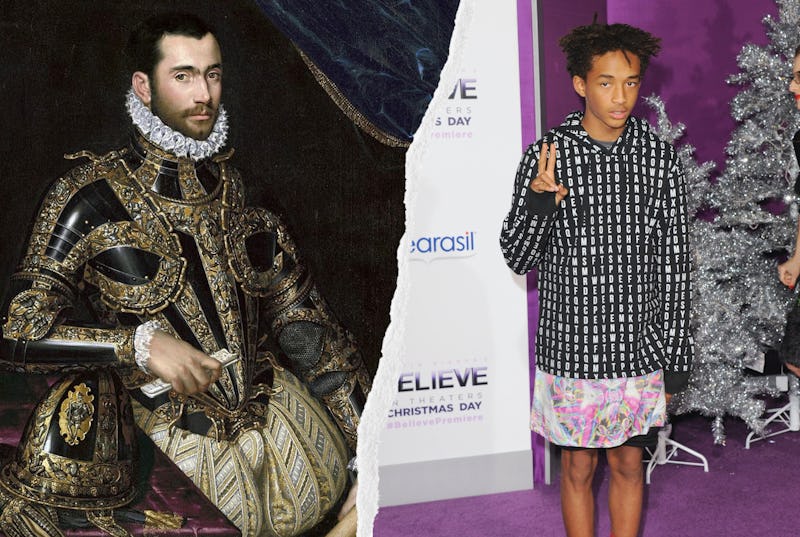 Scipione Pulzone. Getty Images.
With Jaden Smith, Kanye West, Billy Porter, Kid Cudi, and more wearing skirts and dresses with abandon, there's been a lot of public discourse around men wearing, well, anything other than pants and shorts. But what you might not get from the current discussion is the notion that pants are masculine — and skirts are feminine — is much newer than most people think. In fact, it might have you asking the question: were dresses made for men? And you'll be surprised what you find out.
The entire idea of skirts being gendered, specifically female dress, was brought about by a combination of tailoring innovation and particular occupations. But the tradition of men in cloth wraps, skirts, tunics, robes and other non-pant items is vast and ancient.
Today, it's considered notable and even gender-nonconforming when a man wears a skirt, from the aforementioned Jaden Smith to Mark Bryan, an influencer on Instagram whose posts in button-down blazers, dress skirts, and heels often go viral.
However, the movement to make skirts socially acceptable to wear for men — something ordinary and par for the course — is garnering strength on the runway and on the red carpet.
What's often missing in the discussions of skirts on men is historical context, so scroll down for the realities of how men have been sporting flowing hemlines for eons.
This article was originally published on