This NHS-Supporting Hand Cream Caused A Dragon's Den Bidding War
Here's where you can buy it.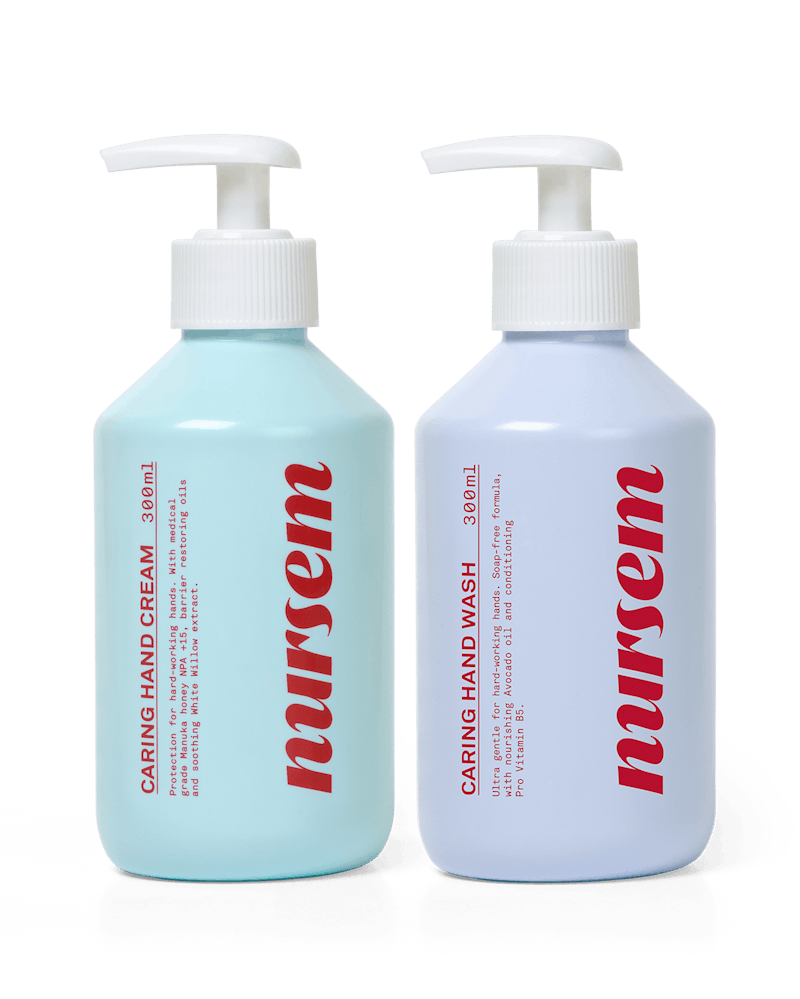 Nursem
Confession: I first discovered Nursem through an Instagram ad, most of which I usually tend to just scroll past. But this particular ad featured the Dragons' Den crew, who seemed to be very excited about this specific brand. Thirty minutes later and I knew everything there was to know about it, and now think it's a brand really worth shouting about. Here's what you need to know, including where to buy Nursem hand wash and cream in the UK.
Nursem was started by husband and wife duo Antonia and Jonny. Antonia is a paediatric intensive care nurse, who found herself washing her hands over 50 times a day, resulting in sore skin, bleeding, and even time off work. This is where the idea for Nursem started; Antonia wanted to find a cream that was gentle yet effective, to keep hard-working hands protected and soothed. Together with her husband, she began to develop the Nursem formulas, and the brand was launched (with the help of crowdfunding) in 2018, during those nostalgic pre-Covid times.
The brand launched into pharmacies and Boots stores in 2019, but needed a little helping hand (no pun intended) after Covid hit and demand continued to grow. This is when the couple decided to go onto Dragons' Den, where they made quite the impact. Not only did each of the five Dragons make an offer, they also began to get pretty competitive with their numbers in order to be the one who walked away with a share of the business.
One of the main reasons the brand stood out so much was its commitment to helping nurses through its sales. Through the Nursem promise, with every product purchased, Nursem gives a month's worth of hand cream to a nurse or midwife. Their current mission is give free Nursem to every single NHS nurse and midwife by 2025. Pretty incredible, huh?
What's more, the product itself sounds rather incredible. Not only is it made with naturally-derived ingredients, the brand promises that their products really do work, and that their effectiveness for troubled hands is unparalleled. Plus, the packaging is so enticing, and will look great on your desk or in an Instagram post.
You can currently buy Nursem hand washes and creams online at their website, as well as on Boots, Amazon, and Space NK. Their prices start at £9.99.